High Throughput Spatial Genomics
Sanger-EBI Initative for Large-Scale Spatial Genomics
High Throughput Spatial Genomics 
Mission Statement
The Wellcome Sanger institute and EBI have between them built up a tremendous capacity to extract and analyse the genetic information from individual cells within a tissue, which allows researchers to examine the diversity of gene expression within whole organs. While this provides a tremendous wealth of data, single cell sequencing can not, by itself provide information on the spatial distribution of these diverse cell types. The High Throughput Spatial Genomics initiative aims to fill in this gap by providing the ability to spatially map gene expression across human tissues at a large scale. The activities of the initiative are intended to strongly tie into the Human Cell Atlas project.
Using cutting-edge means of labelling RNA as well as high throughput, high resolution imaging platforms and bespoke high-throughput data analysis tools, we are able to extract quantitative gene expression data with high spatial accuracy from our samples.
Currently we use several fluorescence RNA imaging technologies including In Situ Sequencing and HiPlex RNAscope as well as spatial sequencing techniques like the Nanostring GeoMx Digital Spatial Profiler and the 10xGenomics Vizium Spatial Gene Expression system.
Our goal is to provide researchers with the data they need in order to understand how gene expression can vary at the cellular level across large tissues.
Spatial Technologies
High-multiplexed RNA labeling
Hiplex RNAscope
In Situ Sequencing
Visium Spatial Transcriptomics
The Visium Gene Expression solution is designed to measure all of the genetic material produced in a piece of tissue, but in a manner where expression can be spatially confined to within the area of a few cells.
Nanostring WTA profiling
The Nanostring GeoMx is an instrument designed to extract region specific gene expression information from large tissue sections
Instrumentation
PerkinElmer Opera Phenix HCS
The original instrument around which the facility was started, The PerkinElmer Opera Phenix High-Content Screening system is an automated imaging platform for acquiring fluorescent images of large tissue sections with high spatial resolution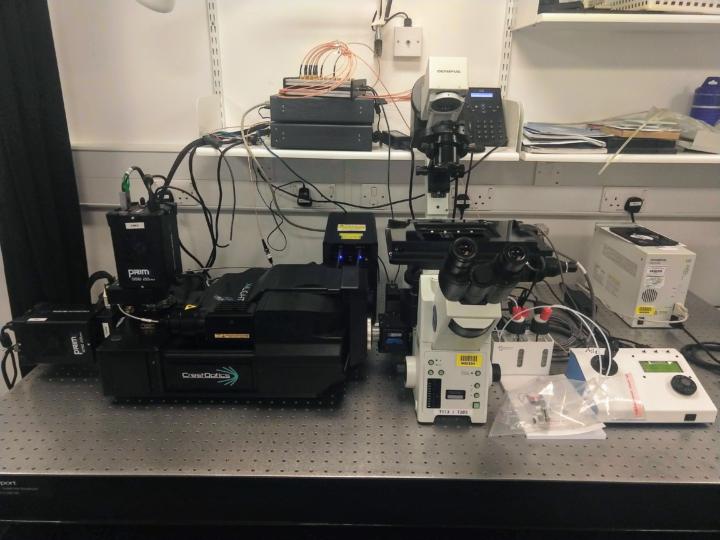 CAIRN "Nemo" Spinning Disk
The most recent addition to the facility, "Nemo" is a custom dual-camera spinning disk confocal microscope assembled around a CrestOptics X-light V3 by Cairn Research. The open hardware and software the microscope runs on gives the facility more flexibility to integrate new automated imaging protocols.
CAIRN "Ahab" (coming soon)
The next planned instrument for the facility will be a larger, four-camera version of "Nemo" also to be assembled and installed by Cairn Research
Leica BOND RX stainer
Data Infrastructure
Cyclic Microscopy Analysis Pipelines
Data analysis techniques for spatial genomics techniques are very much in their early days, so one of the major projects for the facility will be building reliable high-throughput image analysis pipelines providing:
Nuclear and cell segmentation across a variety of cell types in a variety of different organs and organoids
Segmentation of fluorescent spots and clusters against varying backgrounds
Registration of large images from multiple labelling cycles to subpixel levels of accuracy
Barcode decoding that works across different kinds of cyclic FISH labelling techniques
OMERO
All imaging data produced by the facility is stored on an OMERO image management platform which is also tied into all of our image analysis pipelines.
Openings
We will soon be announcing openings for
A senior staff scientist position for coordination of spatial genomic work at HTSG
A Senior research assistant for histology work
Wellcome Sanger Institute