Sanger scientists win £20 million 'Grand Challenge' funding from Cancer Research UK
Professor Sir Mike Stratton will lead an international team to help transform our understanding of what causes cancer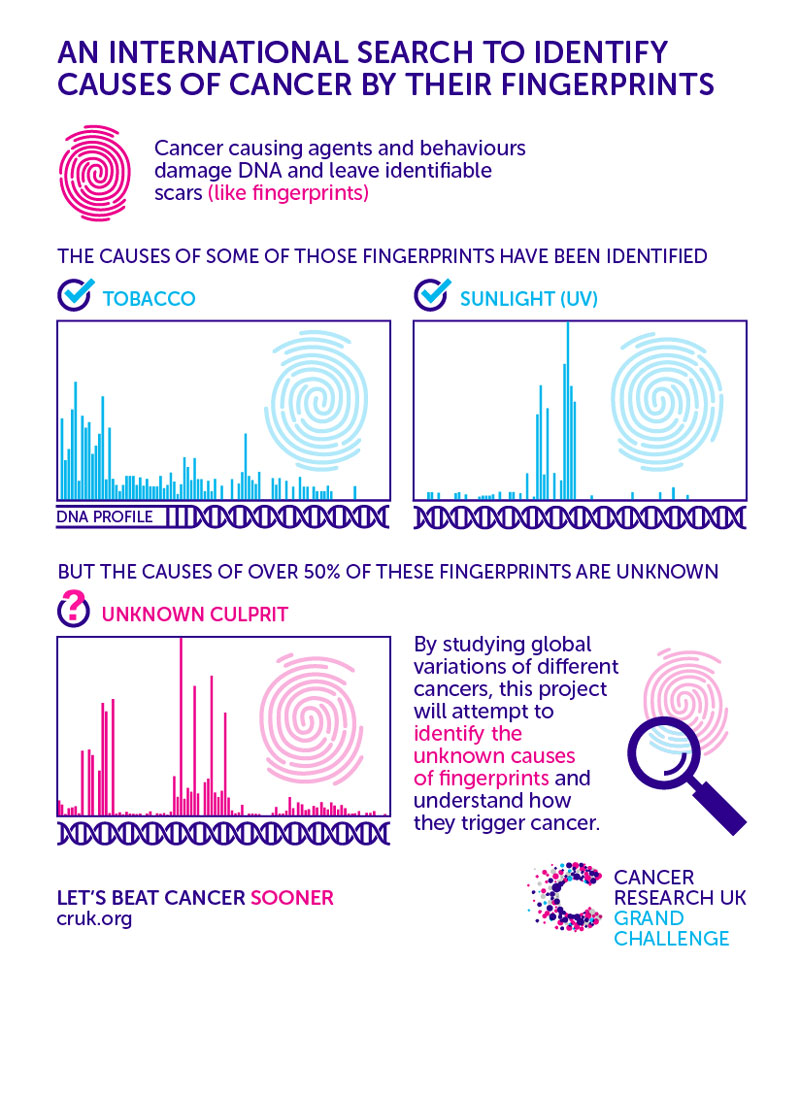 Wellcome Trust Sanger Institute researchers have landed one of the biggest funding grants ever awarded by Cancer Research UK. The charity is set to invest £20 million over the next five years in a ground-breaking research project led by Professor Sir Mike Stratton.
The funding will come from the first Cancer Research UK Grand Challenge awards – set up to help scientists answer some of the hardest unanswered questions in cancer research, and to revolutionise the prevention, diagnosis and treatment of cancer.
In total, four grants were available and the team based at the Wellcome Trust Sanger Institute beat stiff international competition to secure one of them.
Professor Stratton will lead a team of scientists from the UK, France and the US, together with collaborators from the International Agency for Research on Cancer, aiming to build a deeper understanding of what causes cancer.
It's already known that things in our environment, and behaviours like smoking and drinking alcohol, cause cancer by damaging the DNA in our cells. This damage occurs in distinctive patterns known as mutational fingerprints that are unique to their cause. For example, cancers caused by UV exposure have a different mutational fingerprint to cancers caused by tobacco.
There are at least 50 cancer-associated mutational fingerprints but researchers only know what causes around half of them. Professor Stratton's team hope to fill in the missing gaps and determine the as yet unknown causes of cancer.
They'll do this by studying 5,000 pancreatic, kidney, oesophageal and bowel cancer samples, which come from five continents. This will generate as much cancer DNA sequence data as the whole world has produced so far. This research could dramatically improve our understanding of what causes cancer and lead to better information for people on how to reduce their risk of developing cancer.
"The main aim of our Grand Challenge is to understand the causes of cancer. Every cancer retains an archaeological trace, a record in its DNA, of what caused it. It's that record that we want to explore to find out what caused the cancer.

"We're going to sequence the DNA of thousands of cancer samples that have been collected from many different countries around the world, and study them to see what archaeological trace they contain. By doing this, we hope to figure out what caused those cancers.

"The thing that's really exciting me is the challenge of making it all happen. And I'm looking forward to seeing the answers this work brings."

Professor Sir Mike Strattonfrom the Sanger Institute
The Sanger Institute project was selected by an international panel of experts from a shortlist of nine exceptional Multi-disciplinary collaborations from universities, institutes and industry across the globe. Another Sanger scientist, Dr Serena Nik-Zainal is part of one of the other groups to secure funding. That group* will explore Ductal carcinoma in situ (DCIS), a condition that can sometimes develop into breast cancer.
"Cancer Research UK set up the Grand Challenge awards to bring a renewed focus and energy to the fight against cancer. We want to shine a light on the toughest questions that stand in the way of progress. We're incredibly excited to be able to support these exceptional teams as they help us achieve our ambition.

"Cancer is a global problem, and these projects are part of the global solution. Together, we will redefine cancer – turning it from a disease that so many people die from, to one that many people can live with. We will reduce the number of people worldwide affected by cancer and achieve our goal of beating cancer sooner."

Sir Harpal Kumar, Cancer Research UK's chief executive
"When we began the Grand Challenge we sought scientific adventurers – people willing to come together in new ways, to think differently, and bring novel approaches to answer the big questions in cancer. These unique teams have done just that.

"Cancer is a complex, and often brutal disease. Cancer Research UK's Grand Challenge is helping us change the way we to tackle it – bringing together different disciplines, ideas, and people on a global scale. We've got our sights set on the horizon of discovery, and I'm confident these Grand Challenge teams will lead to life-changing results."

Dr Rick Klausner Chair of the Grand Challenge advisory panel and former director of the National Cancer Institute
Press Contacts
If you need help or have any queries, please contact us.
Notes to Editors
For more information about Cancer Research UK's Grand Challenge, visit www.cruk.org/grandchallenge
NEW WAYS TO PREVENT CANCER? LINKING MUTATIONAL SIGNATURES BACK TO THE EVENTS THAT CAUSED THEM
Lead investigator: Professor Sir Mike Stratton, Wellcome Trust Sanger Institute, UK
Funding = Up to £20 million
Co-investigators:
Dr Ludmil B. Alexandrov, Los Alamos National Laboratory, USA
Professor Allan Balmain, UCSF, USA
Dr Paul Brennan, IARC, France
Dr Peter Campbell, Wellcome Trust Sanger Institute, UK
Professor David Phillips, King's College London, UK
Mimi McCord, Patient Advocate
Maggie Blanks, Patient Advocate
A key data source will be rat and mouse tissue samples from the National Toxicology Program (NTP) Archives. The NTP Archives is a unique repository of rodent tumor tissues exposed to more than 590 chemical carcinogens. A thorough examination of these tissues will help scientists understand how various environmental exposures may play a role in cancer.
The project will also be working with the National Cancer Center, Japan http://www.ncc.go.jp/en/
For more information on the project click here
* WHEN IS CANCER NOT REALLY CANCER? PREVENT DUCTAL CARCINOMA IN SITU INVASIVE OVERTREATMENT
Lead investigator: Dr Jelle Wesseling, Netherlands Cancer Institute, The Netherlands
Co-funded with the Dutch Cancer Society = up to £15 million
Co-investigators:
Dr Phillip Andrew Futreal, University of Texas, MD Anderson Cancer Center, USA
Professor Jos Jonkers, Netherlands Cancer Institute, The Netherlands
Dr Serena Nik-Zainal, Wellcome Trust Sanger Institute, UK
Professor Alastair Mark Thompson, University of Texas, MD Anderson Cancer Center, USA
Dr Daniel Rea, The University of Birmingham, UK
Dr Esther Lips, Netherlands Cancer Institute, The Netherlands
Maggie Wilcox, Patient Advocate
Ellen Verschuur, Patient Advocate
Marja van Oirsouw, Patient Advocate
Hilary Stobart, Patient Advocate
Deborah Collyar, Patient Advocate
Donna Pinto, Patient Advocate
Ductal carcinoma in situ (DCIS) is a condition that can sometimes develop into breast cancer. But right now, doctors can't tell whether women with DCIS will go on to develop breast cancer meaning, some women with DCIS undergo unnecessary treatment.
Dr Jelle Wesseling and his team of scientists from the UK, Netherlands and the US want to change this. They will study tissue samples taken from women with DCIS during surgery and study their characteristics in great detail. Alongside this, they will gather clinical information about these women, recording whether their DCIS came back, if they later developed breast cancer, and if so, whether it spread.
The team will then combine all of this information and use mathematical modelling to search for clues (biomarkers) in the DNA of women who have had DCIS that could indicate how likely they are to develop breast cancer later on.
By identifying biomarkers that can distinguish between DCIS patients with a low and high risk of developing cancer, this project has the potential to reduce over-treatment of DCIS patients while ensuring those who need treatment get it.
Selected websites
Cancer Research UK is the world's leading cancer charity dedicated to saving lives through research.
Cancer Research UK's pioneering work into the prevention, diagnosis and treatment of cancer has helped save millions of lives.
Cancer Research UK receives no government funding for its life-saving research. Every step it makes towards beating cancer relies on vital donations from the public.
Cancer Research UK has been at the heart of the progress that has already seen survival in the UK double in the last forty years.
Today, 2 in 4 people survive their cancer for at least 10 years. Cancer Research UK's ambition is to accelerate progress so that by 2034, 3 in 4 people will survive their cancer for at least 10 years.
Cancer Research UK supports research into all aspects of cancer through the work of over 4,000 scientists, doctors and nurses.
Together with its partners and supporters, Cancer Research UK's vision is to bring forward the day when all cancers are cured.

The Wellcome Trust Sanger Institute is one of the world's leading genome centres. Through its ability to conduct research at scale, it is able to engage in bold and long-term exploratory projects that are designed to influence and empower medical science globally. Institute research findings, generated through its own research programmes and through its leading role in international consortia, are being used to develop new diagnostics and treatments for human disease.

Wellcome exists to improve health for everyone by helping great ideas to thrive. We're a global charitable foundation, both politically and financially independent. We support scientists and researchers, take on big problems, fuel imaginations and spark debate.