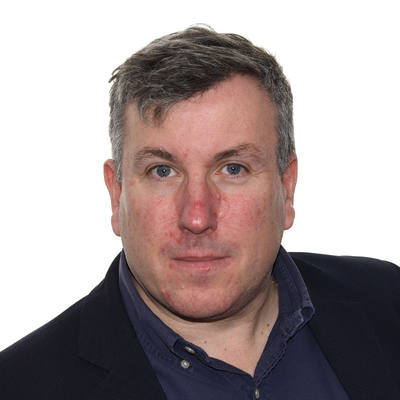 Graham Beaver
Associate Director, Pipeline Solutions
Alumni
This person is a member of Sanger Institute Alumni.
I am the Associate Director for the Pipeline Solutions Division, covering the development, operation and support of large-scale, high-throughput Sequencing and Cellular Informatics Pipelines as well as the supporting Laboratory Information Management Systems (LIMS).
My approach
I believe that work should be fulfilling and I enjoy delivering products and services that have a positive impact – not only for the organisation but also for the wider world. It was this opportunity – to directly support the Sanger Institute's scientists in delivering world-leading research to improve health and conservation – that attracted me to my role.
In Pipeline Solutions, we seek to free Sanger's researchers to focus on the big and difficult scientific problems of the day, by solving the data problems associated with the initial processing of the genomic data.
One of the things that I most enjoy about working at the Sanger Institute is the daily challenge. It is exciting to know that we are pushing the boundaries of what can be achieved – the problems we solve are ones that no one has faced before. It is rewarding to know that I and my teams are pioneering new ways to handle data pipelines at the ambitious and world-leading scale and volume that the Institute's science requires.
I really appreciate my teams' can-do spirit and encourage them to innovate to find new ways to deliver greater value and efficiency. We aim to minimise the unnecessary duplication of effort by delivering common solutions that can be used by everyone.
A key part of my work is driving continual transformation throughout Pipelines Solutions and the wider Institute. The Sanger's science is at the cutting edge of global research and our digital solutions and working practices need to be the same. To ensure that my teams' solutions are as effective as possible, I am always looking for best practices in other organisations around the world that we can apply. And I encourage all my teams to challenge and grow their knowledge and practices too.
I believe it is vital that my staff and I develop our skill sets not only to deliver the best possible service for today but also for the future. I encourage everyone to plan their career development so that they can acquire the skills and experience relevant for today's tasks and for the jobs they aspire to go on to.
One way that I look to build people's experience is by challenging them to take on new responsibilities through delegation. Another way is by giving my teams access to the full range of opportunities to build their knowledge, experience new ideas and engage in horizon scanning. I encourage Pipelines Solutions staff to attend conferences and make the most of national and international networking opportunities.
But these opportunities to grow and develop expertise are not ends in themselves, all our work is focused on supporting the Sanger's scientists to deliver the next wave of pioneering genomic research. The technical knowledge we gain must be combined with a strong understanding of the Institute's current science and future requirements. We work in close partnership with researchers at all levels across the Sanger's research programmes and Scientific Operations to keep fully up-to-date with the research opportunities and scientific direction they are pursuing.
This base of knowledge allows us to engage with the national and global open-source community and provide thought leadership. We aim to promote common standards and to contribute to the development and delivery of open-source products that not only meet our scientists' future needs but best serve the wider research, health and conservation communities too.
Another vital area of focus is greater knowledge sharing across the Institute to promote best practice and avoid duplication of effort. Innovation flourishes naturally across the Institute and we seek to increase communication between teams to ensure that everyone knows about the great solutions that are being produced. We work to minimise silo working by breaking down barriers to encourage cross-collaboration and cross-fertilisation of ideas. Truly innovative solutions occur when teams from different practices interact and spark new thinking.
I am particularly proud of the work my teams are doing to rationalise our Laboratory Information Managements Systems across all of Sanger's laboratories. The project has been accepted across the Institute and we are about to start implementation and delivery of the common solution.  The new LIMS platform will be an enabler for the next wave of digital transformation for our research colleagues' laboratory practices. This platform will also assist the scientists to transform their own working practices by freeing them from limiting systems and allowing them to work with us to build the processes needed to exploit future research opportunities.
About me
I am an established IT Executive with more than 25 years of experience in technology and operations management, programme management, business transformation, corporate improvements, and vendor management.
I am skilled at leading IT delivery and operations, as well as aligning strategic business needs and programme objectives, leveraging ITIL, COBIT 5, Prince 2, Agile and TOGAF 9 practices to develop and implement business-led technology change. I have demonstrated an aptitude for developing strategies integral to business transformation initiatives, including enforcing governance structures, enhancing security, driving efficiencies, and overseeing technical environments. I am a transformational leader adept at building partnerships with executive management and critical stakeholders, as well as leading cross-functional teams, whilst fostering collaboration and incentivising cultural change.
Areas of expertise
IT Service & Operations Management
Business Transformation
Innovation Management
Team Leadership
Portfolio & Programme Management
Strategy Development
Information and Data Management
Private and Public Sector experience
Technology Leadership
Enterprise Architecture
Cyber Security
Vendor & Stakeholder Relations
My timeline
Joined the Wellcome Sanger Institute as the Associate Director for Pipeline Solutions, covering Sequencing Informatics, Cellular Informatics and supporting LIMS.

Joined a United Nations Specialized Agency (WIPO) as the Director for Enterprise Architecture & ICT Programme Management

Joined Serco, leaving as the Consulting Director for Space & National Security. 

Joined Hewlett Packard Services, progressing to be a Client Principal and Enterprise Architect, working in the UK and EMEA Regions.

Joined SPSS focusing on the development of Statistical Analysis applications.

Joined EDS Defence in their Advanced Data Processing Group, developing self learning forcasting systems.

Joined the UK Civil Service as a Statistical Officer, working in HM Treasury and the Ministry of Defence.