Sanger Institute scientist wins 2020 Biochemical Society award
Head of Cellular Genetics Programme wins GlaxoSmithKline prize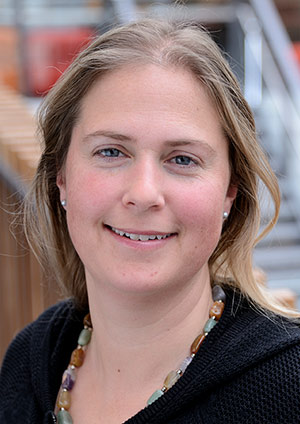 Dr Sarah Teichmann is one of 12 eminent scientists and exceptional early career researchers who have been honoured in the 2020 Biochemical Society Awards. The awards, based on nominations from their peers, celebrate excellence and achievement in the winners' chosen fields of research.
Sarah is Head of Cellular Genetics at the Wellcome Sanger Institute and her work focuses on deciphering the immune system with genomics and bioinformatics approaches. She has won the biennial GlaxoSmithKline Award in recognition of her research leading to new advances in medical science.
"I am deeply honoured to be awarded the GlaxoSmithKline prize for 2020 by the Biochemical Society, which recognises the work by my talented team and our collaborators. Together we have driven forwards the application of single cell genomics and computation to human tissues, providing new insights into the molecular and cellular details of development and disease, achieving deep insights into processes governing health and disease."

Dr Sarah Teichmann Head of Cellular Genetics Programme at the Wellcome Sanger Institute

The GlaxoSmithKline prize specifically celebrates the science of mid-career researchers who have taken a career break. As part of the award, Dr Teichmann will deliver a lecture at a Society event and will submit an article to one of the Society's publications.
Sarah joins a prestigious list of award winners, including; Dr Anne Bertolotti at the MRC Laboratory of Molecular Biology, Professor Charles Swanton at the Francis Crick Institute and Professor David Lomas at the UCL School of Life and Medical Sciences.
"Scientists and researchers in the biosciences community play a valuable part in society and the Biochemical Society Awards are the perfect way to honour those exceptional individuals who are leading the way. As ever, the standard of the nominees was incredibly high and our winners can be justifiably proud of their achievements. The awards provide recognition of their professional excellence and are a real tribute to the talent within the biosciences. On behalf of the Society, I'd like to congratulate all of the winners, every one of whom has made an outstanding contribution in their respective fields. Well done."

Professor Colin Bingle Professor of Respiratory Cell and Molecular Biology at University of Sheffield, and Chair of the Biochemical Society's Awards Committee


More information
The Biochemical Society is a learned society and membership body that works to promote the future of molecular biosciences; facilitating the sharing of expertise, supporting the advancement of biochemistry and molecular biology, and raising awareness of their importance in addressing societal grand challenges.
It achieves its mission by:
Supporting the next generation of biochemists; promoting the opportunities offered by biochemistry and molecular biology through education and training from age 15 upwards
Bringing together molecular bioscientists; fostering connections and providing a platform for collaboration and networking across our membership and the wider community to ensure a strong future for molecular biosciences in both academia and industry
Promoting and sharing knowledge; enabling the circulation of scientific information through meetings, publications and public engagement to support innovation, inform decision-making and advance biochemistry and molecular biology
Promoting the importance of our discipline; highlighting the role of molecular biosciences in interdisciplinary and translational research, while supporting the fundamental research that underpins applied studies
To find out more, please visit www.biochemistry.org
Selected websites
The Wellcome Sanger Institute is one of the world's leading genome centres.

Through its ability to conduct research at scale, it is able to engage in bold and long-term exploratory projects that are designed to influence and empower medical science globally. Institute research findings, generated through its own research programmes and through its leading role in international consortia, are being used to develop new diagnostics and treatments for human disease.

Find out more at www.sanger.ac.uk or follow @sangerinstitute on Twitter, Facebook, LinkedIn and on our Blog.