A Day in the Life of a Software Developer - Guillaume Noell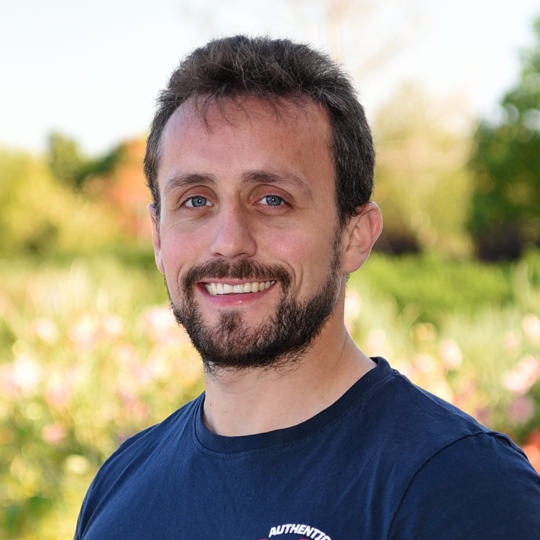 Software development is a relatively new field, and as such is shrouded in more mystery than many other disciplines. So we've taken a look behind the curtain to look at a typical day for a software developer at Wellcome Sanger Institute.
Please note: While the exact role of a software developer varies from project to project, Guillaume's experience below will gives a great example about the type of work our developers do at the Institute.
Also, this interview was carried out before the COVID-pandemic hit and the Genome Campus was closed to all but essential science, so some of the detail about commuting, socialising and working on campus is a little different at the moment.
Tell me about yourself
I started at Sanger Institute almost two years ago as a Senior Software Developer in the Human Genetics Informatics group. I had just finished my PhD in Bioinformatics, in Spain, at the end of February 2019 and was looking for a computational-heavy role rather than purely biology or research. I was looking everywhere in Europe and came across the Wellcome Sanger Institute. I was impressed that there were so many roles on offer that I applied to several different ones within the institute.
I have a science-heavy background, having done an undergrad in Biology then a Masters in Bioinformatics.
Why did you choose Sanger Institute? 
I finished my PhD and knew that I wanted to do more computational work. I hadn't heard of the Sanger Institute but soon realised that it was a big institute for bioinformatics. I was impressed when I came to interview and met with my now-supervisor.
Tell me a bit about your role
I help the Human Genetic faculty group run their bioinformatics pipeline. I am the mid-point between the biologist's research and the informatics support group (who mainly deal with the infrastructure). There is so much software development work at Sanger Institute.
I am involved in different types of projects, from PhD and postdoc studies, to faculty members and their research groups – anything that involves a lot of sequencing data. These often involve thousands of samples, and we analyse their data using computing cluster infrastructure, such as OpenStack.
Describe the typical day from the moment you wake up until you go to bed
I have a routine way of life. I like to wake up at 7h30, I look at the weather to see if I can bike to work.  If not I take the free bus to the campus. I live close to Cambridge train station. I have a nice cycle path all the way and arrive between 9h00/9h30 depending if I am on the bike or bus.
I can get a shower at the gym on site if I have cycled then go to my desk and say hello to the team. I catch up on my emails then work out how I am going to organise my day. If I am involved in 5 projects, I prioritise them and see how much time it will take.
I don't have many meetings, I work closely with my team throughout the week and regularly talk with my supervisor about progress. We are a team of 6 and keep growing.
At 12h00 I break for lunch and go with whoever is available in the team. I buy my lunch onsite as there are many hot food options to choose from. I can choose between 4 or 5 different mains every day. Then I go for a walk across campus and grab a coffee to bring back to my desk.
I leave work between 17h00 and 17h30. I use the gym onsite twice a week, it's so convenient. I also take part in other sports during the week as well as play music
What is the best thing about working at Sanger Institute?
Being here is good for my career, especially as a software developer and bioinformatician. I am analysing data on a large scale using the infrastructure at Sanger Institute, which is great. I am really growing in computational skills. When I started, I didn't know much about Open Stack and computer clusters – that's pretty much all I am doing now.
There are opportunities to grow at Sanger Institute as well as other companies on campus. Cambridge is a big biotech hub, there are many positions and it is a really good time to join.
I personally am enjoying learning about state-of-the-art technologies. I am learning how to use Open Stack and Cloud environments at large scale through thousands of samples. You can't do this in many places in Europe.
I also like the fact that I can cycle to work!
Something you didn't expect about working at Sanger Institute… 
Actually, it is just as I imagined it would be. It was very easy for me to move here, I stayed in an "Airbnb" for 2 weeks before sorting out accommodation. I found a property very quickly.
I like Cambridge. Some people say it's too quiet but it's close to London. It's also close to the airport so I can go back to France very easily.