A Day in the Life of a Software Developer - Aleksandra Tarkowska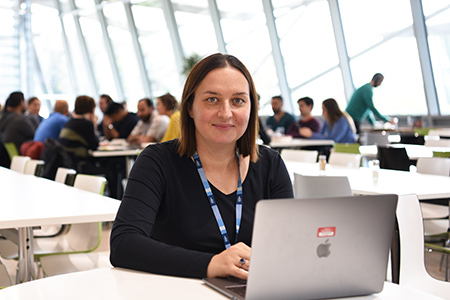 Software development is a relatively new field, and as such is shrouded in more mystery than many other disciplines. So we've taken a look behind the curtain to look at a typical day for a software developer at Wellcome Sanger Institute.
Please note: While the exact role of a software developer varies from project to project, Aleksandra's experience below will gives a great example about the type of work our developers do at the Institute.
Tell me about yourself 
I come from Poland, from the city of Lodz known for Oscar winning actors and directors such as Roman Polansku, and Andrzej Wajda. I have been working at Sanger Institute for almost two years now. I work in the Cellular Genetic Informatics Team as a Solution Architect. Before joining Sanger Institute, I worked in Open Microscopy Environment (OME) Consortium based at University of Dundee helping to develop web interfaces to provide fast and easy access to the large scientific data sets, with a focus on data visualisation, meta-analysis, and data integrity. I believe working there gave me hands-on experience of life science data governance in preparation for Sanger Institute.
Why did you choose to come work at Sanger Institute?
I chose Sanger Institute as it is one of the world's leading genome centres offering unique experiences to join first-class science supporting research infrastructure at scale.
Tell me a bit about your role
I am building data infrastructure to provide fast and easy access to the large amount of microscopy data sets for various projects. I work closely with Infrastructure and Database Serve teams to ensure the solution is a long term fit for the project and Institute. I also manage IT helpdesk activities incorporating cloud services and big data processing algorithms into the analysis pipelines and management systems.
My background is computer science, I learn biology on the job. Having a life science background is not a necessity.
Describe the typical day from the moment you wake up until you go to bed 
I set my alarm for 7:00, but my son usually wakes me up before then. I drop my son off at school and make my way to the Wellcome Genome Campus. I arrive to work for 9:00 and start the day with a great cup of coffee from our onsite cafeteria. My morning consist of cross-team discussions and meetings. Afternoons are usually for achieving and completing the tasks from our discussions.
There's always an opportunity to join an interesting seminar on-site given by scientific speakers from all over the world. I will occasionally attend if it's of interest.
I leave work around 17:00 and head home to spend time with my son.
Biggest challenge working at Sanger Institute
The advancement in microscopy imaging pushed the boundaries of different fields of research, often exceeding the capabilities of researchers own desktop and challenging the conventional data storage systems. The biggest challenge I face include building and implementing a big enough data infrastructure plus automating software solutions to handle large, rapidly growing diverse data sets to help scientists answer scientific questions.
Best thing about working at Sanger Institute?
From a technical standpoint, I have access to one of the most extensive IT infrastructures in life sciences. The High Performance Computing environment is recognised as world-class!
From a personal view, the Wellcome Genome Campus is very friendly and relaxed environment. We are well looked after with coffee places, a gym, group sport and other options for activities
Something you didn't expect about working at Sanger Institute… 
The size of the site! It is set across 130 acres of parkland and wetlands. Providing a huge range of space, beautiful flowerbeds and lawns. As well as a Wetlands Nature Reserve. We are lucky to have such surroundings at work.