Essential Skills of a Laboratory Manager: A Technician's Perspective by Liam Prestwood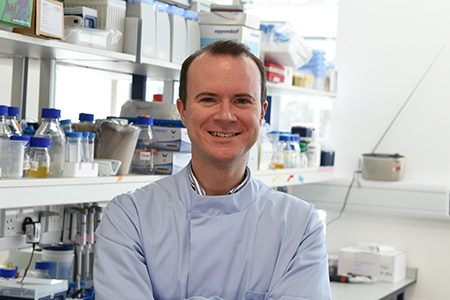 What does a Lab Manager do?
What makes a good Lab Manager?
How do you become a Lab Manager?
These are questions Liam gets asked a lot at Sanger Institute. There isn't a straightforward answer to any of them!
Liam shares his own experience as a Lab Manager below.
So what does a Lab Manager do? 
Laboratory Management can include health and safety, regulatory affairs, equipment and facilities maintenance, ordering and supervision. Other Lab Managers may have different responsibilities and many do lab work- no two labs or Lab Managers are the same!
There is no standard day to day as a Lab Manager, which means you never know what will come up and you have to be quite dynamic and flexible, which keeps it interesting.
How do you become a Lab Manager?
A scientific background helps, I studied Natural Sciences at the University of Bath and previously worked at GlaxoSmithKline and the University of Cambridge.
I had lots of lab bench experience but knew I didn't want to do it forever. I was interested in Laboratory Management and quickly realised that I had some of the skills, so I began building up useful knowledge of everything required for a Lab Manager from safety to equipment repair, via staff advice, training and a good mentor.
I started at the Sanger Institute in 2014 within the Parasites and Microbes Programme, managing higher level Containment Labs (CL) and an insectary used for malaria research. Sanger is an excellent place to work, and I have since grown into my role with the help of good training, knowledgeable and supportive colleagues, and more recently the Technician Commitment.
What makes a good Lab Manager? 
If you are interested to know what it takes to be a good Lab Manager, these are just some personal top tips:
Be organised
Being a lab manager can be overwhelming with seemingly endless meetings, requests, emails and organising others. Keeping to-do lists and a diary is essential!
Be friendly and approachable
Communication is key, I talk to a lot of people on a daily basis. Staff are more likely to discuss issues and ask for help if you are open and approachable. Ensure what you say is clear and knowledgeable, particularly when dealing with non-scientific staff.
Be a problem solver
I get asked to solve a lot of issues, anything from equipment repairs to over-heated offices. I regularly don't know the answer, but often know someone who does, or just use my initiative and find a solution myself! A working lab makes staff happy which means the science can happen.
Look for training and support
There isn't a course for being a Lab Manager, however a combination of different courses can provide the necessary training such as safety, regulatory, and management. The training offered at Sanger is excellent. There is also the opportunity to suggest courses through the Technician's Commitment or through Learning & Development. Relevant courses are available externally (eg.IOSH, HSE) and can be attended where considered appropriate. Learn as you go along, and admit if you don't know something. Ask for help and expertise.
Be flexible (and calm)
As a Lab Manager, spontaneous requests are made throughout the day, which often require me to drop everything. It's my job to support the science and provide knowledge or supervision where needed. Prioritisation and time-management are crucial for the role.
Express your opinion (when useful)
I sit on several committees, representing my teams. My role requires oversight of various teams and equipment so I can bring a different perspective. It is important that I share any helpful knowledge or suggestions, as otherwise changes for improvement cannot be made.
Written as part of the Technician's Commitment
In 2018 The Sanger Institute became a signatory to the Technician Commitment, a sector-wide initiative led by the Science Council to ensure greater visibility, recognition, career development and sustainability for technicians.