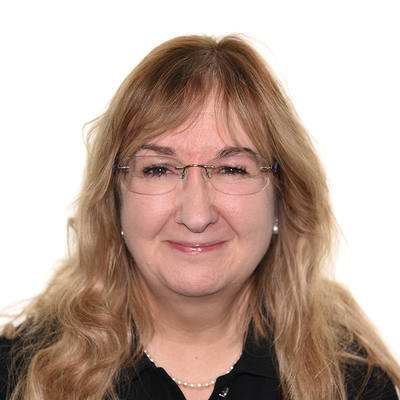 Julie Hipkiss
Associate Director Enterprise Solutions
I lead the Enterprise Solutions department of Informatics and Digital Solutions at the Wellcome Sanger Institute. My teams and I support the creation, delivery and running of the Institute's apps, databases, security tool deployments and web presences. We seek to deliver cost-efficient, timely and easy-to-use solutions that enable our researchers and their support staff to focus on their science.
One of the things that I enjoy most about my role at the Sanger Institute is that I see how my work – and that of my teams – have a direct impact on enabling the Institute's scientists to deliver their world-leading research into health and disease, and life on earth. My previous roles have been in the commercial sector where it can be hard to quantify the value you add to the organisation's work. I feel proud and excited when I see how the solutions my teams put in place allow our researchers to make new insights into cancer, infectious disease and childhood developmental disorders.
Another aspect that I enjoy about working at the Institute is that no two days are same. I am constantly learning, and facing new challenges. I believe that it is vitally important to really understand the needs of the Institute's scientists to provide the best solutions for their needs. Not only do we need to fully appreciate the goals and working practices of our researchers, but also we need to understand and take into account the environments they work in. The needs of a researcher working in latex gloves in a wet lab can be very different from a person working in a standard corporate or office environment. Only when we fully understand how the software will be used can we then advise on, and implement, the most relevant and cost-effective solution.
To provide robust and seamless services that can be relied on 24/7, I like to engage with all stakeholders and take the time to really understand their needs and goals. I seek to be open and honest with everyone I work with and I encourage all my teams' members to take the same approach. It is only through open dialogue and collaboration  – between stakeholders, partners and within the teams themselves – that we can achieve the best results.
Collaboration is key in all my teams' work and it is a defining feature of the Sanger Institute. The Sanger's research projects are truly global endeavours, drawing together collaborators from many continents. This spirit of collaboration is fantastic and it is something I really value about the organisation.
One of the most important challenges my teams and I seek to overcome is providing solutions that not only meet the needs of scientists in the UK, but also the regulatory, security and technological requirements of researchers around the world. It's exciting to be pushed in directions that we wouldn't otherwise need to go, and discover new ideas and approaches as a result.
Because the Sanger Institute – and its scientists – are always seeking to be at the cutting edge to drive the next wave of scientific discovery, we are always exploring new technologies. This means that we are constantly growing our skills and networks of external contacts, and aren't simply trying to keep ageing technology and legacy systems running.
I encourage all my teams to be well-versed in the latest approaches and thinking so that we can help our colleagues conduct their imaginative and ambitious research. Throughout Enterprise Solutions, we constantly horizon-scan for the best technologies and to look to innovate and improve our existing solutions. I am keen that everyone has the opportunity to build up their knowledge and learn new skills to improve our service and grow their careers.
As part of this, I enjoy mentoring people to help them thrive in their work. I see my role as empowering people and supporting them to develop their skills and take on new challenges. I like to break down barriers and work with people to help them achieve their career aspirations.
My timeline
Associate Director for Enterprise Solutions

Director, Business Process Transformation, Avon Protection Systems

Head/VP of Business Systems, Avon Protection Systems

Senior Change Lead, First Group

Director, Change and Transformation, Brakes Group

Head of Governance and Assurance, Brakes Group

IT Business Partner speciality businesses, Brakes Group

Director of IT, Big Food Group