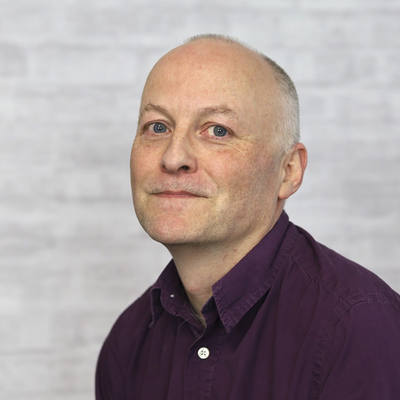 John Boyle
Associate Director of Science Solutions
I am the Associate Director of Science Solutions. My department partners with the Sanger Institute's scientists to anticipate and supply their data science related needs to carry out their world-leading research.
I believe that fulfilment at work is important, and the Sanger Institute's mission to use genomics to improve health and understand life on earth appealed to me. I and my teams enable the Institute's scientists to advance human knowledge for the benefit of society by working closely with them to understand their cutting-edge research and future needs so that we advise on, and supply, best-in-class solutions.
I see it as my role to help people achieve their best at work. Every time my teams deliver solutions that drive forward the Institute's world-leading research, it motives us all to keep pushing the envelope of what's possible. It's a culture I seek to embed at every level: it is not just down to each team member to develop these behaviours, it is also the responsibility of their managers and, ultimately, me.
Two of the best ways that I can help my people deliver expectation-exceeding solutions are by ensuring that we all understand the Sanger's mission – not a difficult task – and by boosting their confidence in their abilities. To support the latter, I encourage all my teams to build in time for people to develop their technical skills and experience to evolve and improve the service we offer. In addition, I ask my staff to grow their people-skills so that they can forge strong and extensive networks across the Institute to truly partner with our scientists. When my teams' members understand the research our scientists are conducting (and wish to pursue in the future) they can not only draw on their extensive technical knowledge to supply transformational solutions, but they can also see how their work directly helps to increase the Institute's scientific impact.
Early on in my career I learned the importance of ensuring the well being of all my staff. The duty of care I feel as a manager has stayed with me ever since. Supporting people's mental health and enjoyment of their work is a daily and career-long commitment. I look to create an environment where people can express honestly how they feel so that we can support them when they are struggling and celebrate and amplify their achievements.
But such a supportive culture cannot be made by simply mandating it through rules. Instead, it is essential to build deep relationships through open and non-judgemental discussions. If we want to truly support each other, we need honest conversations that are two-way. Data science is fasting-moving and multi-faceted discipline requiring continual horizon scanning and training, and it is only by honestly assessing our strengths and weaknesses – both as a department and as individuals – that we can discover where we need to develop our skills and build in the time needed to grow our knowledge.