Whole genome sequencing will 'transform the research landscape for a wide range of diseases'
UK Biobank enters exciting new phase of genetics research
UK Biobank announces today (6 April) a major initiative to sequence the full genomes of 50,000 UK Biobank volunteer participants.
Funded by a £30M grant from the Medical Research Council (MRC), sequencing of the whole genome will be undertaken during 2018 and 2019 by the Wellcome Sanger Institute which is based in Cambridge.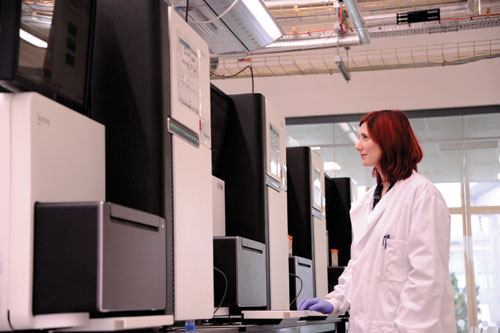 UK Biobank and the MRC are taking advantage of the revolution in genetics analyses that makes large-scale sequencing possible at an ever-quickening pace. With the ultimate goal to sequence all 500,000 UK Biobank participants, the investment will help establish the world's most detailed whole genome database – and further accelerate research into a wide range of diseases that cause disability and premature death in mid to later life.
UK Biobank's participants are already contributing enormously to health research. The resource is built on health information that they have provided for research, and it is now being used with their consent by more than 6,500 approved scientists around the world. While it is still early days for UK Biobank, almost 400 peer review papers have so far been published, and the resource grows in value for research with every passing day.
Professor Sir Rory Collins, UK Biobank Principal Investigator, said sequenced data was a vital piece of the health jigsaw that scientists had hoped for, but never imagined would come so quickly.
"This development is transforming in many ways. It massively extends the sorts of questions that scientists can ask and the speed at which they will get results.

"I am extremely grateful to the MRC and Wellcome for having the long-term vision to fund this important resource and to our participants for having gone out of their way to join UK Biobank a decade or so ago. Their altruism is delivering new findings every day."

Professor Sir Rory Collins UK Biobank Principal Investigator
"The UK Biobank partnership is the MRC's largest single commitment to understanding the contribution of genetics, environment and lifestyle in maintaining good health and complements our numerous in-depth research with people affected by specific diseases. Across almost all areas of health – from bone and joint health to cancer, dementia and heart disease – this programme, supported by the Industrial Strategy Challenge Fund, will help us discover and develop more precise treatments, and in the longer term help us predict and prevent disease."

Dr Nathan Richardson Head of Molecular and Cellular Medicine at the Medical Research Council (MRC)
The Wellcome Sanger Institute is a world leader in genome research, and aims to deliver new insights into human and pathogen biology that change the course of biology and medicine.
"We are delighted to partner with UK Biobank by providing whole-genome sequences for 50,000 volunteer participants. In the past 25 years, the scale and scope of the Sanger Institute has grown exponentially, and as a result we have recently celebrated the milestone of sequencing and analysing five petabases (i.e., five thousand trillion base pairs of DNA sequence) of genomic data. Thanks to our world-leading sequencing teams and facilities, we have the ability to deliver large-scale projects such as this one, which is key to transforming research into disease."

Professor Sir Mike Stratton Director of the Wellcome Sanger Institute
"The UK Life Sciences Strategy includes a plan to sequence at whole genome level all 500,000 individuals in UK Biobank. There is enormous global interest in this vanguard project. We hope in the coming months we will be able to consider thoroughly the range of options open for the main program, including the use of new technologies to enhance the dataset. This program should provide a new global standard for human genome sequencing and will greatly improve our ability to define and treat disease."

Sir John Bell Regius Professor of Medicine, University of Oxford
Many researchers are already using anonymised genotyping data from UK Biobank. These data, which were released in 2017, only provide a partial picture of the genome but have, nevertheless, stimulated a lot of research activity using UK Biobank.
Since then, GSK in the UK and Regeneron in the US have funded the sequencing of the exomes of 50,000 participants. The first data will be made available to all registered UK Biobank researchers by the end of this year. Regeneron and a consortium of seven other companies are now funding exome sequencing of the other 450,000 participants. This work should be completed by the end of 2019, delivering further valuable information to a wide range of researchers very soon afterwards.
The exome constitutes the active genes and accounts for about 2 per cent of the human genome. It is key to producing proteins that build cells and control cell activity. Analysis of the exome may identify targets for new drugs to improve health. However, control of the active genes in the exome is influenced by other parts of each person's genome. Sequencing the whole genome is more complex than exome sequencing or genotyping, as well as being more expensive. It is, however, key to understanding how protein production is regulated and likely, to provide important information about ways in which to prevent and treat disease.
"Our goal, with the support of our participants, is to ensure that the UK Biobank resource is used for the widest range of health research to bring about advances in our understanding of disease as quickly as possible. There are plenty of valuable genetic data from UK Biobank already available, or becoming available, that are adding real impetus to current research. But the addition of whole genome sequence data will be the icing on the cake for the research community, and we'll be able to deliver it remarkably soon. The excitement in the international research community is palpable."

Professor Sir Rory Collins UK Biobank Principal Investigator
Participants joined the UK Biobank project between 2006 and 2010, when they provided detailed information about their health and well-being, had some physical measurements (such as blood pressure, height and weight), and donated samples of blood and urine for long-term storage and analysis. As well as genotyping, biochemical analyses (e.g. cholesterol and hormones) have been undertaken and these data will soon be released to researchers.
Participants also provided more information about their work, mental health, cognitive function, diet and gut health, and 100,000 have worn activity monitors for one week. UK Biobank is a quarter of the way through a multi-million pound project to image 100,000 of the participants – the biggest imaging study ever undertaken – paid for by the Wellcome Trust, the MRC and the British Heart Foundation.
With the participants' consent, UK Biobank has linked their data to their health records, such as hospital episodes statistics, cancer and death data, and it is currently linking to GP information. Researchers register with UK Biobank and then apply to use particular data. All information is provided to researchers in such a way as to help prevent the identification of participants (that is, it is "anonymised").
UK Biobank is funded by the MRC, Wellcome, BHF, CRUK, Department of Health, Scottish Government & Welsh Government, Diabetes UK.
The technology provider for the project is Illumina.
"This project demonstrates the continued commitment to Science and Genetics within the UK, and we are proud that it will be delivered on Illumina's technology by a key UK research institute."

Paula Dowdy Senior Vice President and General Manager, Illumina, Europe, Middle East, and Africa – the technology provider for the project
Selected websites
For more information about this pioneering project take a look at our website www.ukbiobank.ac.uk or follow us on Twitter @uk_biobank

The Wellcome Sanger Institute is one of the world's leading genome centres. Through its ability to conduct research at scale, it is able to engage in bold and long-term exploratory projects that are designed to influence and empower medical science globally. Institute research findings, generated through its own research programmes and through its leading role in international consortia, are being used to develop new diagnostics and treatments for human disease. To celebrate its 25th year in 2018, the Institute is sequencing 25 new genomes of species in the UK. Find out more at www.sanger.ac.uk or follow @sangerinstitute

The Medical Research Council is at the forefront of scientific discovery to improve human health. Founded in 1913 to tackle tuberculosis, the MRC now invests taxpayers' money in some of the best medical research in the world across every area of health. Thirty-two MRC-funded researchers have won Nobel prizes in a wide range of disciplines, and MRC scientists have been behind such diverse discoveries as vitamins, the structure of DNA and the link between smoking and cancer, as well as achievements such as pioneering the use of randomised controlled trials, the invention of MRI scanning, and the development of a group of antibodies used in the making of some of the most successful drugs ever developed. Today, MRC-funded scientists tackle some of the greatest health problems facing humanity in the 21st century, from the rising tide of chronic diseases associated with ageing to the threats posed by rapidly mutating micro-organisms. The Medical Research Council is part of UK Research and Innovation. https://mrc.ukri.org/ The Industrial Strategy, launched by the Business Secretary, sets out a series of grand challenges for the economy to address over the coming years. The Industrial Strategy Challenge Fund (ISCF) is there to make sure our researchers and businesses work together to find the solutions, so that the UK economy reaps the commercial benefit. The 'data to early diagnostics and precision medicine' challenge has been developed through the ISCF process and the Government has announced support of up to £210 million over five years from 2017/18 to 2022/23, subject to business case approval.