Onur Pinar / Wellcome Sanger Institute
Sanger Institute awarded UK Science Council Employer Champion status
The award recognises the work that the Sanger Institute dedicates to the quality and practice of science through the professional development and registration of its technical staff.
The Wellcome Sanger Institute has been recognised by the UK Science Council with an Employer Champion Award for its work in advancing the professional development of its technical staff. In a ceremony (19 July), the Institute was awarded the status by Helen Gordon, Science Council CEO and praised for its work on Sanger's Technician Commitment programme.
The Employer Champion Programme award is bestowed by the UK's Science Council, which is the guardian of professional standards for scientists and science technicians through their professional registration awards. These standards aim to ensure best practice and integrity in the science workforce.
This award is an important milestone for the Institute as it aims to improve career standards for technical staff. In March 2018, the Institute signed the Technician Commitment initiative and created a Technician Commitment manager role in 2019, to enhance the efforts to develop and recognise the highly skilled technical employees, who are vital for the organisation's achievements. This role is the first of its kind in the UK.
Since then, the initiative has kept growing and has been supporting technical staff at Sanger. With over 700 members and four working groups, Sanger's Technician Commitment looks at a wide range of topics such as visibility, recognition, career progression and development support.  
The signatory event was preluded by a morning of gatherings. A Professional Registration workshop session in the morning, led by the Science Council, followed by a set of case studies. Laura Grout, Gary Thorpe and Zoe Goate, technical staff at Sanger who have been through the Professional Registration process reflected on their experience in a Q&A moderated by Jane Banks, External Relationships Manager at the Science Council. They all agreed that not only had Professional Registration improved their career perspectives but that it was a great way to delve into their achievements throughout the years and build confidence.
The three of them were then awarded their Professional Registrations. Laura Grout, Head of Quality at Science Operations was awarded a Chartered Scientist certificate. Gary Thorpe, Quality Officer and Zoe Goate, Advanced Research Assistant, were each awarded a Registered Scientist certificate.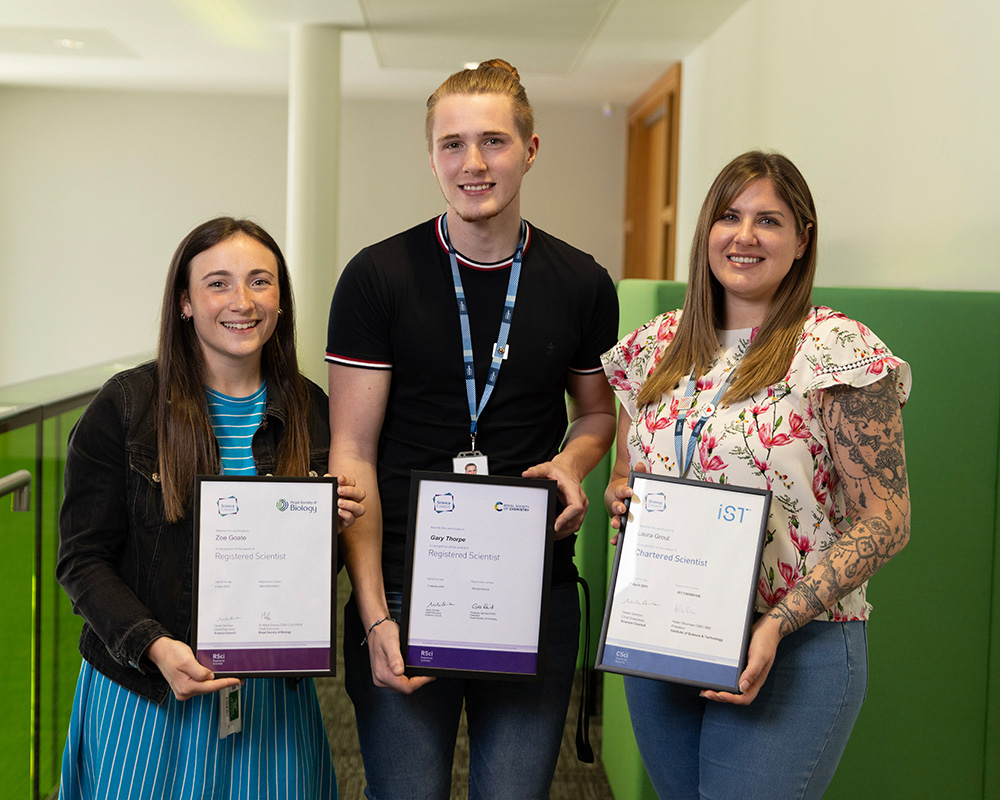 "The Wellcome Sanger Institute has reached a significant milestone by becoming an Employer Champion with the Science Council, showcasing our strong commitment to supporting staff development. This accomplishment was made possible through the encouragement of senior leaders, scientific managers and importantly the ownership of the Sanger Technical staff. I am excited about collaborating with key stakeholders throughout the Institute and embedding Professional Registration into our employee processes."

Burcu Bronner-Anar, Technician Commitment Manager at the Wellcome Sanger Institute
"I am absolutely delighted that the Wellcome Sanger Institute has become an Employer Champion of the Science Council, which shows their dedication to supporting, developing and championing their science workforce. We appreciate the time and dedication to get to this point and look forward to seeing their approach develop over the coming years."

Helen Gordon, Science Council Chief Executive
"At the Sanger Institute we are proud to champion the vital role technicians play in making our science happen. As part of our ongoing commitment to increase the visibility and status of technical staff, we are setting up processes to share best practices, learn new skills and recognise the achievements of our technicians."

Dr Julia Wilson, Associate Director of the Wellcome Sanger Institute