Phil Mynott / Wellcome Sanger Institute
Genomics campus expansion to boost science in UK and health globally
Wellcome announces major investment in phase one of Cambridgeshire development which will deliver new lab space, homes, amenities, and unlock future development across 315-acre campus expansion site.
The Wellcome Genome Campus at Hinxton, Cambridgeshire will undergo a major expansion that will secure its status as a world-leading hub for genomics and biodata – two of the most cutting-edge areas of scientific research.
Investment for the expansion's first phase has been approved by the board of Wellcome, a charitable foundation and one of the world's biggest funders of biomedical research. This first phase alone will be one of the largest contemporary investments in the UK's life sciences infrastructure.
The new development – for which Wellcome has allocated hundreds of millions of pounds – will be part of the foundation's investment portfolio and will generate a return to support its mission of supporting science to solve urgent health challenges.
Thirty years after the creation of the campus, the expansion will add much-needed capacity for biosciences at a time when the UK is facing a shortage in laboratory space, and will build on the success of existing long-term occupiers: the Wellcome Sanger Institute, the European Molecular Biology Laboratory's European Bioinformatics Institute (EMBL-EBI), and the BioData Innovation Centre, which houses a range of start-up companies as part of the site's genomics and biodata community (1).
The site will continue to focus on genomics and biodata, aiming to attract global leaders in these fields and provide enhanced opportunities for this research to be translated into real-world solutions for health challenges. The new facilities will accommodate a range of occupiers from start-ups and scale-ups to more mature organisations, growing and enhancing the existing scientific ecosystem.
"Investing in science is crucial to solving the health challenges facing the world today. The human genome was fully sequenced only 20 years ago, so the fields of genomics and biodata are still in their infancy, making them especially exciting. Breakthroughs in these fast-moving disciplines over the coming years have the potential to revolutionise how we diagnose, treat and prevent illness in the future.

"Bringing great researchers together to share ideas and inspire one another is one of the best ways to cultivate new discoveries. Scientists at the Wellcome Genome Campus have already made remarkable contributions to our knowledge of life and health. Growing the campus now will accelerate advances and change even more lives for the better around the world."

Julia Gillard, Chair of Wellcome
New community amenities and increased biodiversity.
Today's news is a major milestone in the Campus's expansion, after South Cambridgeshire District Council granted planning permission in early 2021. Since then, Wellcome, teams on the campus, and development experts Urban&Civic (2) have been working on detailed aspects of the plans.
This first phase will unlock development across the 315-acre extension by putting in place crucial infrastructure and readying parcels of land for new occupiers to build on. It delivers a near doubling of the built area of the existing campus with:
180,000 square feet of new research space, plus a gym and swimming pool, shops and cafes for the local community and people on campus
around 400 of the 1,500 total planned homes for people working on the site
an electrical grid throughout the site, connected to a new substation that will support renewable generation on site, along with other enabling work, roads and parking to underpin the expansion of the campus.
It will also deliver:
upgrades to transport infrastructure, including to local road and cycle networks
new habitats for wildlife and increased biodiversity, open to the local community and integrated into existing wetlands.
Detailed building designs will be developed this year with the first buildings due for completion in early 2026.
Future phases will see a further 1.4mn square feet of laboratory and research space, the remaining homes, further amenities and community facilities, and a local primary school.
As part of the development Wellcome will also be supporting:
a construction jobs scheme to help local people gain employment on the development
improvements to Hinxton village hall alongside the new community facilities on campus
a new community development worker to facilitate community activities and staffing for Sure Start work for young families.
Wellcome will use low-carbon methods of construction and is looking at the best ways to generate renewable energy on site, with an aim for the development to be net zero in operation.
The Wellcome Genome Campus opened in 1994, building on the establishment of the Wellcome Sanger Institute – then called the Sanger Centre – in 1993. The institute was responsible for sequencing one third of the human genome as a partner in the Human Genome Project.
This thriving campus is the leading hub for genomic science in Europe, bringing together nearly 3,000 people including employees, PhD students and visiting workers between Sanger, EMBL-EBI and those in a range of specialist and innovative genomics and biodata companies.
Recent developments in genomics pioneered on the campus have shown promise in treating various types of cancer, have helped in diagnosing rare genetic diseases, and are contributing to early-warning signs for infectious disease outbreaks (3).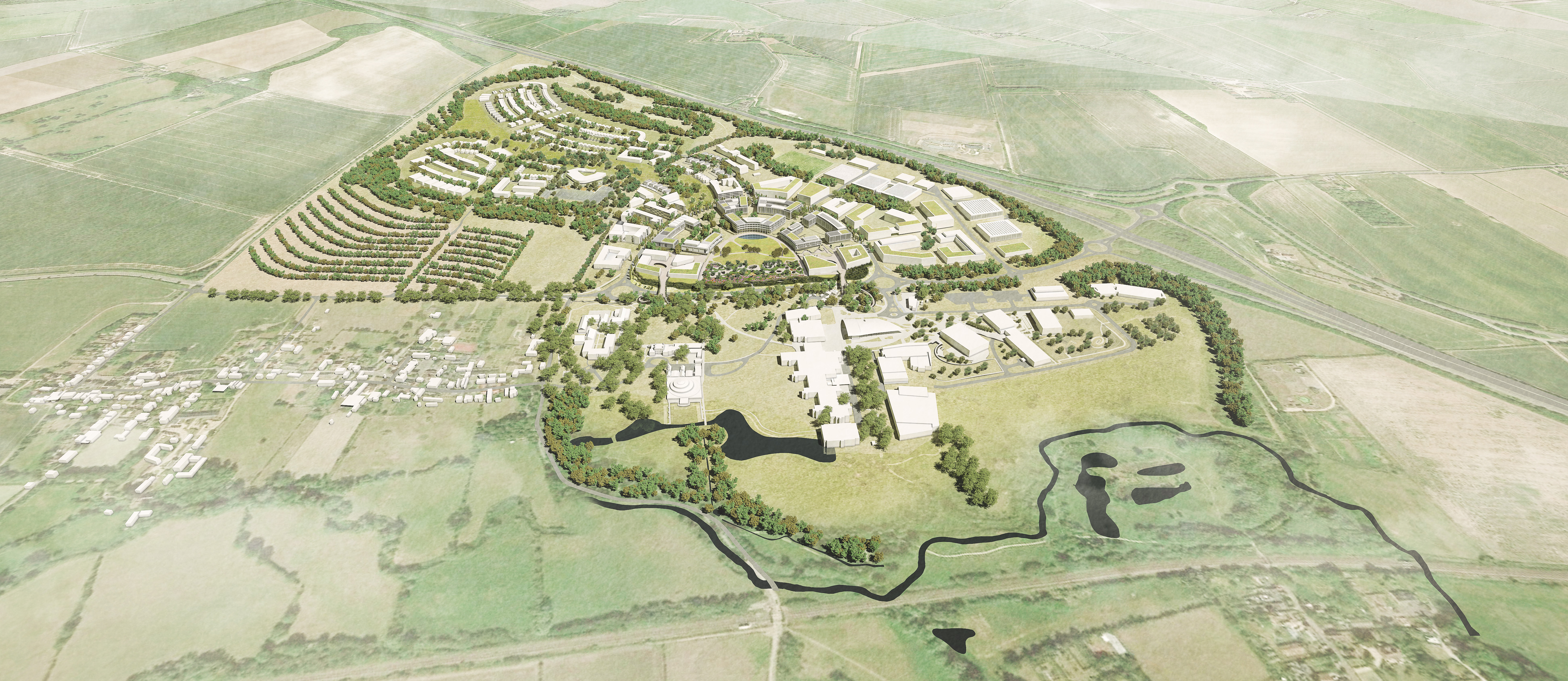 "This is a major milestone in the growth of the Wellcome Genome Campus, cementing its position as a world-leading genetics and biodata hub.

"This investment will be directly helping to turn cutting-edge science into advances in health as well as generating a return to help fund Wellcome's mission.

"Our aim is for the quality of the development and the new amenities for people working on campus and living nearby to make this a truly global destination for research organisations and innovative companies.

"As a charitable foundation we think about the long term when we're investing. For the campus expansion, that means sustainability in every sense is crucial to us because we expect to be looking after it for decades to come."

Paul Schreier, Interim Chief Executive of Wellcome
"The Wellcome Genome Campus is a special place – it brings together experts in genomes and biodata from across the globe, in collaborations on research projects, in training courses and during conferences, openly sharing the latest knowledge and discoveries in the field.

"Expanding the campus will create opportunities to catalyse additional collaborations, so that we can continue to do innovative science at scale to overcome the challenges facing society. It is only by working together that we can continue to push the boundaries of what's possible in genome research – from finding new ways to understand and treat cancer, to helping provide children with rare genetic disorders with a diagnosis for the first time. I look forward to the next few exciting years to come, as these ambitious development plans become reality."

Matt Hurles, Director of the Wellcome Sanger Institute
"Few places are as vibrant as the Wellcome Genome Campus, which brings together first-class research and open data resources that the global scientific community relies on. The concentration of expertise on the Wellcome Genome Campus meant that EMBL chose to establish its European Bioinformatics Institute on this site over 25 years ago. In that time our data resources have grown dramatically and an evaluation found that EMBL-EBI data and services contributed to the wider realisation of future research impacts worth £2.2 billion annually in 2021. This reflects the importance of open data to the discoveries of tomorrow.

"Alongside our collaborators, we are advancing discovery and using cutting-edge technologies to solve global challenges such as infectious disease, food security and biodiversity. This next phase of growth for the campus is an incredibly exciting development, and EMBL-EBI looks forward to continuing to work with colleagues across campus as we expand, growing new collaborations and opportunities for translation. This development will enable us to push the limits of our knowledge even further and nurture new and exciting partnerships."

Ewan Birney, Director of the European Bioinformatics Institute
More information
Wellcome supports science to solve urgent health challenges facing everyone. It has committed to spend £16bn over the coming decade to support new discoveries in science and health and to help find solutions for three of the world's greatest health challenges: climate change and health, infectious diseases and mental health. Wellcome is funded by the returns from its £38bn investment portfolio, which is overseen by its in-house investment team and invested across a wide range of assets.
1) Further information about the existing 125-acre campus can be found here: https://www.wellcomegenomecampus.org/aboutus/who-is-on-campus/
2) Urban&Civic is a leading master developer of high-quality, large-scale sites. The business was established in 2009 and acquired by Wellcome in 2021. It forms part of Wellcome's investment portfolio, helping Wellcome fund science to solve urgent health challenges by delivering sustainable developments that create long-term value and returns. More details: https://www.urbanandcivic.com/about-us/
3) Recent developments have included:
Human Cell Atlas: The cell genetics programme is leading the world in deploying single cell genomics through the Human Cell Atlas with the aim to create a reference map of our tissues at the single cell level, using cutting edge high-resolution genomics and imaging technologies. This international project involves over 1,500 scientists and hundreds of projects, aiming to profile human tissues at single cell resolution. The initiative is taking the understanding of all human cell types and cell states into the genomics era and has delivered ground-breaking insights into health and disease. More details: Cell mapping and 'mini placentas' give new insights into human pregnancy – Wellcome Sanger Institute
Rare disease: The human genetics programme has pioneered the elucidation of the genetic architecture of rare disorders, using a combination of large-scale genome-wide sequencing and development of novel statistical methods, resulting in identification of over 100 novel disorders and delineation of the broader genetic architecture of specific disorders. They demonstrated the power of exome sequencing across eight different rare disease areas: intellectual disability, congenital heart defects, ciliopathies, hypercholesterolemia, developmental eye malformations, severe insulin resistance, neuromuscular diseases, and thyroid disorders. More details:5,500 people diagnosed with rare genetic diseases in major research study – Wellcome Sanger Institute.
Genomic surveillance: Since the Human Genome Project, Sanger has led on delivering foundational pathogen and parasite genome datasets and has led the world in understanding how genomics can be used to understand the spread of infectious disease and patterns of resistance. COVID-19 saw the Institute play a critical part in identifying new variants and generated over 20% of global sars-cov2 genome sequences. More details: Genomic Surveillance Unit – Wellcome Sanger Institute.