Wellcome Sanger Institute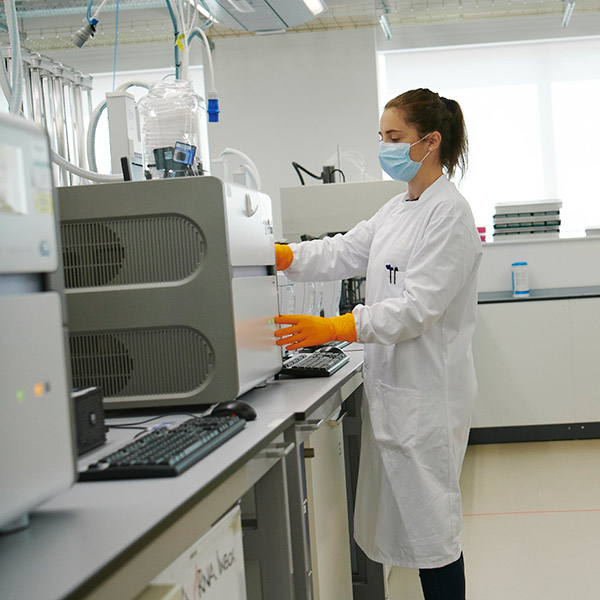 Genomic Surveillance Unit
The goal of the Genomic Surveillance Unit (GSU) is to support partners around the world to achieve their vision for genomic surveillance as a practical tool for local infectious disease control and pandemic preparedness.
Why genomic surveillance?
One of the biggest challenges in the battle against infectious disease is that pathogens are continually evolving. Genomic surveillance involves sequencing the genetic material of pathogenic microbes and their vectors so that evolutionary changes that affect transmission, disease severity and susceptibility to treatment can be observed. This makes it possible to monitor the ever-changing landscape of pathogen populations in order to develop effective strategies for disease control and elimination.
What does the Genomic Surveillance Unit do?
Making genomics more accessible and easier to scale will be vital for genomic surveillance to be used as a practical tool for local infectious disease control. As such, at the Genomic Surveillance Unit we develop, run, support and maintain open products that enable the genomic surveillance needs of our partners to be met. Our products provide support all the way from sample collection in the field, through high-throughput laboratory sequencing, to the delivery and interrogation of analysis-ready data.
We work closely with our partners to identify and develop new concepts, prototypes and opportunities tailored to their specific needs. We also provide guidance and training to support partners in establishing sustainable surveillance programmes. Coupling the delivery of actionable information with support for operational research and professional development enables our partners to focus on answering their pressing public health questions.
How does the Genomic Surveillance Unit achieve this?
We collaborate with leaders of clinical, epidemiological or immunological research projects and public health agencies in endemic countries, as well as international public health bodies and funders, with a focus on:
Strengthening capacity
Building on successful partnerships and data-sharing networks to improve the accessibility and analysis of genomic data.
Integrated, open data
Producing and enabling standardised, openly available, analysis-ready data resources that are actionable for public health.
Developing tools and methods
Strengthening the links between discovery research, operational research and large-scale genomic surveillance to translate findings into open, easy-to-use methods and tools – with the goal of making genomics more accessible and easier to scale.
Collaborative analysis
Working with partners to produce timely and actionable information to guide public health interventions.
How does the Genomic Surveillance Unit operate?
Establishing integrated end-to-end genomic surveillance systems is a complex process. Requirements vary widely depending on the nature of the infectious disease agent or vector organism, on local infrastructure and existing knowledge and expertise. We work with partners worldwide, seeking to learn the lessons in each setting that can enable us to deliver services and products that are low-cost and easy to implement in others.
As an experienced implementation partner, the Unit can help to ensure that surveillance programmes are built and used in settings that wouldn't otherwise be possible. We know that this relies heavily on the leadership and expertise of those who are deeply familiar with the local setting. We therefore work with our partners' local leaders, particularly in low- and middle-income countries, to try and help them identify sources for long-term, in-country funding for their genomic surveillance needs.
By collaborating closely with partners under a range of different models, the Genomic Surveillance Unit can provide support with design and deployment of in-country services, set up and run an outsourced end-to-end genomic surveillance service, either as a short-term or long-term solution, or develop hybrid approaches.
Under the leadership of its Director, John Sillitoe, the Unit operates through four mutually beneficial and reinforcing pillars:
Collaboration
Support global partners in various ways, ranging from providing advice and support for design and deployment of in-country services through to outsourced service delivery.
Service
Operate part or all of a genomic surveillance system on behalf of countries or institutions.
Training
Offer long-term secondment and genomic surveillance training programmes to partners.
Product development
Develop openly available tools and methods that strengthen the capability for establishing in-country surveillance programmes and that produce genomic data of practical value to addressing public health questions.
Building on expertise
The Genomic Surveillance Unit is a logical progression for the Sanger Institute, providing a translational engine with which to build on the infectious disease research and surveillance already underway at the Institute and our partners around the world.
Through our extensive work with the MalariaGEN network, COVID-19 surveillance, and through the Sanger Institute's Parasites and Microbes (PaM) Programme more broadly, we have developed deep experience in building long-term, equitable and ethical partnerships and data sharing networks with which to help partners to implement systems for genomic surveillance.
We retain intimate collaborative ties with groups across the Parasites and Microbes Programme. However, by distinguishing the infectious disease and insect vector research activity undertaken in the Parasites and Microbes Programme from our focus on the delivery of large-scale genomic surveillance, we are better able to focus on the specific public health needs of our partners.
Through our work to develop new tools and methods, we support our collaborators in Parasites and Microbes and across our partners organisations to develop the outputs of their research into products that can be deployed to strengthen their genomic surveillance programmes.
Focus areas and capabilities
We are highly collaborative and employ a multidisciplinary approach, with a blend of experience ranging from commercial engineering and product development through to in-country capacity development and scientific leadership. We are passionate about integrating scientific and operational aspects of genomic surveillance.
The Unit currently has the following key focusses and capabilities:
Public Health
Malaria Vector Surveillance
Malaria Parasite Surveillance
COVID-19 Surveillance
Capabilities
Engineering business and data systems
Undertaking large-scale surveillance operations
Implementing surveillance projects
Producing analysis-ready data
Analysis and interpretation of genome data
Supporting and engaging partner networks
Genomic Surveillance Unit Partners
As part of our partnership with the UK Health Security Agency, we are responsible for designing and running the end-to-end delivery pipeline of the UK national facility for COVID-19 genomic sequencing at the Wellcome Sanger Institute, that brings in samples from testing labs around the country and combines multiple data streams to monitor SARS-CoV-2 variants in near real time.
We work with key partners in the Parasites and Microbes Programme and in-country, alongside the Pan American Health Organisation, to support public health laboratories across Latin America to analyse locally-generated SARS-CoV-2 sequencing data.
We also work with MalariaGEN, housing a resource centre which supports the network's global genomic surveillance of malaria parasites and mosquitoes. Founded on the principles of equitable data sharing and local capacity building, MalariaGEN brings together hundreds of partners in over 40 malaria endemic countries.
Our COVID-19 surveillance programme
MalariaGEN and the future of malaria research
Current Opportunities
The teams and individuals who make up the Genomic Surveillance Unit work collaboratively on a wide range of projects drawing on a wide range of skills and experience from academic and commercial sectors. We are always on the lookout for bright, motivated people to join us in our work. Please see our current opportunities below:
Data Engineering and Aggregation Lead - Surveillance Operations
Are you an experienced, pragmatic and forward-thinking Data Engineering and Aggregation Lead looking to contribute towards solving real global health challenges? If so, this may be a once in a lifetime opportunity – and we are looking for someone like you! No science background needed!
You will lead a team of data engineers supporting the aggregation, management, storage and integration of genomic surveillance data and related metadata with public health entities and research partners.
About the role
As the Data Engineering and Aggregation Lead, your primary objective will be to take data from sequencing informatics pipelines and integrate it with multiple sources of heterogeneous data to deliver a range of high quality, analysis-ready genetic data products to third party organisations and the Analysis team via multiple channels.
Scrum Master - Surveillance Operations
We have an exciting opportunity for a further Scrum Master to join our growing Business Systems and Data Engineering team within Surveillance Operations at the Sanger Institute.
What the role offers:
Genuine job satisfaction and purpose serving scrum teams developing digital products that support a scientific community to deliver extraordinary improvements in human health through genomic surveillance data.
Autonomy in how you provide servant leadership and process improvements within your nominated scrum or Kanban team, supported by our Scrum Master community of practice. Our Scrum Masters work alongside our certified Product Owners, Developers and QA test teams, supported by Data Architects and Data Engineers.
The opportunity to orchestrate iterative delivery of robust and maintainable web-based services supporting internal and external scientific research and public health communities typically using technologies of JavaScript (including React/Vue), Python, Postgres, PractiTest, deployed to public and private cloud environments.
The opportunity to showcase the services you help build through an open data and open source culture helping to build great technologies that support the vision of Surveillance Operations.
Hybrid working with a choice of Mac or Windows device and tools that make remote work customary. We are aiming for a culture where we see each other in person around half the week.
Further details

Grade
1
Salary per annum
£48,000 – £58,000
Full Time, Part Time, Flexible Working
Full Time/Flexible working considered
Contract Type
Permanent
Closing Date
21 August 2022
Job Reference
84942
Online application details
https://jobs.sanger.ac.uk/vacancy/scrum-master-493375.html
DevOps Engineer and Senior DevOps Engineer - Surveillance Operations
We have exciting opportunities for a DevOps Engineer and a Senior DevOps Engineer to accelerate the technical delivery of new digital products through automation and adoption of first-class infrastructure technologies. If you are interested in sharing your expertise and technical skill within an Agile team that is actively contributing towards solving real global challenges, apply now.
This role is a hybrid model with a mix of working on-site and remote.
About the Role:
Your team will support multiple scrum teams as they develop complex digital solutions for the CoTrack (CoVID), Conflux (MalariaGEN) application suites and any associated new products.
Senior QA Tester - Data Engineer - Genomics Surveillance Operations
We are looking for a Senior QA Tester to join our Genomics Surveillance Operations (MalariaGEN) department.
About the Role
As Senior QA Tester you will perform manual and automation testing in validating data sources, extraction of data, applying transformation logic, and loading data into target tables, working closely with data engineering functions to ensure a sustainable test approach so that the Wellcome Sanger Parasites and Microbes (PaM) Surveillance Operations team can provide a service.
External partners and funders