John Sulston (1942-2018) – Founding Director of the Wellcome Sanger Institute
We are deeply saddened to announce the death of Professor Sir John Sulston, Founding Director of the Wellcome Sanger Institute
Professor Sir John Sulston founded and directed the Sanger Institute, then Sanger Centre, from 1992 to 2000, leading a historic period of genetic discovery. He led the UK's contribution to the draft Human Genome, a monumental effort that laid the foundations for the research that is transforming healthcare and understanding of disease today.
Throughout his career, Sir John pushed scientific boundaries and was a strong believer that science is a public good. His far-sighted vision for genomics means he leaves behind a global field firmly founded on the principles of open access and a generation of scientists influenced by his actions and values.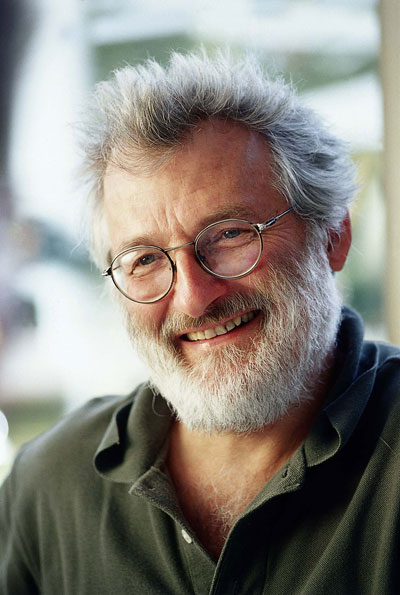 In 2002, Sir John was awarded the Nobel Prize in Physiology or Medicine for his contribution to the understanding of how genes control cell division and cell death in an organism. His early scientific career was spent tracing the division of cells of the adult nematode worm, C. elegans to understand how cells divide and die to create a whole organism. His findings were key to understanding how cancers develop.
In 2017, Sir John was made a Companion of Honour by the Queen in her birthday honours for his major contribution to science and society.
"John was founding Director of the Wellcome Sanger Institute (then Sanger Centre). He proposed, and led from the front, the UK contributions to the human and worm reference genomes and established the Sanger Centre and Wellcome Genome Campus in order to achieve these goals.

"He had a burning and unrelenting commitment to making genome data open to all without restriction and his leadership in this regard is in large part responsible for the free access now enjoyed.

"We all feel the loss today of a great scientific visionary and leader who made historic, landmark contributions to knowledge of the living world, and established a mission and agenda that defines 21st century science."

Professor Sir Mike Stratton Director of the Wellcome Sanger Institute
"John was a brilliant scientist and a wonderful, kind and principled man. His leadership was critical to the establishment of the Wellcome Sanger Institute and the Human Genome Project, one of the most important scientific endeavours of the past century.

"His dedication to free access to scientific information was the basis of the open access movement, and helped ensure that the reference human genome sequence was published openly for the benefit of all humanity. It's just one of the ways that John's approach set the standard for researchers everywhere."

Jeremy Farrar Director of Wellcome
"I am deeply saddened to hear of John's death. His contribution to genetics was unparalleled and in setting up the Wellcome Sanger Institute he changed the course of genomics research. It was an honour to know him and sympathies go to his family."

Eliza Manningham-Buller Chair of Wellcome
Sir John was born on the 27 March 1942. From an early age, he was fascinated with the mechanical workings of organisms and went on to complete his undergraduate degree in organic chemistry at Pembroke College, Cambridge in 1963. He then went on to join the Department of Chemistry at the University of Cambridge, where he carried out a PhD on nucleotide chemistry.
Selected websites
The Wellcome Sanger Institute is one of the world's leading genome centres. Through its ability to conduct research at scale, it is able to engage in bold and long-term exploratory projects that are designed to influence and empower medical science globally. Institute research findings, generated through its own research programmes and through its leading role in international consortia, are being used to develop new diagnostics and treatments for human disease. To celebrate its 25th year in 2018, the Institute is sequencing 25 new genomes of species in the UK. Find out more at www.sanger.ac.uk or follow @sangerinstitute

Wellcome exists to improve health for everyone by helping great ideas to thrive. We're a global charitable foundation, both politically and financially independent. We support scientists and researchers, take on big problems, fuel imaginations and spark debate. wellcome.org