Commitment to collaborate on using genomics for pathogen surveillance across Europe
Combining the strengths of the European Centre for Disease Prevention and Control, the Wellcome Sanger Institute and the Centre for Genomic Pathogen Surveillance will improve the monitoring and tracking of infectious disease across Europe
Leaders from the Wellcome Sanger Institute and the European Centre for Disease Prevention and Control have signed a framework collaboration agreement, agreeing to work in partnership to help enable and improve the use of genomic technologies in monitoring dangerous bacteria in the European Union and European Economic Area.
Signing at a ceremony in Stockholm on 26th February, the leaders demonstrated the importance of collaboration and cross-border research. The two organisations aim to collaborate effectively to foster the wider use of whole genome sequencing as the frontline method for surveillance of disease-causing bacteria. This will help inform public health protection across Europe.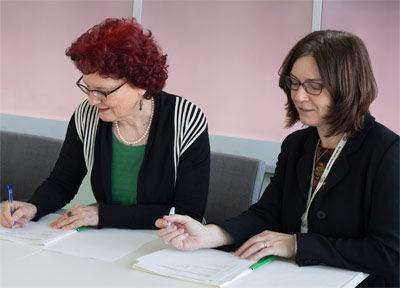 Pathogenic bacteria infect millions of people every year worldwide and are responsible for many diseases, including tuberculosis, cholera and pneumonia. Some of these pathogenic bacteria have also developed drug resistance such as methicillin-resistant Staphylococcus aureus (MRSA), which is resistant to multiple antibiotics and which can cause life-threatening infections in hospitals. Understanding how these bacteria emerge and spread is key to good public health.
Based at the Wellcome Sanger Institute, the Centre for Genomic Pathogen Surveillance (CGPS) aims to understand the emergence and spread of diseases and drug resistance, by carrying out global surveillance of pathogens using whole genome sequencing, and developing tools to analyse, visualise and deliver information to understand this.
The European Centre for Disease Prevention and Control (ECDC) is the European Union (EU) agency that identifies, assesses and communicates current and emerging threats to human health posed by infectious diseases. By agreeing to work in partnership, the CGPS and the ECDC can help improve the monitoring and surveillance of pathogens across Europe.
"Pathogens do not respect borders. By working together we have established a real commitment to drive the uptake and utility of whole genome sequencing and methods for understanding pathogen spread throughout Europe. Genomic technology provides clear information on bacterial strains present in countries, can point to spread within and between countries and is becoming a gold-standard tool for surveillance."

Professor David Aanensen, Group leader at the Wellcome Sanger Institute and Director of the Centre for Genomic Pathogen Surveillance
"It is vital to monitor pathogenic bacteria and the spread of drug resistance to help inform public health policies. We are delighted about this agreement between our two organisations as it aligns with the core scientific aims and strategy of the Sanger Institute, and helps to consolidate the impact of genomics on public health."

Dr Julia Wilson, Associate Director of the Wellcome Sanger Institute