We facilitate further biomedical research through the co-creation and sharing of genomic technologies and resources. One of the ways we do this is by licensing.
Below are just a few of the ways we are doing this – benefitting the greater scientific community and health.
COSMIC – licensing a database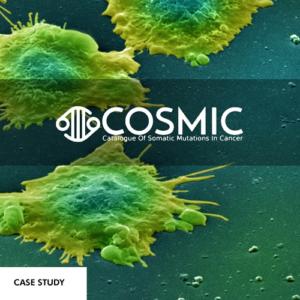 The Institute has implemented a licensing step to access by commercial parties to its curated catalogue of somatic cancer mutations database, COSMIC, in an effort to sustain its development in the context of increasing cancer genomics data. All income generated by this activity, as well as from sponsored database research and development, are used to grow the database as a key public resource. Read our case study about COSMIC here.
CRISPR libraries – Material distribution
The Sanger Institute teamed up with Merck to manufacture and distribute a mouse and human whole-genome gRNA libraries. The libraries are organised in an array format which simplifies downstream interpretation of CRISPR-based functional genomic screens. This partnership is a valuable resource available to researchers working both in academia and in industry.
Sanger Arrayed Lentiviral CRISPR Libraries have the prestigious R&D 100 Award.
______________
Would like to explore ways to collaborate with us? Contact us at genomicsinnovation@sanger.ac.uk
Genomics Innovation at the Sanger Institute works to empower future innovators.