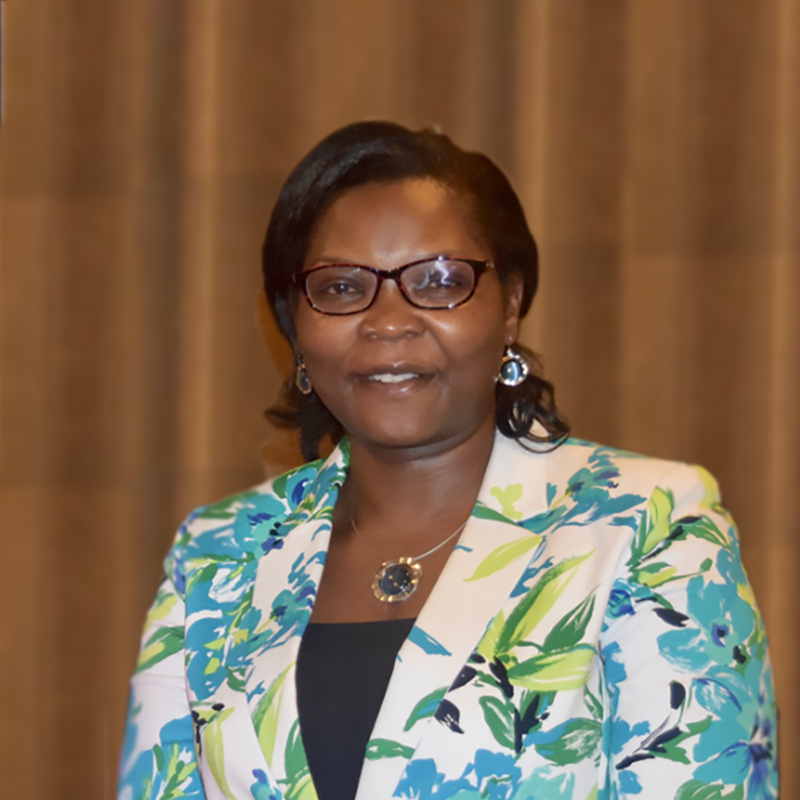 Dr Annettee Nakimuli
International Fellow, Makerere University, Uganda
Annettee Nakimuli is a leading maternal health researcher based in Uganda, focused primarily on investigating the aetiology, treatment, prevention and long term outcomes of pregnancy complications among women in Sub-Saharan Africa. She is committed to building maternal and newborn research capacity in Africa and her aim is, with East African and International colleagues, to establish a multidisciplinary centre for African maternal and neonatal health research located at Makerere University in Uganda.
Research
Annettee is an Associate Professor and the Chair of the Department of Obstetrics and Gynaecology at Makerere University, in Uganda. She is a researcher and also clinically active. Her clinical expertise is high risk obstetrics (complicated pregnancies) and works at Mulago Hospital which is the main teaching Hospital for Makerere University and has the greatest number of annual births of any hospital in sub-Saharan Africa (30,000 births per year). Her research group's primary research interest is pre-eclampsia, a major cause of maternal morbidity and mortality in sub-Saharan Africa. In particular, the group is interested in identifying genetic and other risk factors for pre-eclampsia in order to improve pregnancy outcomes in Ugandan mothers. Her group is also interested in functional characterization of other pregnancy complications common in Ugandan women such as fetal growth restriction, preterm birth, intrauterine fetal death and pathogen infections during pregnancy. These studies aim at development of tools that will improve prediction, management and prevention of pre-eclampsia.
Annettee trained as a medical doctor at Makerere University, Kampala and then underwent specialist training in Obstetrics and Gynaecology at the same University, graduating in 2005.  As an obstetrician and gynaecologist she then became interested in pre-eclampsia, a disorder of pregnancy that is a major cause of death and morbidity in sub-Saharan Africa.  Her PhD on pre-eclampsia was undertaken with mentorship from Professor Ashley Moffett in the University of Cambridge, Professor Florence Mirembe at Makerere University, Professor Pontiano Kaleebu at the Medical Research Centre (MRC) in Uganda and Professor Alison Elliott at the MRC in Uganda/London School of Hygiene and Tropical Medicine.  Her PhD research was a land mark study as was the first genetic case-control study on pre-eclampsia among indigenous Africans despite African ancestry being a predisposing factor to pre-eclampsia. In particular, she investigated the interactions between maternal and fetal immune system genes (KIR and HLA) and the risk of pre-eclampsia in an African population. This study was supported by a MUII PhD fellowship (funded by the Wellcome Trust), and her molecular genetic studies in Cambridge received supplementary funding from the Cambridge Trophoblast Research Centre. They found a genetic region of KIR locus to be associated with protection from developing pre-eclampsia (Nakimuli et al, PNAS 2015). Interestingly, this genetic region has only been described among people of African ancestry. On-going investigation of this region is expected to shed more light on the pathogenesis of pre-eclampsia. Her post-doctoral research extended these studies to recruit more mothers and babies with a wider range of pregnancy disorders such as fetal growth restriction, preterm birth and intrauterine fetal death.
Annettee's work has led to many collaborations with clinical and academic colleagues in Africa, in the United Kingdom, Europe and the USA to investigate clinical and biological questions related to pregnancy including infections and future risk of non-communicable diseases. She is already receiving international recognition as an expert on maternal health. She serves on several national and international committees, including the Uganda Maternal and Newborn Technical working group, Steering Committee of the MultiOmics for Mothers and Infants (MOMI) Consortium at the Bill & Melinda Gates Foundation established to understand the biological drivers of adverse pregnancy outcomes in low resource settings.  She sits on various International grant review/funding committees. She also currently serves as the Vice President of the East Central and Southern Africa College of Obstetrics and Gynaecology (ECSACOG) which was established in 2017.
Awards
Annette has won several prestigious awards during her career, including:
Future Leaders-African Independent Research (FLAIR) Fellow from the Royal Society and African Academy of Sciences in May 2020
Group Leader under the Makerere University/Uganda Virus Research Institute Centre of Excellence in Infection and Immunity Research and Training (MUII) funded by the African Academy of Sciences through the DELTAs programmes in January 2017.
Publications
Vousden N, Holmes E, Seed PT, Gidiri MF, Goudar S, Sandall J, Chinkoyo S, Kumsa LY, Brown A, Charantimath U, Bellad M, Nakimuli A, Vwalika B, Chappell LC, Shennan AH; CRADLE Trial Collaborative Group. Incidence and characteristics of pregnancy-related death across ten low and middle-income geographical regions: secondary analysis of a cluster randomised controlled trial [published online ahead of print, 2020 May 7]. BJOG. 2020;10.1111/1471-0528.16309. doi:10.1111/1471-0528.16309.
Nakimuli A, Starling JE, Nakubulwa S, Namagembe I, Sekikubo M, Nakabembe E, Scott JG, Moffett A, Aiken CE. Relative impact of pre-eclampsia on birth weight in a low resource setting: A prospective cohort study [published online ahead of print, 2020 Apr 7]. Pregnancy Hypertens. 2020;21:1‐6. doi:10.1016/j.preghy.2020.04.002.
Amongin D, Nakimuli A, Hanson C, Nakafeero M, Kaharuza F, Atuyambe L, Benova L. Time trends in and factors associated with repeat adolescent birth in Uganda: Analysis of six demographic and health surveys. PLoS One. 2020;15(4):e0231557. Published 2020 Apr 14. doi:10.1371/journal.pone.0231557.
Smith GC, Nakimuli A. Ultrasound estimation of gestational age in late pregnancy in low-income countries: made to measure or off-the-peg?. Lancet Glob Health. 2020;8(4):e462‐e463. doi:10.1016/S2214-109X(20)30081-4.
Vousden N, Lawley E, Seed PT, Gidiri MF, Charantimath U, Makonyola G, Brown A, Yadeta L, Best R, Chinkoyo S, Vwalika B, Nakimuli A, Ditai J, Greene G, Chappell LC, Sandall J, Shennan AH; CRADLE Trial Collaborative Group. Exploring the effect of implementation and context on a stepped-wedge randomised controlled trial of a vital sign triage device in routine maternity care in low-resource settings. Implement Sci. 2019 Apr 18;14(1):38. doi: 10.1186/s13012-019-0885-3.
Blokhuis JH, Hilton HG, Guethlein LA, Norman PJ, Nemat-Gorgani N, Nakimuli A, Chazara O, Moffett A, Parham P. KIR2DS5 allotypes that recognize the C2 epitope of HLA-C are common among Africans and absent from Europeans. Immun Inflamm Dis. 2017 Jul 6. doi: 10.1002/iid3.178. [Epub ahead of print]
Nakanjako D, Akena D, Kaye DK, Tumwine J, Okello E, Nakimuli A, Kambugu A, McCullough H, Mayanja-Kizza H, Kamya MR, Sewankambo NK. A need to accelerate health research productivity in an African University: the case of Makerere University College of Health Sciences. Health Res Policy Syst. 2017 Apr 21;15(1):33. doi: 10.1186/s12961-017-0196-6.
Nakimuli A, Nakubulwa S, Kakaire O, Osinde MO, Mbalinda SN, Kakande N, Nabirye RC, Kaye DK. The burden of maternal morbidity and mortality attributable to hypertensive disorders in pregnancy: a prospective cohort study from Uganda. BMC Pregnancy Childbirth. 2016 Aug 4;16:205. doi:10.1186/s12884-016-1001-1.
Amongin D, Nakimuli A, Busingye R, Mubiru M, Musoke P, Mutyaba  T. Effect of subsequent pregnancies on HIV disease progression among women in the Mulago Hospital MTCT-Plus program in Uganda.   International Journal of Gynecology and Obstetrics. 2016 Mar;132(3):347-52. doi: 10.1016/j.ijgo.2015.09.015
Nakimuli A, Chazara O, Hiby SE, Farrell L, Tukwasibwe S, Jayaraman J, Traherne JA, Trowsdale J, Colucci F, Lougee E, Vaughan RW, Elliott AM, Byamugisha J, Kaleebu P, Mirembe F, Nemat-Gorgani N, Parham P, Norman PJ, Moffett A. A KIR B centromeric region present in Africans but not Europeans protects pregnant women from pre-eclampsia. Proc Natl Acad Sci U S A. 2015 Jan 20;112(3):845-50. doi: 10.1073/pnas.1413453112. Epub 2015 Jan 5.
Nakimuli A, Chazara O, Farrell L, Hiby SE, Tukwasibwe S, Knee J, Jayaraman J, Traherne JA,   Elliott AM, Kaleebu P, Mirembe F, Moffett A. Killer cell immunoglobulin-like receptor (KIR) genes and their HLA-C ligands in a Ugandan population. Immunogenetics, 2013 Nov; 65(11):765-75. doi: 10.1007/s00251-013-0724-7. Epub 2013 Aug 24.
Nakimuli A, Elliott AM, Kaleebu P, Moffett A, Mirembe F. Hypertension persisting after pre-eclampsia: a prospective cohort study at Mulago Hospital, Uganda. PLoS One. 2013 Dec 31;8(12):e85273. doi: 10.1371/journal.pone.0085273.
Payne BA, Hutcheon JA, Ansermino JM, Hall DR, Bhutta ZA, Bhutta SZ, Biryabarema C, Grobman WA, Groen H, Haniff F, Li J, Magee LA, Merialdi M, Nakimuli A, Qu Z, Sikandar R, Sass N, Sawchuck D, Steyn DW, Widmer M, Zhou J, von Dadelszen P; miniPIERS Study Working Group. A risk prediction model for the assessment and triage of women with hypertensive disorders of pregnancy in low-resourced settings: the miniPIERS (Pre-eclampsia Integrated Estimate of RiSk) multi-country prospective cohort study. PLoS Med. 2014 Jan;11(1):e1001589. doi: 10.1371/journal.pmed.1001589. Epub 2014 Jan 21.
Nakimuli A, Chazara O, Byamugisha J, Elliott AM, Kaleebu P, Mirembe F, Moffett A. Pregnancy, parturition and pre-eclampsia in women of African ancestry. Am J Obstet Gynecol. 2014 Jun;210(6):510-520.e1. doi: 10.1016/j.ajog.2013.10.879. Epub 2013 Oct 30.
Wellcome Sanger Institute
Programmes and Facilities