Family and Carer Friendly Working
We believe that providing a friendly and supportive workplace is key to helping our researchers, students, and staff develop their skills and experience. This includes colleagues who care for a relative, have children, or are expecting a child.
Supportive workplace

Our desire to create a family-friendly environment permeates the fabric of our Campus. For example, we have high chairs in the cafes, priority bus boarding for parents travelling with their children on the Campus buses, baby changing facilities, priority parking for pregnant employees and New and Expectant Mother rooms.
We have an on-site workplace nursery for children aged 0 – 5 years. In addition, we run a Campus-wide subsidised summer holiday club every year to help with childcare needs for children aged 4 -14 years when schools are out.
Also, we encourage our colleagues to enjoy time with their children on Campus and it is common to see parents and children enjoying breakfast or lunch together in our dining areas and outside spaces when the summer holiday club is running.
Family friendly policies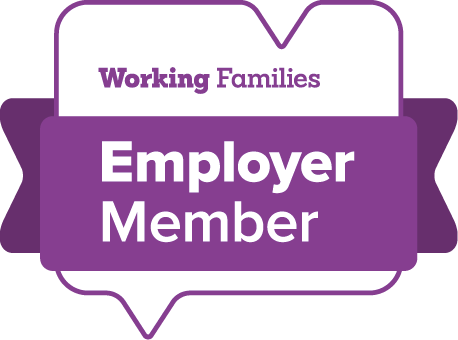 We recognise that people are more creative, productive and feel better when they can be flexible in structuring their work to balance family and career commitments. We actively promote, encourage and support flexible working practices and we are proud to be active members of Working Families.
To support a positive work-life balance and provide family friendly working environments, we offer a range of benefits, schemes and policies to support carers:
Our recruitment processes encourage positive consideration of career breaks and periods of part-time working and, whenever we can, we make positions flexible and advertise them as such.
Our Paid Leave for Carers policy allows staff to take up to an additional 10 days paid leave per year to deal with short-term, extraordinary caring situations such as looking after a sick child or relative.
Our Carers Grant enables employees to attend training, conferences, collaborative research visits, or invited talks whilst receiving financial support to cover additional care costs for dependents.
Our enhanced Maternity and Shared Parental Leave policies provide an entitlement to six months' full pay. There is no qualifying period of employment before an employee is entitled to benefit from this enhanced policy.
Our Returners' Grant is a flexible scheme for researchers across Sanger to access when they return from maternity/shared parental/adoption/other extended leave. This could include mobilising existing resource from other areas (e.g. technical, technician, administrative), or applying for funds from a central pot.
Our Research Support Scheme which aims to provide a temporary 'boost' in research capacity to Postdocs returning from extended leave. The Scheme was piloted in 2021-2022 for Postdocs with caring responsibilities whose productivity has been significantly negatively impacted by the pandemic and due to its success, was incorporated into our permanent package of support in 2023.
In addition to the policies and schemes above, we will extend contracts when staff have taken parental leave whenever possible. For example, we have in place an innovative and flexible approach within our scientific leadership model to support extended leave. Faculty who have taken parental leave can extend their tenure by up to an additional 18 months to support their transition back to research.
In addition to supporting your family and caring needs, we have an attractive benefits package offering a wide range designed to empower your health, wellness and plan for the future. You can find a summary of these here and you can receive more detailed information by contacting our HR Department.
Contact
For further information contact Dr Saher Ahmed, Head of Equality, Diverstiy and Inclusion: saher.ahmed@sanger.ac.uk