Meet one of our former Laboratory Technician Apprentices
Claire Cormie shares her journey of as a Laboratory Technician Apprentice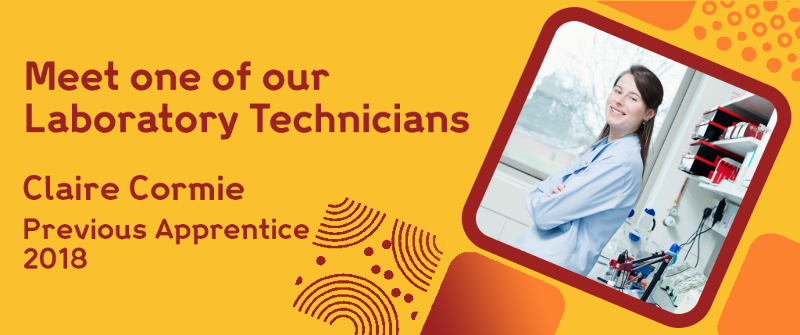 Tell us about your role at Sanger?
I have just finished my two year apprenticeship and am now working as a technician in the Parasites and Microbes Electron and Advanced Light Microscopy facility. I currently support the electron microscope manager in the running of the facility. My favourite aspect of the role is the variation – I can undertake many different processes and look at a diverse range of samples during the week. During my apprenticeship, I spent one day a week at Cambridge Regional College, where I completed a BTEC in Applied Sciences.
Can you tell us what you typically get up to in a day?
My day to day tasks are varied and can include training users on the confocal microscopes as well as processing for electron microscopy or imaging on electron and confocal microscopes. My team is very small – there is just two of us working in the microscopy suite, but I am included in the slightly larger group of Pathogen Lab Support (10 or so people). I often eat lunch in the DiNA (just one of many facilities onsite) with some friends from the lab. I am also a member of the campus gym, so try to go when I can.
What has been unique about doing your apprenticeship at Sanger
The work I have been doing at Sanger is absolutely unique. I have been given enormous responsibility in the lab, both in using the microscopes and training others to use them. I have also been taught techniques that I wouldn't necessarily be exposed to in other institutes especially given the early stage in my career.
What have you enjoyed most about working here?
I have most enjoyed experiencing the diverse range of samples I have been involved with, in both imaging and processing. It is fascinating to get an insight into so many of Sanger Institute's projects and be able to produce images, which ultimately might end up in publications!
What are you doing now that you have completed your apprenticeship?
My new job title is Laboratory Technician. Some of my training will continue as there is so much to learn, but day to day, my role is much the same as it has been. I have secured this position for the next two years and then I will see where things take me. I may go to university at some point but at the moment I am excited to work on further projects with our collaborators.