Adapting to the new pandemic-driven ways of working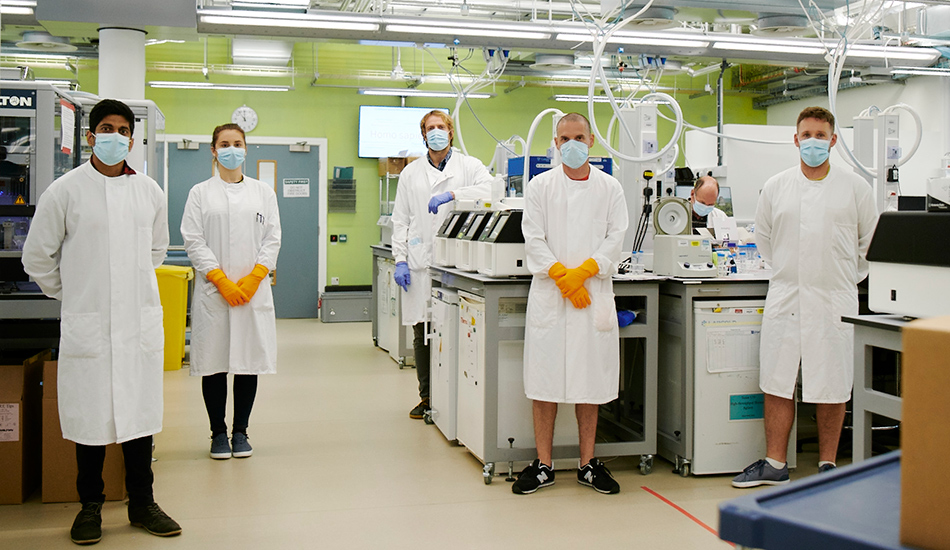 During the COVID-19 outbreak, as part of the COVID-19 Genomics UK (COG-UK) consortium, Sanger Institute staff have sequenced thousands of virus genomes and used that data to trace transmission, inform public health and monitor for new variants of the disease. Like most organisations, the Sanger Institute also needed to adapt overnight to a largely remote way of working, which presented particular challenges for a research laboratory. Catherine, our Equality, Diversity and Inclusion (EDI) Programme Manager at the Wellcome Sanger Institute, outlines how the Sanger has risen to the challenge of supporting its staff and students throughout the ongoing crisis.
Structural support during COVID-19
We have committed to supporting all staff and students in their roles at full pay, irrespective of their personal circumstances, whether juggling caring duties, shielding or unable to progress lab-based work due to our campus closure to all but essential staff.
The annual pay review and appraisal process went ahead with a fixed pay rise to recognise that staff have been affected differently by COVID depending on their circumstances. Some exceptional non-consolidated bonuses were paid to approximately 10 per cent of staff who supported above and beyond their usual role, and these are checked for balance across job function, gender, grade and part time / full time status. We have offered flexibility in annual leave allowances and supported the complexity created by working from overseas.
All postdoc contracts have been extended by six months and this will continue to be reviewed, with further extensions likely. We already offer a Carer's Grant to cover costs for work-related events. The criteria have been expanded to include childcare and other COVID-related costs. We have given a winter fuel contribution to home workers in early and mid-career roles. To support continued development, a suite of online learning is available through our own resources and LinkedIn.
We recently launched a Behavioural Competency Framework and senior leaders are expected to role model good work-life balance practices, such as taking time out during the day to exercise. Our Speak Up campaign includes an anonymous helpline for staff wanting to raise any concerns.
Looking after wellbeing
Already an award winner for our Wellbeing@Work programme, we have placed a strong emphasis on staff wellbeing, including virtual workshops covering stress, exercise, health and hobbies. We offered access to isolated rooms on campus for those who cannot work from home (for practical or mental health reasons). The Equality and Diversity team has continued to run events remotely.
To understand better how our staff and students are coping, we ran Great Place to Work Pulse Surveys monthly, then quarterly, to assess support and perceptions among staff. The survey responses have shown an upward trend, with over 90 per cent saying that the organisation actively encourages them to focus on their mental health and wellbeing. We analyse the data to understand any differences for staff with protected characteristics or caring responsibilities.
Our Director, Professor Sir Mike Stratton, sends weekly emails to all staff to stay in touch, covering wellbeing and programmes such as Inclusion Week, Black History Month and LGBTQ+ History Month. We have increased the frequency of our all-hands Town Hall meetings and typically see over half of our staff attend.
Staff and network support
While our institutional support measures have certainly stepped up during COVID-19, our networks have also played a strong role in offering peer-to-peer support. A new Race Equity Network started up over the summer 2020 entirely virtually, our first employee network to launch during the pandemic. The new network promoted a highly visible Black History Month events programme, featuring speakers such as Ore Ogunbiyi and Chelsea Kwakye who shared their experiences of being Black in academia.
Our Parent and Carers Network has been very active on message boards, including advice for those home educating during the lockdowns. Group leaders published resources for parents and carers on the intranet, as well organising events covering dyslexia, ADHD, autism and children's mental health.
Our Public Engagement team has created resources for parents and carers and organised a Genome Lates session with a diverse panel that attracted several hundred attendees.
During Pride Month in June, the LGBTQ Network came to the fore with an inspiring speaker programme and is now working to build back participation in virtual social events during LGBT History Month. Also now underway is our Solo Living Network, which helps to combat isolation for those staff who live or work alone – this network was particularly active during the Christmas period, for example arranging group walks outside.
Technicians have been particularly hard hit by lockdown, due either to reduced lab access or to moving to dedicated COVID sequencing work. As long-standing signatories of the Technician Commitment, this network has published blogs and photos to keep people in touch with campus, run events, workshops, coffee mornings and provided a focus on training opportunities.
The Admin Network represents over 100 staff who have been working in isolation from home for nearly a year. They have stayed connected and supported one another with a mix of weekly events such as virtual coffee breaks, speakers, training events and online socials. Feedback so far has been extremely positive, with staff asking for more of the same to bolster them through long term remote working.
The Future
Despite the considerable expertise regarding COVID-19 itself, no one can yet say how the next few months and years will play out. As we approach the anniversary of our move to COVID-safe operation, we will continue to be attuned to the changing needs of our incredible community – we have little doubt that there will be increased demand for regular working from home once Campus is back to full capacity.
Equality in Science
Our global reputation for scientific excellence is strengthened by our firm desire to maintain a forward-looking organisation where staff from all backgrounds are welcomed and can thrive.
Our workforce is inter-disciplinary and encompasses a broad range of expertise and talent. This includes skilled researchers and scientific leaders, technical experts, PhD students, technicians and professional support staff.
We are committed to fostering an inclusive culture where employees are supported to reach their full potential and are valued for their differences in thought, background, experience and perspective.