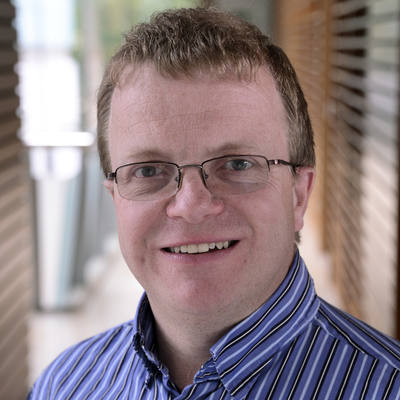 Dr Tim Cutts
Head of Scientific Computing
Alumni
This person is a member of Sanger Institute Alumni.
Tim is responsible for the provision of all the IT services which specifically deliver scientific data and computation.
This includes:
Private and hybrid cloud servicesHigh performance computing (HPC) clusters
High performance filesystems for data analysis
Training in the use of HPC and cloud resources
Data management systems for scientific data
Research and development of IT technologies for solving tomorrow's scientific problems
IT support for core business IT systems, included databases, financial and HR systems
He has a particular bee in his bonnet about using resources efficiently.
The changing focus of the Institute has led to us concentrating on a few areas:
Scientific reproducibility. Creating IT and informatics systems which enable the portability of scientific analysis between collaborating institutions, and between on premise and other cloud environments, according to scientific need.
IT Research and Development. Looking further down the road to identify technologies and approaches which could transform today's impossible scientific questions into something tractable and affordable.
Pre-configured systems. To free the team's time to assist scientists with their computational challenges we are moving, where possible, to pre-configured hardware systems rather than building them by hand. An example area where we are following this approach is in Lustre parallel filesystems. This becomes as easier as these technologies gradually become more mature and mainstream.
Flexible secure architecture. Science changes all the time, and the approaches to it change all the time. IT technology generally lasts 5 years, which means we must deploy solutions which have the maximum flexibility to adapt to unknown requirements years from now. We are actively promoting and using private cloud infrastructure with software-defined storage and networking to enable scientists to deploy experimental working environments rapidly and without adversely impacting their colleagues.
Collaboration. We are actively involved in the Global Alliance for Genomics and Health, Health Data Research UK, the Pan-cancer project, and other projects building infrastructures for the sharing and collaborative analysis of large volumes of data.
During his previous role creating and leading the Infrastructure Management Team, he focussed on a number of areas:
Server virtualisation and consolidation. The previous strategy of buying traditional highly available server pairs for providing services was replaced with a virtualisation strategy, going from zero to more than 1000 virtual machines in the course of a couple of years. Virtualisation has now expanded from this established base towards use in computational and data sharing areas.
Automation. Configuration management of our Linux and Windows estates to minimise the effort in administering thousands of machines.
In the Informatics Support Group, he was an enthusiastic early adopter of blade server technology, deploying our first blade cluster in 2002, squeezing a then-un-precedented 768 cores into just two 19″ racks.
He also took part in our early work with parallel filesystems, deploying IBM GPFS for the storing of large shared datasets.
Incyte Genomics (formerly Hexagen)
Here I gained experience on being the customer of scientific IT services, and the skills and techniques needed to run large scale analysis efficiently on limited IT resources.
I developed and ran the company's SNP-calling pipeline, and visualised that data for the senior company scientists.
I was also involved in customer engagement, discussing data needs of customers, and made contributions to the perl framework used by the LifeSeq product to generate and deliver the data to customers.
PhD: Checkpoint Controls in the Latter Half of the Mammalian Cell Cycle
CRC DNA Repair Research Group
Dept of Zoology, University of Cambridge
My research was focused on the contrasting behaviour of human and rodent transformed cell lines with respect to their G2/M phase checkpoints following perturbation of their nucleotide pool levels during S-phase.
My timeline
UK Biobank main phase processing begins

Processing of UK Biobank Vanguard project data begins on OpenStack

Flexible Compute Environment (private cloud) entered service

Appointed Head of Scientific Computing

Formed and led the Infrastructure Management Team

First use of parallel filesystems at Sanger

Sanger's first Linux blade cluster deployed

Joined Sanger Institute

Joined Hexagen (later acquired by Incyte Genomics)

PhD, Dept of Zoology, University of Cambridge

Joined University of Cambridge, School of Biological Sciences

Joined CRC DNA Repair Research Group

BA , Natural Sciences, University of Cambridge
Wellcome Sanger Institute
Programmes and Facilities
My publications
Loading publications...