Launch of new European Stem Cell Bank
Sanger Institute's stem cells pipeline contributes HiPSCi cell lines to international resource.
EBiSC, the European Bank for induced pluripotent Stem Cells, announces the public launch of its on-line catalogue of induced Pluripotent Stem Cells (iPSCs) which are available to academic and commercial scientists for use in disease modelling and other forms of pre-clinical research. (https://cells.ebisc.org). The initial collection of iPSCs available from the catalogue has been generated from a wide range of donors representing either specific disease backgrounds or healthy control donors. The catalogue has been created by the EBiSC consortium – a public-private partnership project supported by the Innovative Medicines Initiative (IMI), of 27 organisations, comprising pharmaceutical companies who are members of the European Federation of Pharmaceutical Industries and Associations (EFPIA), small and medium-sized enterprises (SMEs) and academic institutions (www.ebisc.eu).
First pioneered in 2006, human iPSC technology makes it possible to study a disease under laboratory conditions. Patients, who might, for example, have a neurodegenerative illness or heart disease, provide a skin or blood sample from which iPSCs are made by introducing four genes usually expressed in stem cells. Brain, heart and many other types of cell can be produced from these stem cells in the lab and used to discover what is going wrong in these equivalent cells in the patient. This "disease in a dish" research avoids having to take potentially dangerous patient biopsies. Because human disease models are usually preferable to animal models, iPS cell technology is expected to lead to fewer experimental animals being needed in future disease modelling research and the avoidance of interspecies differences .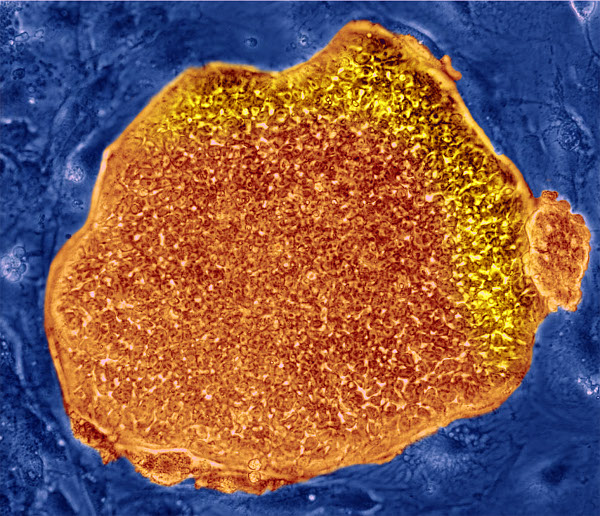 The rapid advance of iPSC generation technology now permits many laboratories to make their own cell lines. However, researchers rarely have the resources needed for the long-term storage and distribution to other researchers of these valuable research tools, leading to duplication of work, delays to research and the generation of erroneous research data. EBiSC has been established to build a robust, reliable supply chain for iPS cell lines, including the generation of disease-specific, control and gene-edited cell lines through standardised, quality controlled cell line expansion and internationally recognised processes for banking and worldwide distribution. A single user agreement also simplifies the material transfer process both for depositors and customers, ensuring that ownership of deposited lines remains with the depositor.
Cell lines in the current EBiSC catalogue have been made and deposited by EBiSC partner labs and a number of external organisations. This currently includes neurodegenerative diseases (Frontotemporal Dementia, Motor Neurone Disease – also known as ALS – and Huntington's Disease), eye and heart diseases, and lines from healthy control donors for age and sex matching. During the next months, new cell lines will enter the catalogue through collaborations with partner research consortia and through new cell line creation from within EBiSC. This will see a large number of Parkinson's and Alzheimer's Disease lines being introduced together with lines for diabetes and cardiovascular research as well as muscular dystrophies and neuropathic pain. In many cases, the iPSC lines will be complemented by "isogenic control lines" in which the disease-causing mutation has been corrected by gene editing. These control cell lines with the same genetic background as the patient should make it easier for researchers to understand how a particular gene mutation causes a given disease and this, in turn, opens the door for potential therapies to be developed.
"The launch of the on-line catalogue will allow EBiSC to support stem cell researchers in Europe and elsewhere. The organisations making up the EBiSC Consortium are each leaders in their own area of expertise. We have been fortunate to have the support of IMI to combine these skills from across Europe to create this major research resource."

Aidan Courtney CEO of Roslin Cell Sciences
"Two of the Sanger Institute's fundamental principles are to produce great science and to share it with the global scientific community. Our work with the EBiSC project is a perfect example of this in action. As we continue to expand and bank our lines of human iPS cells from the HiPSCi project our partnership with EBiSC ensures that our high-quality iPS cells will make a major contribution to the worldwide development of stem cell research."

Dr Chris Kirton Head of Cellular Operations at the Wellcome Trust Sanger Institute
Press Contact
If you need help or have any queries, please contact us using the details below.
Notes to Editor
Funding
The EBiSC project has received support from the Innovative Medicines Initiative Joint Undertaking under grant agreement n° 115582, resources of which are composed of financial contribution from the European Union's Seventh Framework Programme (FP7/2007-2013) and EFPIA companies' in kind contribution