Scientists create mini liver segments for drug discovery
Cystic fibrosis treatment tested on lab-grown bile ducts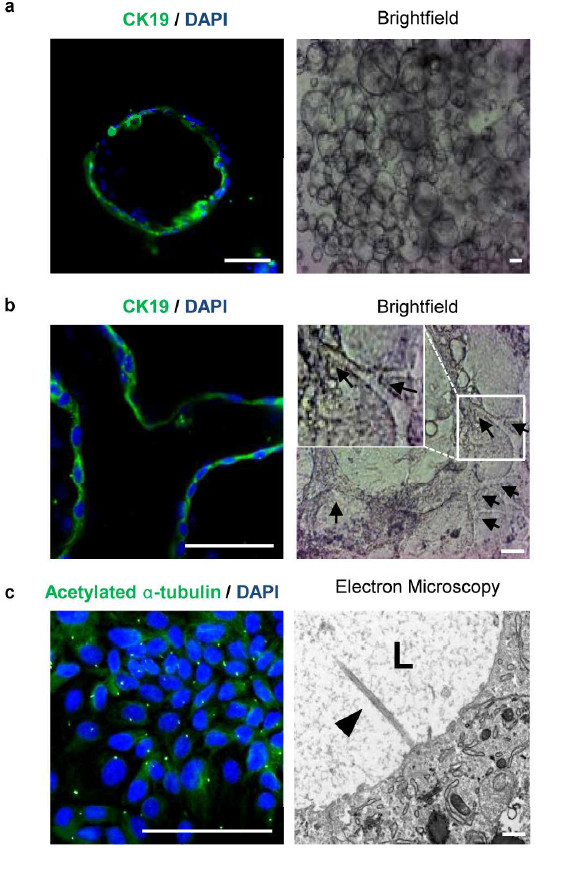 An experimental cystic fibrosis drug has been shown prevent the disease's damage to the liver, thanks to a world-first where scientists grew mini bile ducts in the lab.
For the first time, researchers led by scientists from the Wellcome Trust-Medical Research Council Stem Cell Institute and the Wellcome Trust Sanger Institute in Cambridge, used stem cells to grow fully functional three-dimensional bile ducts in the lab. Bile ducts act as the liver's waste disposal system, and dysfunctioning bile ducts are implicated in a third of adult and 70 per cent of children's liver transplantations.
The researchers used their lab-grown miniature bile ducts to test new drugs for biliary disease, leading to the discovery that VX809 – an experimental compound originally designed to treat the effects of cystic fibrosis in the lungs- could be the first therapeutic agent to prevent the damage cystic fibrosis causes to the liver and bile duct.
"Treating liver complications caused by bile duct disorders constitutes a major challenge – with the only treatment option often being liver transplantation. We were delighted to identify a new experimental drug that could prevent patients with cystic fibrosis, one of the most common inherited disorders in Europe, from undergoing a liver transplantation, a major and life changing operation. But, this treatment will need to be tested in clinical trials before it can be recommended to patients."

Dr Fotios Sampaziotis First author from the Wellcome Trust-Medical Research Council Stem Cell Institute and MRC-Sparks Clinical Research Fellow in hepatology
Until now there has been no way of generating large numbers of fully functional bile ducts that mimic disease in the lab, which has limited our understanding of biliary disorders and restricted the development of new drugs. Using their bile duct replicas the researchers reproduced key features of two more bile duct diseases – polycystic liver disease and Alagille syndrome – and tested the effects of additional drugs, such as octreotide.
"The pharmaceutical applications of our system are particularly important as we don't have many human samples of this type of tissue to work on. This system could provide a unique resource for identifying new therapeutic agents."

Professor Ludovic Vallier Principal Investigator and corresponding author from the Wellcome Trust-Medical Research Council Stem Cell Institute and the Sanger Institute
"The bile duct cells we have generated represent an invaluable tool to understand not only how healthy bile ducts develop and function, but to also understand how diseased bile ducts behave and how they may respond to therapeutic treatment. This platform opens up the possibility of modelling complex liver diseases and will certainly progress our understanding of biliary disease in the future."

Dr Nicholas Hannan a senior author from the Wellcome Trust-Medical Research Council Stem Cell Institute
To demonstrate that the cells they had grown were in fact forming bile ducts the researchers looked for characteristic markers and functions of the cells. They then compared the signature of these cells with those from human donors and found that they were almost identical.
"The approach developed in this work will enable a vast range of work From understanding how organs grow and develop to a greater understanding of disease and testing new drugs. This work could also one day lead to functioning spare liver parts being grown to replace damaged areas."

Dr Paul Colville-Nash Programme Manager for Stem Cell, Developmental Biology and Regenerative Medicine at the MRC
More information
Funding
This work was funded by an ERC starting grant, Relieve IMDs, from the Cambridge Hospitals National Institute for Health Research Biomedical Research Centre; the Evelyn Trust and the EU Fp7 grant TissueGEN, an Addenbrooke's Charitable Trust Clinical Research Training Fellowhsip and a joint MRC-Sparks Clinical Research Training Fellowship.
Participating Centres
Wellcome Trust-Medical Research Council Stem Cell Institute, Wellcome Trust Sanger Institute, University of Cambridge and NIHR Cambridge Biomedical Research Centre, Oslo University Hospital, University of Oslo, Cambridge University Hospitals NHS Foundation Trust.
Publications:
Loading publications...
Selected websites
The Medical Research Council is at the forefront of scientific discovery to improve human health. Founded in 1913 to tackle tuberculosis, the MRC now invests taxpayers' money in some of the best medical research in the world across every area of health. Thirty-one MRC-funded researchers have won Nobel prizes in a wide range of disciplines, and MRC scientists have been behind such diverse discoveries as vitamins, the structure of DNA and the link between smoking and cancer, as well as achievements such as pioneering the use of randomised controlled trials, the invention of MRI scanning, and the development of a group of antibodies used in the making of some of the most successful drugs ever developed. Today, MRC-funded scientists tackle some of the greatest health problems facing humanity in the 21st century, from the rising tide of chronic diseases associated with ageing to the threats posed by rapidly mutating micro-organisms.

The Wellcome Trust-Medical Research Council Cambridge Stem Cell Institute is an international centre of excellence for research into stem cell biology and medicine. Scientists in the Institute collaborate to generate new knowledge and understanding of the biology of stem cells and provide the foundation for new medical treatments. The Institute is supported by a strategic funding partnership between the Wellcome Trust and the Medical Research Council.

Addenbrooke's Charitable Trust (ACT) is the dedicated charity for Addenbrooke's and the Rosie hospitals. ACT raises funds for cutting edge technology, additional specialist staff, environmental enhancements and extra comforts for patients that make all the difference. It also provides funding for Cambridge Clinical Research Fellowships that provide a springboard for clinical academics embarking on a research career and for early stage research projects.