Supporting Women in Science
The Wellcome Genome Campus announces first Best Practice Awards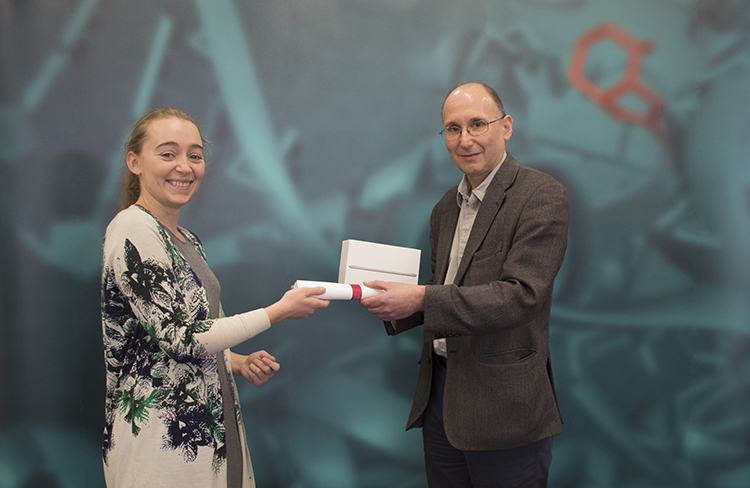 The Wellcome Genome Campus is marking International Women's Day 2015 by giving its first award for Best Practice in Supporting Women in Science. The recipients are Dr John Overington of EMBL-European Bioinformatics Institute (EMBL-EBI) and Ms Laura Huckins of the Wellcome Trust Sanger Institute.
The award has been introduced as part of the Sex in Science programme on the Wellcome Genome Campus, which tackles issues traditionally facing women in science, and drives policy and practice changes to redress them. Ms Huckins received her award for inclusiveness and dedication to championing STEM careers; Dr Overington of EMBL-EBI received his for supporting parents by encouraging a healthy work-life balance.
Everyone on campus, scientific and non-scientific alike, were invited to nominate a colleague who had made a positive difference to women's careers. Ms Huckins, a PhD student at the Sanger Institute, was recognised by a colleague because of 'her commitment to the Sex in Science program and Athena SWAN at Sanger, as well as to the Women's Campaign at the University of Cambridge' and because, 'she seeks the involvement of the PhD students in these actions, increasing awareness of the issues in the coming generation of scientists (men and women), and encouraging us to reflect on what we can do to make a difference for ourselves and others at a pivotal point in our careers where many women choose to leave STEM fields.'
"The Sex in Science programme brings the conversation about gender balance to the forefront, making sure we remain committed to equality in science. I'm proud to have been recognised as a proponent of this incredibly important issue."

Ms Laura Huckins A PhD student at the Sanger Institute
EMBL-EBI team leader Dr Overington was nominated because he, where appropriate and possible, 'allows and encourages flexible working situations for all his staff, such as working from home or making up the hours at a later stage for instances where childcare falls through'. His openness in communication about children and provision of flexibility means 'his staff feel confident to carry out their duties and in instances where there are issues with childcare'.
"Our working practices have to be flexible enough to allow men and women to advance their careers while keeping family their top priority. The key is to get job roles in the team right for flexible working from the outset. I'm deeply honoured to have been recognised, even though I feel we could all be doing much more. I'm happy the Sex in Science programme is working to create the right culture to ensure everyone has the opportunity to succeed both scientifically and personally."

Dr John Overington Team Leader at the EMBL-European Bioinformatics Institute (EMBL-EBI)
The awards, which included an iPad mini, were presented to Dr Overington and Ms Huckins by Professor Dame Janet Thornton, Director of EMBL-EBI, and Professor Mike Stratton, Director of the Wellcome Trust Sanger Institute.
"In line with the theme of International Women's Day this year, which asks us to 'Make it Happen', we wanted to celebrate those who are taking action to encourage women's advancement in science. Laura and John are perfect examples of the contribution each one of us can make each working day to tackling gender inequality."

Professor Sir Mike Stratton Director of the Wellcome Trust Sanger Institute
"The leadership of people like Laura and John is helping to transform the way we work on the Wellcome Genome Campus. This award recognises that it is the individuals in our lives who make the big differences, that without mentorship and flexibility some of the greatest minds in science might never have flourished. Actions like Laura's advocacy of the Sex in Science programme and John's support of colleagues balancing work and childcare are inspiring, but I was also pleased to see so many people nominating their colleagues for this award."

Professor Dame Janet Thornton Director of EMBL-EBI