CRISPR collaboration aims to speed drug discovery
Sanger Institute to share genome-editing expertise with AstraZeneca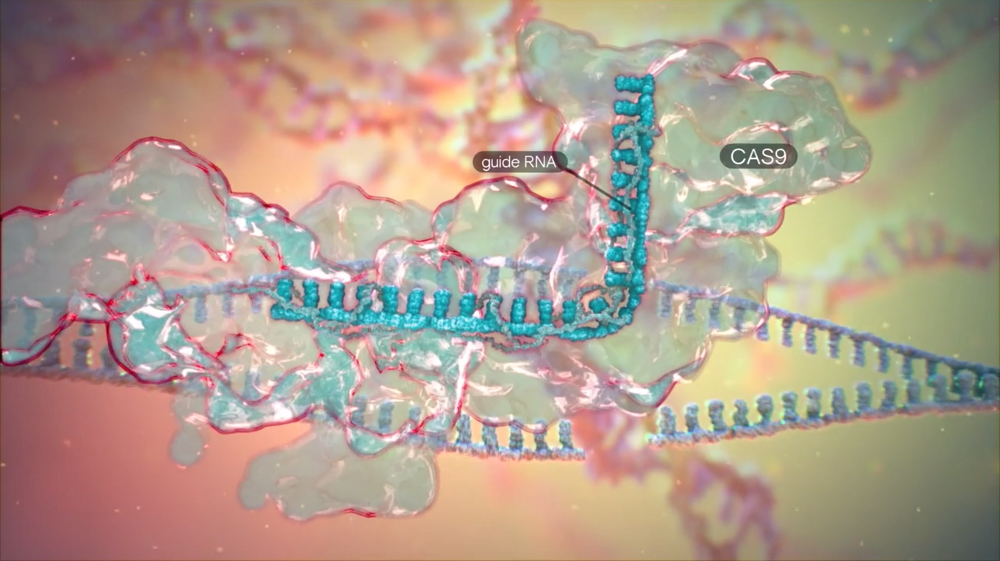 The Wellcome Trust Sanger Institute will work collaboratively with AstraZeneca to exploit the full potential of innovative CRISPR-Cas9 technology in the field of drug discovery. CRISPR-Cas9, which allows scientists to make precise changes to genes, will be used in collaborative projects between the pharmaceutical company and the Sanger Institute to identify and validate new drug targets.
AstraZeneca and the Sanger Institute will use guide RNA libraries developed by Dr Kosuke Yusa, a Member of Faculty at the Sanger Institute, to target genes relevant to conditions such as cancer and cardiometabolic diseases in the first instance. Guide RNAs are used to direct a Cas9 enzyme to the correct point in the genome so that they can slice through DNA to alter or delete sections.
"The Sanger Institute's genome-wide guide RNA library enables researchers to target genes with incredible specificity. CRISPR has transformed the way we study the behaviour of cells and now the application of this powerful technology to the search for effective drugs has the potential to benefit patients."

Dr Kosuke Yusa A Member of Faculty at the Sanger Institute
The library of more than 90,000 guide RNAs will be used to produce populations of human or mouse cells with one particular gene switched off in each cell. The generated cell populations are designed to span the entire coding genomes, allowing researchers to test in one single experiment the role of every gene on specific cell behaviours such as proliferation, drug response and differentiation and identify potential drug targets. The power of this method is its speed, scalability and versatility. It can be applied to decipher genes' effects on a wide range of physical and biological traits relevant to a multitude of diseases.
AstraZeneca will share cell lines and compounds with the Sanger Institute to support research and advance the application of CRISPR technology across the broad scientific community.
"Combining our techniques with access to industry's expertise and research compounds will allow us to drive forward understanding in many areas of healthcare and treatment. It is collaborations such as this one that will enable us to explore exciting new areas of research and share our findings freely with the worldwide research community for them to build on."

Dr Adrian Ibrahim Head of Business Development and Technology Transfer at the Sanger Institute
In parallel, AstraZeneca will also be collaborating with the Innovative Genomics Initiative in Berkeley, California, the Whitehead Institute in Cambridge, Massachusetts and the ThermoFisher Corporation in California and Wisconsin to harness their expertise in CRISPR technology.
"Application of the CRISPR technology for precise genome editing in recombinant cell lines and in relevant disease models should enable us to identify novel targets, build better test systems for drug discovery and enhance the translatability of our efficacy and safety models."

Dr Lorenz Mayr Vice President, Reagents and Assay Development, AstraZeneca
Selected websites
AstraZeneca is a global, innovation-driven biopharmaceutical business that focuses on the discovery, development and commercialisation of prescription medicines, primarily for the treatment of cardiovascular, metabolic, respiratory, inflammation, autoimmune, oncology, infection and neuroscience diseases. AstraZeneca operates in over 100 countries and its innovative medicines are used by millions of patients worldwide.

The Wellcome Trust Sanger Institute is one of the world's leading genome centres. Through its ability to conduct research at scale, it is able to engage in bold and long-term exploratory projects that are designed to influence and empower medical science globally. Institute research findings, generated through its own research programmes and through its leading role in international consortia, are being used to develop new diagnostics and treatments for human disease.

The Wellcome Trust is a global charitable foundation dedicated to achieving extraordinary improvements in human and animal health. We support the brightest minds in biomedical research and the medical humanities. Our breadth of support includes public engagement, education and the application of research to improve health. We are independent of both political and commercial interests.