Sanger Institute researcher becomes Suffrage Science awardee
Professor Ele Zeggini receives heirloom in recognition of her contribution to science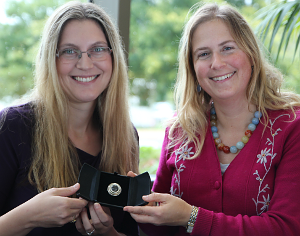 Wellcome Trust Sanger Institute Faculty member Professor Ele Zeggini became a Suffrage Science awardee last week in a ceremony held at the Science Museum's Dana Centre. Previous awardee and fellow Sanger Institute researcher Dr Sarah Teichmann passed on a beautiful piece of heirloom jewellery to her in recognition of her contribution to human genetics.
Professor Zeggini's research in the analytical genomics of complex traits aims to identify the genetic determinants of complex traits using large-scale association studies.
"Ele is a world leader in analytical genomics, and has been instrumental in inspiring new workplace policies through the Sex in Science programme. She is a perfect recipient of this award. Receiving the heirloom two years ago from Professor Dame Janet Thornton was a proud moment in my career and I am pleased to be able to pass it on to Ele."

Dr Sarah Teichmann A Senior Group Leader at the Sanger Institute and a Group Leader at the EMBL-European Bioinformatics Institute
In addition to her scientific research, Professor Zeggini is also founder of the Sex in Science programme at the Wellcome Trust Genome Campus, where the Sanger Institute is based. This group works to raise awareness of and remove the barriers to progress that women traditionally face in their scientific careers. She has also been instrumental in gaining Athena SWAN Bronze Award status for the Sanger Institute, which recognises the organisation's commitment to redress gender imbalance.
"I am honoured to receive this recognition and to be custodian of this stunning piece of heirloom jewellery and the accolade it represents."

Professor Ele Zeggini Faculty member of the Sanger Institute
The annual Suffrage Science event, which is organised by the Medical Research Council's Clinical Sciences Centre and supported by L'Oréal UK and Ireland, champions women in science, encouraging women to strive for leading roles in today's scientific arena. The event was hosted by science journalist and BBC broadcaster Vivienne Parry, who gave last year's recipients of the heirloom jewellery and this year's awardees the opportunity to nominate their most inspiring female scientist of all time.
Previous recipients of the heirloom include former Sanger Institute researcher, Dr Elizabeth Murchison, current Sanger Institute Faculty member, Dr Nicole Soranzo, EMBL-European Informatics Institute (EBI) Director, Professor Dame Janet Thornton, and joint EBI and Sanger Institute Group Leader, Dr Sarah Teichmann.
The bespoke heirlooms awarded to this year's leading women scientists will be passed on in 2016 in a bid to encourage more women to pursue leadership roles in science.