Sequencing the MERS coronavirus outbreak in Saudi Arabia
Genetic tools and clinical techniques combine to characterise novel virus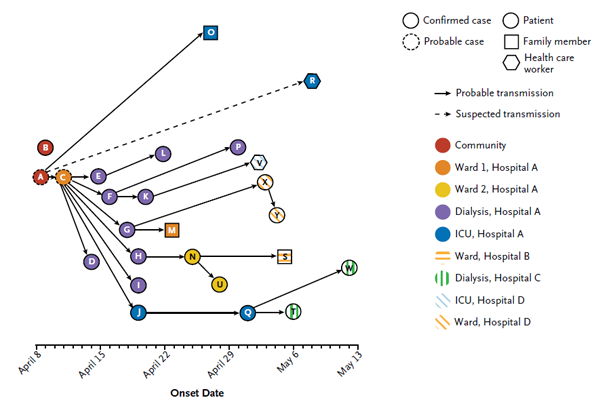 Using deep sequencing technologies, researchers from the Kingdom of Saudi Arabia, US, Canada and the UK have shown that the novel Middle East Respiratory Syndrome (MERS) coronavirus can spread between people in healthcare settings.
By combining clinical monitoring techniques with state-of-the-art sequencing technology to study an outbreak of MERS coronavirus, the scientists discovered that transmission occurs within hospitals and can be rapidly fatal.
Of the 23 people diagnosed with the coronavirus infection in this outbreak, 65 per cent of patients have died. Until now little has been known about the origin and characteristics of this deadly new virus. By studying an outbreak in the eastern Saudi Arabian province of Al-Hasa, the teams are starting to understand the transmission dynamics, and clinical and genetic characteristics of this often fatal virus.
"We developed our rapid, deep, and whole-genome sequencing of MERS coronavirus to understand more about the genetics of this virus, and for the method to be used in any new outbreaks. This is exactly what we have been able to achieve."

Professor Paul Kellam from the Wellcome Trust Sanger Institute
Sanger Institute researchers developed a deep sequencing technique that can rapidly sequence MERS coronavirus genomes. This technique uses the miniscule levels of viral genetic material present in patients' clinical samples taken to diagnose the infection. Coupled to bespoke computer programs this process reduces the time of genome analysis from weeks to days.
Using this technology The researchers confirmed that the virus was being transmitted from person to person and the virus accumulated limited genetic changes consistent with it replicating within a patient and then transferring to the next. Further analysis revealed that all the coronaviruses in the outbreak came from a common ancestor that appeared between February and April 2013. These discoveries confirmed the observations of hospital staff tracking the transmission of the virus.
"By analysing the complete genomes of four MERS-coronavirus-positive samples, we found that the viruses were closely related to one another genetically – indicating that they are part of the same infection outbreak. The low level of sequence divergence of the virus within the Al-Hasa cluster is in concordance with the hospital epidemiological investigation, suggesting that transmission took place within this group of patients and healthcare workers."

Dr Abdullah Al-Rabeeah, Minister of Health, Kingdom of Saudi Arabia
Using this knowledge, clinicians have been able to minimise the spread of the infection and provide vital new information for helping to contain future outbreaks.
"The fact that the hospital outbreak was contained effectively and there were no more new cases reported, shows that preventive infection control measures are crucial to prevent spread of the virus. The rapid pace with which analysis of the cluster outbreak at Al-Hasa was initiated by the Saudi Arabian Ministry of Health, which enabled rapid definition of the epidemiology, identification of viral genome sequences and release of them for open use in the GenBank database, and bringing the outbreak under control, reflects the true collaborative spirit and value of effective international collaborations, which are essential to containing this virus."

Professor Alimuddin Zumla of University College London
Prevention of the transmission of MERS coronavirus is still a major challenge for healthcare workers. Further research into the duration of contagiousness as well as the complete spectrum of disease is needed to help healthcare workers develop and implement new strategies to tackle this growing issue.
"The Saudi Ministry of Health staff were honoured to work with local and international world leaders in hospital epidemiology Infectious diseases, virology and gene sequencing experts to understand and define the complex cluster of the novel MERS-coronavirus in the eastern region of the Kingdom of Saudi Arabia, not just to put local interventions to contain the outbreak, but also for updating and evaluating existing WHO Global Infection Control guidelines for MERS-coronavirus. Whilst there remain many unknowns about this new lethal virus, the Saudi Ministry of Health is committed to continue its collaborative work with all national and international experts under the umbrella of the World Health Organisation to unravel the mysteries of this novel virus."

Professor Ziad Memish, Deputy Minister of Health, Riyadh, Kingdom of Saudi Arabia
Press Contact
If you need help or have any queries, please contact us using the details below.
Notes to Editor
Funding
The work was supported by the Kingdom of Saudi Arabia Ministry of Health, the UCL Hospitals NHS Foundation Trust, the National Institute for Health Research-UCL Hospitals-Biomedical Research Centre, the European & Developing Countries Clinical Trials Partnership, the US National Institutes of Health, the European Community's Seventh Framework Programme, and the Wellcome Trust.
Participating Centres
The Global Center for Mass Gatherings Medicine, Ministry of Health, Kingdom of Saudi Arabia
Al-Faisal University, Riyadh, Kingdom of Saudi Arabia
Saudi Aramco Medical Service Organization, Dahran, Kingom of Saudi Arabia
Mount Sinai Hospital, Toronto, Canada
Department of Laboratory Medicine and Pathobiology, University of Toronto, Toronto, Canada
Departments of Epidemiology, Pathology, and Medicine and the Department of Epidemiology, Johns Hopkins University, Baltimore, United States of America
Denver Health and University of Colorado, Denver, United States of America
Wellcome Trust Sanger Institute, Hinxton, United Kingdom
University College London, London, United Kingdom
National Institute for Health Research-University College London Hospitals-Biomedical Research Centre, London, United Kingdom
Publications:
Loading publications...
Selected websites
Founded in 1826, UCL was the first English university established after Oxford and Cambridge, the first to admit students regardless of race, class, religion or gender and the first to provide systematic teaching of law, architecture and medicine.

We are among the world's top universities, as reflected by our performance in a range of international rankings and tables. According to the Thomson Scientific Citation Index, UCL is the second most highly cited European university and the 15th most highly cited in the world.

UCL has nearly 25,000 students from 150 countries and more than 9,000 employees, of whom one third are from outside the UK. The university is based in Bloomsbury in the heart of London, but also has two international campuses – UCL Australia and UCL Qatar. Our annual income is more than £800 million.

The Wellcome Trust Sanger Institute is one of the world's leading genome centres. Through its ability to conduct research at scale, it is able to engage in bold and long-term exploratory projects that are designed to influence and empower medical science globally. Institute research findings, generated through its own research programmes and through its leading role in international consortia, are being used to develop new diagnostics and treatments for human disease.

The Wellcome Trust is a global charitable foundation dedicated to achieving extraordinary improvements in human and animal health. We support the brightest minds in biomedical research and the medical humanities. Our breadth of support includes public engagement, education and the application of research to improve health. We are independent of both political and commercial interests.