International Consortium for future pandemics
The International Severe Acute Respiratory Infection Consortium (ISARIC) aims to prepare for next flu pandemic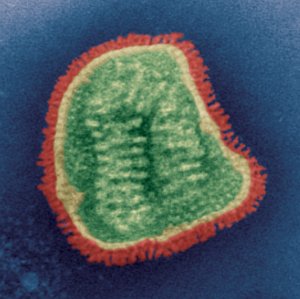 The Wellcome Trust Sanger Institute is one of more than twenty international organisations taking part in a new global consortium organized to prepare clinical research for future influenza pandemics or other rapidly emerging public health threats.
The International Severe Acute Respiratory Infection Consortium (ISARIC) will focus on understanding the cause of severe acute respiratory diseases, establish their development in patients, and develop better practices in the treatment and prevention of these infections. Their aim is to change the way research is conducted for future outbreaks of infectious diseases.
Infectious outbreaks are not limited only to influenza outbreaks but are global phenomena that are occurring with increasing frequency and include such diseases as Ebola and other viral hemorrhagic fevers, tuberculosis, artemisinin-resistant malaria and many more.
This consortium will provide training so that researchers have the skills and resources to undertake the challenge of a high-quality clinical research. This will allow researchers to respond more rapidly to diseases that may have the potential to become pandemic or even epidemic, such as the recent H1N1 influenza outbreak. ISARIC will also ensure that open access protocols and data sharing processes are used.
"The Wellcome Trust Sanger Institute will work with ISARIC on host and pathogen genetic factors involved in pathogenesis, building on our current work on influenza virus infection. This global collaborative effort will make it possible to work with and help a wide range of patients from different cultural backgrounds."

Professor Gordan Dougan Head of Pathogens at the Wellcome Trust Sanger Institute
The standardized and open-access protocols developed during this consortium will allow researchers from all participating countries to work with, adapt and evolve common clinical case ascertainment. This will ensure that high-quality and comparable clinical research is practiced on a global scale.
The consortium will initially focus on respiratory infections. Some of the Consortium-wide projects will potentially include; large-scale randomised control trials of therapeutic interventions in respiratory infections, a randomised control trial of drugs to modulate the immune response to severe influenza, studies of pharmacology and host and pathogen genetic factors involved in pathogenesis, and the ethical considerations of clinical research in the context of rapidly emerging health problems.
"We at the Sanger Institute are very excited to be part of ISARIC. It is clear to us that understanding the fundamental mechanism of host and virus interactions that occur during severe acute respiratory infection and pandemics such as influenza requires both international collaboration of clinical networks and detailed host and pathogen genetic analysis. It is only through such a consortium that sufficient cases, clinical detail and samples can be collected to allow such studies."

Professor Paul Kellam Senior Investigator at the Wellcome Trust Sanger Institute
The ISARIC is being launched by the Wellcome Trust, and the UK Medical Research Council, the Bill & Melinda Gates Foundation, Inserm, Li Ka Shing Oxford Global Health Programme and the Singapore Ministry of Health.