Sanger Institute researcher among first to receive Rutherford Discovery Fellowship
Paul Gardner receives Royal Society of New Zealand award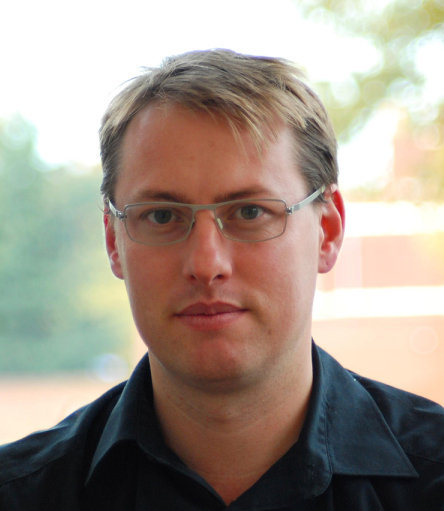 Sanger Institute Researcher Dr Paul Gardner is one of the first researchers to receive the inaugural Rutherford Discovery Fellowship. The award will support Paul as he embarks on new computational research to understand how RNAs – a group of molecules found in all forms of life – contribute to the chemical processes underlying biology.
Paul will apply the expertise he has gained at the Wellcome Trust Sanger Institute to embark on a new programme of research at the University of Canterbury, New Zealand. His research involves performing computational analyses of RNAs to shed light on the diverse functions of these important molecules.
"The Rutherford Discovery Fellowship is a great honour. It has been a pleasure to work with the talented people at the Sanger Institute and the European Bioinformatics Institute. I look forward to contributing some of the knowledge I've accumulated to the pool of science in New Zealand."

Dr Paul Gardner Wellcome Trust Sanger Institute
During his time at the Sanger Institute, Paul has been crucial to efforts to classify and catalogue RNAs. His research has been fundamental in laying the path for researchers of all interests to understand the properties and functions of RNAs and better interpret their own experimental results. Paul has also been a crucial part of the team dedicated to producing the first comprehensive catalogue of RNA families as part of the Sanger Institute's Rfam project.
"Paul Gardner has been hugely influential in the RNA community. This award is a well deserved recognition of the important work Paul has done for the non-coding RNA community through his work on Rfam and other projects."

Dr Alex Bateman Who leads the Sanger Institute's research into the classification of protein and RNA families
The new fellowships, administered by the Royal Society of New Zealand, have been established to fill a gap in support for researchers in the three to ten year period after they complete a doctorate degree.
It has been found that this period is a time when many researchers can find it difficult to progress their careers, especially in areas with heavy competition for funding. The fellowships are designed to enable researchers to investigate a particular research topic, and help them establish their career in New Zealand.
"High-quality research is the cornerstone of innovation. Science and innovation are at the heart of building our economic growth. The success of our science and innovation system is dependent on the quality of the people working within it. These Fellowships empower leading researchers who are at a critical juncture in their careers.

"The successful candidates are of a very high calibre. I look forward to their success and growth over the coming years."

Wayne Mapp New Zealand's Minister of Research, Science and Technology
The Rutherford Discovery Fellowships will provide financial support of up to $200,000 per year to the researchers over a five-year period. This funding goes towards both their salary and their programme of work.
More information
Ernest Rutherford
The Rutherford Discovery Fellowship is named in honour of Ernest Rutherford. Ernest Rutherford (30 August 1871 – 19 October 1937) was a New Zealand-born British chemist and physicist whose work laid the foundation for modern nuclear physics.
Among Rutherford's key achievements are his work on the disintegration of elements and the chemistry of radioactive substances – which earned him a Nobel Prize in 1907 – and his development of the planetary model of the atom. Rutherford is also thought to be the first person to successfully split the atom.
Other recipients
The other recipients of the Rutherford Discovery Fellowship are:
Dr Donna Rose Addis – University of Auckland, Department of Psychology
Dr Ashton Bradley – University of Otago, Department of Physics
Dr Murray Cox – Massey University, Institute of Molecular BioSciences
Associate Professor Alexei Drummond – University of Auckland, Department of Computer Sciences
Dr Noam Greenberg – Victoria University of Wellington, School of Mathematics, Statistics and Operations Research
Associate Professor Jennifer Hay – University of Canterbury, School of Languages, Cultures and Linguistics
Dr John Reynolds – University of Otago, Department of Anatomy and Structural Biology
Dr Eric Le Ru – Victoria University of Wellington, School of Chemical and Physical Sciences
Dr Jason Tylianakis – University of Canterbury, School of Biological Sciences
Selected websites
The Wellcome Trust Sanger Institute, which receives the majority of its funding from the Wellcome Trust, was founded in 1992. The Institute is responsible for the completion of the sequence of approximately one-third of the human genome as well as genomes of model organisms and more than 90 pathogen genomes. In October 2006, new funding was awarded by the Wellcome Trust to exploit the wealth of genome data now available to answer important questions about health and disease.

The Wellcome Trust is a global charitable foundation dedicated to achieving extraordinary improvements in human and animal health. We support the brightest minds in biomedical research and the medical humanities. Our breadth of support includes public engagement, education and the application of research to improve health. We are independent of both political and commercial interests.