Prestigious award for Sanger Institute researcher
Elizabeth Murchison awarded a 2009 L'Oréal-UNESCO UK and Ireland For Women in Science Fellowship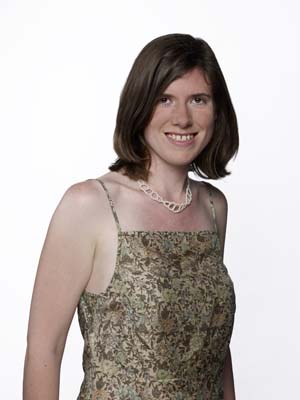 Selected from 240 applicants, and eight interviewees, Dr Elizabeth Murchison, Postdoctoral Fellow at the Wellcome Trust Sanger Institute, is one of four bright female talents to be awarded a 2009 L'Oréal-UNESCO UK and Ireland For Women In Science Fellowship. Elizabeth, who came to the Sanger Institute in January 2009, was offered the award in recognition of her research into the origins and evolution of transmissible cancers.
The L'Oréal-UNESCO fellowships are designed to promote the importance of ensuring greater participation of women in science by sponsoring individuals and their research. From funding childcare to providing a salary for a research assistant, the £15,000 fellowships can be used in a range of ways to support the continued participation of female researchers in science. Elizabeth plans to use her award to fund research costs.
"I am absolutely thrilled and honoured to receive this award. Aside from the obvious boost that this Fellowship will provide for my research, I feel hugely privileged to be awarded this honour, which represents a far greater cause to foster female scientific careers. Perhaps the best thing about the experience was meeting so many inspirational female scientists at the awards ceremony; it was an honour just to be in the company of so many talented researchers."

Dr Elizabeth Murchison Postdoctoral Fellow at the Wellcome Trust Sanger Institute​
Elizabeth was recognised for her unique research at the Sanger Institute, where she works as part of the Cancer Genome Project, to decipher the genetic basis of two largely unheard of transmissible cancers.
When people think of transmissible cancers, they instinctively imagine that the factor that allows the cancer to spread through populations would be a virus. But there are two examples in the animal kingdom where cancer cells themselves – as opposed to some external cancer-causing agent – are transmitted from one animal to another. Quite literally, the cancer spreads through transplantation of cancer cells. It is this rare process that Elizabeth seeks to understand.
Elizabeth grew up in Tasmania and moved to Cold Spring Harbor NY to complete her PhD, working on RNA silencing – a process that suppresses the protein production of genes. It was here that she first heard about a unique cancer – Tasmanian devil facial tumour – that was plaguing the animal populations in her native Tasmania. The cancer is spread through biting and thereby physical transplantation of cancer cells from one animal to another. After transmission, the cancer can spread through the body and causes death within two to six months. The cancer poses a substantial threat of extinction for the Tasmanian devil population.
After completing her PhD, Elizabeth went back to Australia and spent some time tracking Tasmanian devils in the field and collecting samples. Soon afterwards, the Australian government awarded Elizabeth funding for a four-year research fellowship, which she has embarked upon at the Sanger Institute with the support of Professor Mike Stratton, Deputy Director of the Sanger Institute and Head of the Cancer Genome Project.
"I am absolutely delighted that Elizabeth has received this For Women In Science Fellowship.

"Liz already has many achievements behind her and I have no doubt that she has a distinguished scientific career ahead. She fully deserves this honour. It is completely characteristic that she has chosen to embark on a very ambitious research project with a highly unusual background. We are privileged to have her and her science in the Cancer Genome Project and at Sanger and its going to be really fascinating elucidating further the unique stories of these dog and Tasmanian devil cancers with the new technology sequencing strategies we have here.

"Elizabeth is a role model who will encourage young women to pursue and remain in research careers and I am immensely pleased that the Sanger Institute can contribute in this way to the development of young women scientists."

Professor Mike Stratton Deputy Director of the Sanger Institute and Head of the Cancer Genome Project
Since starting her research at the Sanger Institute, Elizabeth has extended her research, by looking at another transmissible cancer called Canine Transmissible Venereal Tumour – a sexually transmitted cancer found in dogs. Although recovery rates are far higher in the canine cancer than in the Tasmanian devil cancer, the principles of transmission through cell transplantation are the same.
Looking at these cancers is providing Elizabeth with unique insights into what happens when a cancer can survive beyond its host. In evolutionary terms this affords Elizabeth a fascinating glimpse of the risk factors for the potential outbreak of similar diseases in other species, including humans. It is possible that transmissible cancers of this kind have had significant impact in past evolutionary events, perhaps even wiping out whole species.
Using genetic sequencing as the basis for her work, Elizabeth's research provides an interesting contrast to that of other cancer geneticists who use the same technology to investigate individual cancer genomes in individual hosts.
"I want to exploit the recognition brought by this Fellowship to encourage other young women to choose and remain in research careers. My advice to any young woman considering a career in science is simple: if you enjoy the excitement of discovery, don't let anything stand in your way. For me, the thrill of research is discovering and being surprised by the complexity of life and that is something that I could never give up."

Dr Elizabeth Murchison Sanger Institute​
The Fellowships were announced alongside the results of a poll revealing the most inspirational female scientists of all time. Nuclear physicist and chemist Marie Curie topped the poll, which tended to expose an absence of contemporary female role models in science.
More information
Tailoring to the needs of women scientists in the UK and Ireland, the L'Oréal UK and Ireland Fellowships For Women In Science are awards offered by L'Oréal UK & Ireland with the support of the UK National Commission for UNESCO, the Irish National Commission for UNESCO, the Royal Institution of Great Britain, and the UK Resource Centre for Women in SET to promote, enhance and encourage the contribution of women pursuing their research/academic careers in the UK or Ireland in the fields of the life or physical sciences.
Four Fellowships are awarded annually to outstanding women scientists in the early stages of their career pursuing postdoctoral research in the UK or Ireland in the life or physical sciences. The Fellowships, each worth £15,000 (equivalent € for candidates in Ireland), are tenable at any UK or Irish university / research institute for 12 months of research.
Selected websites
The Wellcome Trust Sanger Institute, which receives the majority of its funding from the Wellcome Trust, was founded in 1992. The Institute is responsible for the completion of the sequence of approximately one-third of the human genome as well as genomes of model organisms and more than 90 pathogen genomes. In October 2006, new funding was awarded by the Wellcome Trust to exploit the wealth of genome data now available to answer important questions about health and disease.

The Wellcome Trust is a global charitable foundation dedicated to achieving extraordinary improvements in human and animal health. We support the brightest minds in biomedical research and the medical humanities. Our breadth of support includes public engagement, education and the application of research to improve health. We are independent of both political and commercial interests.