UK scientific breakthrough to help animals worldwide
Getting a grip on the Strangles pathogen - leading UK scientific institutes publish new genome sequences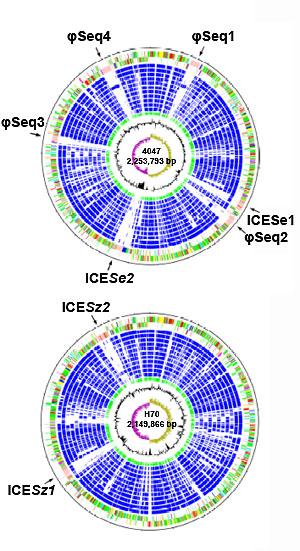 Research published today marks a further leap forward towards combating the plague of the horse world – Strangles – and other diseases of animals.
A consortium including the Animal Health Trust, the University of Cambridge and the Wellcome Trust Sanger Institute has solved the DNA sequences of Streptococcus equi – the causative agent of Strangles, and Streptococcus zooepidemicus, a versatile relative that causes a range of diseases in animals, including horses and dogs, and occasionally humans.
These DNA sequences shed new light on how these bacteria cause disease. They also highlight many new areas for developing better diagnostic tests, therapies and preventive vaccines.
"The publication of these genomes in PLoS Pathogens is the culmination of over seven years of research. We are extremely excited about their implications for future international research towards improving animal and human health."

Dr Andrew Waller The Animal Health Trust's Head of Bacteriology
The research, funded by The Horse Trust and the Horserace Betting Levy Board (HBLB), has already enabled the AHT to develop DNA and blood tests to diagnose the horse disease, Strangles. It is now concentrating its efforts on developing safe and effective vaccines against Strangles and the many diseases caused by S. zooepidemicus.
"The news that the research we funded has not only resulted in reducing the distress caused by Strangles, but will now also help to prevent diseases in horses and other animals is brilliant. We're delighted to be involved in this world-leading scientific research, from which we are already seeing such positive results."

Brigadier Paul Jepson The Horse Trust's Chief Executive​
"S. zooepidemicus causes a host of diseases in horses that affect their health and welfare. This research is an important contribution towards the prevention, diagnosis and treatment of inflammatory airway disease, upper respiratory disease and abortion in equines. Reducing the impact of S. zooepidemicus on the training, racing and breeding of Thoroughbreds will be a significant benefit to horseracing."

Professor Willie Donachie Chairman of the Horserace Betting Levy Board's Veterinary Advisory Committee
S. equi evolved from S. zooepidemicus, which is usually harmless. However, S. zooepidemicus is opportunistic and can cause respiratory disease and abortion in horses, acute fatal haemorrhagic pneumonia in dogs and mastitis in cattle, goats and sheep.
Surprisingly, S. equi has, in its enhanced arsenal of biological weapons, genes that are very similar to those found in a type of Streptoccocus that causes pharyngitis, toxic shock syndrome, impetigo and scarlet fever in humans: the S. equi sequence will also help with those human studies.
"S. zooepidemicus and S. equi are brothers in arms who share a common ancestry but, while acquiring some genes, S. equi has been discarding others it no longer needs. The makings of this pathogen may very well be its undoing: it has lost functions found in its more versatile relatives, and consequently finds itself backed into a corner."

"With the new improved diagnostics, and the prospect of an effective vaccine round the corner, eradication becomes a real possibility."

Dr Matthew Holden Leader of the analysis team at the Wellcome Trust Sanger Institute ​
Press Contact
If you need help or have any queries, please contact us using the details below.
Notes to Editor
Funding
This research was funded by the Horse Trust and the Horserace Betting Levy Board (HHLB)
Participating Centres
Wellcome Trust Sanger Institute, Wellcome Trust Genome Campus, Hinxton, Cambridge, United Kingdom
Centre for Preventive Medicine, Animal Health Trust, Newmarket, Suffolk, United Kingdom
Department of Infectious Disease Epidemiology, Imperial College London, London, United Kingdom
The Peter Medawar Building for Pathogen Research and Department of Zoology, University of Oxford, Oxford, United Kingdom
Institute for Cell and Molecular Biosciences, The Medical School, University of Newcastle upon Tyne, Newcastle upon Tyne, United Kingdom
Department of Veterinary Medicine, University of Cambridge, Cambridge, United Kingdom
Publications:
Loading publications...