Plans to extend leading Genome Campus get go-ahead
Planning permission has been granted for a 27,000 sqm extension to the Wellcome Trust Genome Campus at Hinxton, home to the internationally renowned Sanger Institute.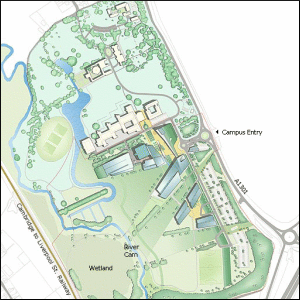 The new development will bring industry and academic scientists together to allow data emerging from the Sanger Institute's flagship venture, the Human Genome Project, to be translated into practical health benefits.
Following a recommendation in July of this year by South Cambridgeshire District Council that outline planning permission be granted, the Council's Development and Conservation Control Committee met yesterday (6 November) and confirmed detailed planning approval for phase one of the project, which amounts to some 12,000 sqm. This gives the Trust the long-awaited green light to proceed with its proposal to maintain a world-leading Campus at the cutting-edge of post-genomic research and development.
"I am delighted that our plans to extend the Genome Campus have won the support of the local council and we look forward to working with them in fulfilling our ambition to maintain a world-leading research facility in the UK."

Dr Mike Dexter Director of the Wellcome Trust

"The Genome Campus has played a pivotal role in the Human Genome Project and it is now time to move on to converting this basic information into knowledge that will underpin the further development of new medicines and therapies for decades to come. We can drive this research forward by bringing academic and industry scientists together and we hope our vision for the Campus will propel the UK to the forefront of post-genomics research."
"This is a major boost to the morale of our gifted scientists. We can now look ahead to playing an instrumental role alongside industry to develop new medical advances."

Dr Allan Bradley Director of the Wellcome Trust Sanger Institute

"With planning permission secured we can step up operations to put the infrastructure in place that will enable us to expand our research interests. We anticipate an exciting and productive future for the Campus and Cambridgeshire."
The Wellcome Trust originally submitted a planning application to South Cambridgeshire District Council in 1997 and today's decision is the culmination of five years of deliberations by Trust officials and negotiation with the council. Construction work will start within the next fortnight and completion of the extended campus is scheduled for 2007.
Press Contact
If you need help or have any queries, please contact us using the details below.
Notes to Editor
Phase one of the project totals 12,215 sqm and principally comprises the academic building (wet labs, data centre and research support facility), ancillary facilities, reception building, landscaping and associated car parking infrastructure works.
The recommendation by South Cambridgeshire District was put forward by the Development Control Committee on 3 July. They voted 20 to 2 in favour of the Trust's extension plans.
The proposed campus extension has three main components:

Academic buildings (10,000 sqm) for new laboratories, a biological computing centre (data centre) and a research support facility.
Ancillary space (3,000 sqm) for site services, conference rooms and recreation.
Commercial accommodation, comprising an Innovation Centre for start-up businesses (5,000 sqm) and facilities for 'Grow-ons' (9,000 sqm) for new businesses looking to expand.

Once companies located on the extended site reach maturity and are able to develop products, they will move off site to make space for new start-ups and growing companies. There will be no manufacturing on site.
The Wellcome Trust originally submitted a planning application in 1997 for a 40,000 sqm extension to its Genome Campus. This was considered at a public inquiry in 1999 and although refused permission by the then Secretary of State for the Department of the Environment, Transport and Regions, his decision acknowledged that the extension of the Campus was in the national interest and a smaller extension would have been approved. Today's planning permission has been granted for an extension which reflects the scale of development indicated by the Secretary of State.
Related information

Further Campus Extension information