The Wellcome Sanger Institute has several Masters Programme opportunities, see below. Please visit our potential supervisors page, for information on Faculty members and their research areas.
MPhil in Biological Sciences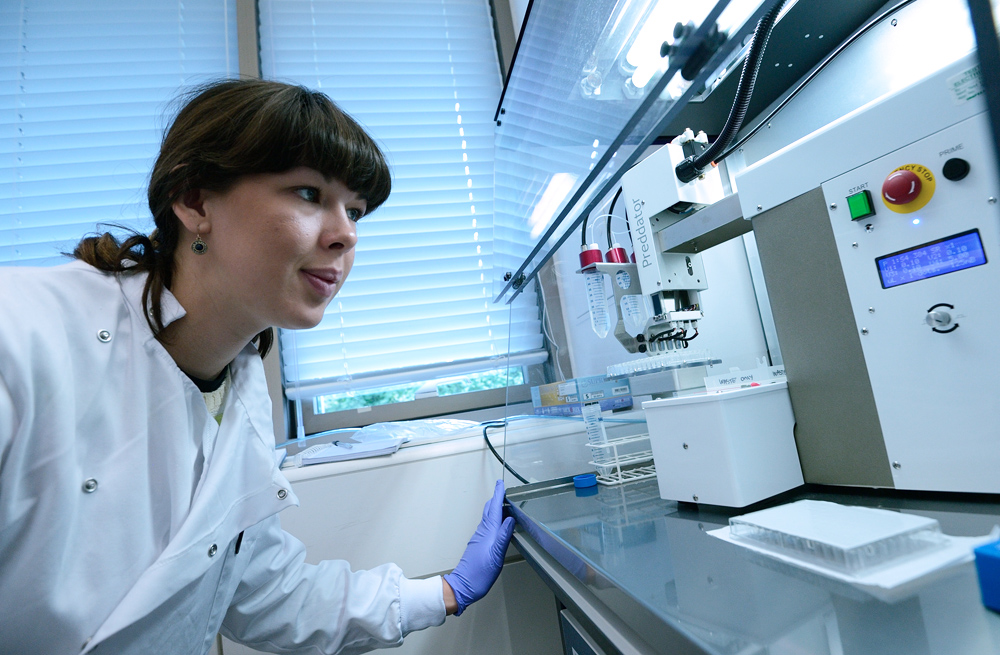 The Institute occasionally takes on MPhil students to do a 1-year research MPhil, registered at the University of Cambridge, providing they have their own scholarship funding and the support of a Faculty member at the Institute. Assessment of the MPhil is by submission of a thesis and an oral examination. Students start on the 1st October, with submission of the thesis by the end of August. Further details are available here.
MPhil in Genomic Science
In 2016, the Institute started a new 1-year research MPhil programme that aims to equip students from a number of low and middle income countries with a unique blend of experimental and informatics skills, maximising their competitiveness for future opportunities. The programme is being run in partnership with the following institutions only:
The KEMRI-Wellcome Trust Research Programme, Kenya
The Malawi-Liverpool-Wellcome Trust Clinical Research Programme
The Africa Health Research Institute, South Africa
The Mahidol-Oxford Tropical Medicine Research Unit, Thailand and Laos
The Oxford University Clinical Research Unit, Vietnam
The Oxford University Clinical Research Unit, Nepal
MRC Unit The Gambia at LSHTM
MRC/UVRI & LSHTM Uganda Research Unit
KEMRI Nairobi, Kenya
University of Science, Techniques and Technologies of Bamako, Mali
International Centre for Diarrhoeal Disease Research, Bangladesh
The institutions of the Sanger Institute International Fellows
The programme funds (stipend and University tuition fees) up to 3 students per year and applicants must be nominated by one of the partner institutions. Assessment of the MPhil is by submission of a thesis and an oral examination. Students start on the 1st October, with submission of the thesis by the end of August.
MPhil, MRes and MSt in Genomic Medicine
The Institute is also a partner in the following University of Cambridge Masters programmes:
MPhil, MRes and MSt in Genomic Medicine
The Institute is committed to helping scientists and healthcare professionals understand and apply genomics in clinical practice. We are a member of a partnership with the University of Cambridge, EMBL-EBI and Wellcome Connecting Science Courses that is delivering a taught MPhil in Genomic Medicine (8/10 modules plus a dissertation or a literature review), a taught/research based MRes in Genomic Medicine (3 modules and a 10 month research project) as well other postgraduate degrees such as the MSt in Genomic Medicine, to NHS staff and other interested students. Funding for NHS employees is available through Health Education England, whilst non NHS employees must have their own funding. Some of the courses are full-time and some are part-time, please see the relevant course descriptions for further details.
University of Cambridge Postgraduate Virtual Open Days
The Postgraduate Virtual Open Days take place in early November. The Open Days are open to all those seeking to apply for postgraduate study at the University of Cambridge, and are hosted on the University's Virtual Tour.
The event offers you opportunities to ask questions, find out more about the application process, and explore Cambridge virtually. Additionally, you will be able to:
Access webinars, films and resources from departments and faculties
Learn more about the courses on offer
Attend presentations on making an application and writing a research proposal
Hear from students about their Cambridge experiences and find out more about life as a student here
Discover funding opportunities at the University
Explore University facilities and Colleges using 360 degree photography, videos and photo galleries
To attend the Postgraduate Virtual Open Days, you need to register in advance.
For further information please see: https://www.postgraduate.study.cam.ac.uk/openday.
Student life
Below is a testimonial about life as an MPhil student at the Wellcome Sanger Institute.
Former MPhil student (2020-21), Daniel Malawsky, wrote:
Being a student at Sanger is an incredible experience, ranging from outstanding mentorship to world-class data and a friendly, lively student environment. The funding structure of the institute allows group leaders to engage in highly collaborative, large scale projects that get at the deepest and most pressing questions in biology and genetics today.
The MPhil program allows you to dive into research, unencumbered by taught course requirements unless one wishes to take any. The year of research is demanding, but the quality of the science and mentorship make it an enjoyable and rewarding experience. I learned more in one year than I could've imagined, and developed field specific as well translatable skills. Ultimately, this year teaches you to be a scientist and independent thinker, where you leave wanting to ask more research questions than before you started (and perhaps continue on to a PhD to do so as I did!).
Aside from the science, Cambridge is a lovely city and the University, especially the colleges, promote an enriching social life. There are plenty of formal and informal activities and societies one can join, with something for everyone. I could not be happier with my experience at Sanger!