Our Race Equity Strategy
Our Equality, Diversity and Inclusion programme vision is to foster an inclusive culture where everyone can thrive and diversity is celebrated. Our race equity strategy has been developed in collaboration with our community, based on data, dialogue and research and is underpinned by four pillars.

Our key aims are:
Building the competency, literacy and fluency around discussing race equity
Consistent and wide-spread use of race equity data and insight to inform strategic planning
Ensuring anti-racist approaches are embedded into the heart of our policies, processes and practices
Valuing race equity work
We are also signatories of the Race at Work Charter and our working towards these principles.
Research Excellence – The Power of Diversity
As part of our Research Excellence talk series in October and November 2021 we are hosting three excellent speakers.
Tomi Akingbade, University of Cambridge
Our first talk was by Tomi Akingbade  who is a 1st year PhD candidate at the University of Cambridge working on a neurodegeneration-focused project. Her passion for equality and representation in the science industry led to her creating the Black Women in Science (BWiS) Network in 2018.
In this recording she is being interviewed by Sanger PhD students Sophie Belman and Tobi Alegbe and talks about the challenges and highlights of starting this amazing network to help open doors for people and provide support to Black Women in Science as well as how allies can help.
Dr Addy Adelaine, CEO and founder of Ladders4Action
Our second talk was by Dr Addy Adelaine, CEO and founder of Ladders4Action. Addy is an international social worker and expert on action research and inclusive accountability.
In this recording she is interviewed by our Associate Faculty member Muzlifah Haniffa and talks about her PhD journey and the challenges that she experienced in academia which led to her passion and continuous fight for inclusion.
Dr Jason Arday, Associate Professor in Sociology at Durham University
Our final talk was by Dr Jason Arday who is an Associate Professor in Sociology at Durham University and will soon take up a professorship at Glasgow University. His research intersects across education, social mobility, mental health and race.
Jason is a Trustee of the Runnymede Trust, the UK's leading race equality think tank and was one of the authors of the 2019 Leading Routes report The Broken Pipeline.
Wellcome Genome Campus Race Equity Network (REN)

Our thriving REN promotes race equity, inclusion, and cultural diversity on the Campus. It provides a safe and informal space for staff to share experiences and discuss issues relating to equity, inclusion and race and provides a mechanism for network members to influence other institutional bodies on Campus.
Ethnicity Pay Gap Data
Building on our commitment to Equality, Diversity and Inclusion, and in light of the major impact of the Black Lives Matter movement, we launched our first ethnicity pay survey in 2020. Although there is currently no legislative requirement to report ethnicity pay gaps, we feel that this is an important touch point in order to better understand this issue within our organisation, and to put together a plan to address any questions that arise, as we have already done with the data that has been collected for the gender pay gap.
We received 400 responses and based on this sample:
the mean ethnicity pay gap across the organisation was calculated to be 5%
the median 0.6%.
Proportions of people from Black, Asian, Minority Ethnic groups across the organisation (ethnicity pay gaps reported below are means). Please note that in the analysis that we have presented, we have used the acronym BAME (Black, Asian, Minority Ethnic). We recognise that this acronym can be problematic as it can imply that all non-White people exist as a homogenous group. It does not offer any appreciation of the uniqueness of individual ethnicities and it also does not tell us which specific ethnic minorities are included. In our more detailed analysis, we have disaggregated the data to ensure that any negative trends that affect particular groups are not being masked.
Lower Quartile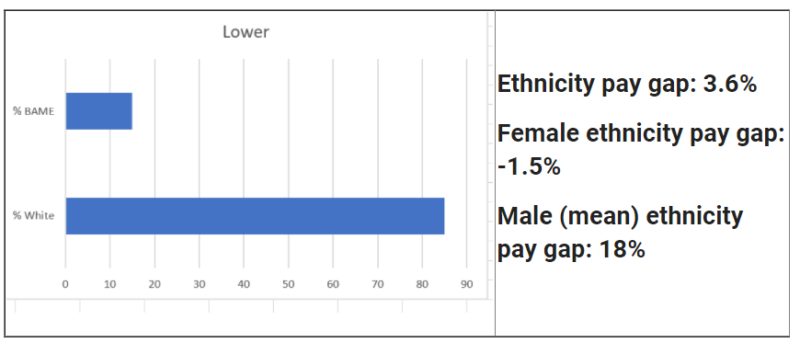 Lower Middle Quartile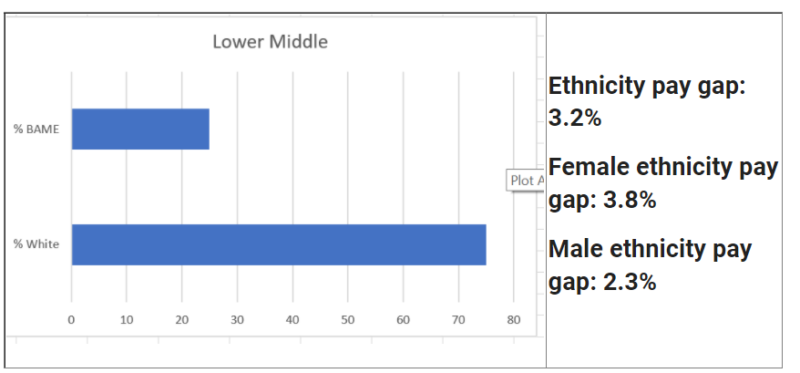 Upper Middle Quartile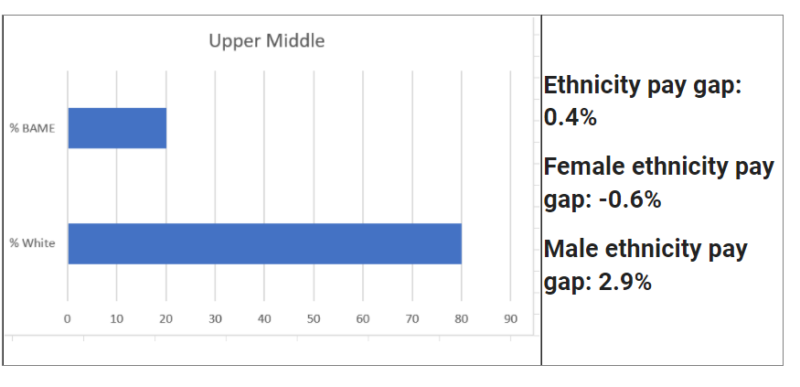 Upper Quartile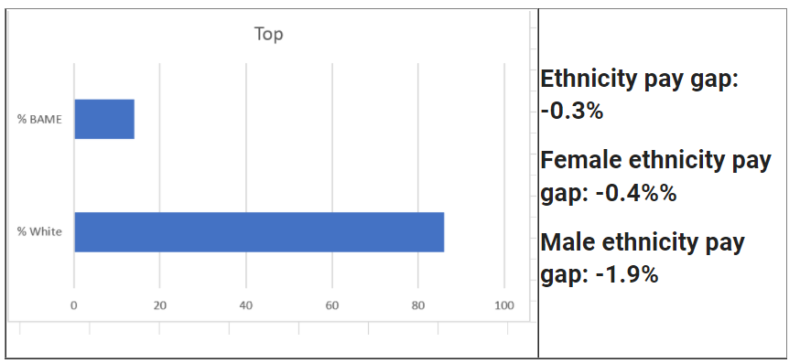 Resources and further information
Equality and Diversity – not just about fairness with Professor Ijeoma Uchegbu, University College London – blog and interview
Reverse mentoring: Promoting diversity and positive culture change
Reflections on race and equity in research: One year on… Dr Saher Ahmed and Dr Ireena Dutta blog
Talent in Diversity – celebrating Black History Month
For further information about our Race Equity Work, please contact Dr Saher Ahmed, Head of Equality, Diversity and Inclusion.