Equality in Science Activities
We seek to enable everyone to thrive and progress their scientific careers at the Sanger Institute. Yet, historically, women and people from other marginalised and historically excluded groups including LGBT+, Black, Asian, Minority and Ethnic, and disabled scientists are represented in diminishing proportions at higher levels within science. We are keen to address this imbalance and enable all to fulfil their potential.
To deliver the changes in working environment: attitudes, policies and aspirations necessary to make a real difference, we have established the Equality in Science programme. It is a joint initiative of the Wellcome Sanger Institute, Connecting Science, EMBL-European Bioinformatics Institute (EBI) and other bodies on Campus that aims to:
raise awareness of issues facing women and marginalised groups in science
address and challenge preconceptions
inspire people at different stages of their scientific careers to progress to senior levels
foster constructive discussion about the issues marginalised groups face
inform and drive changes in practices and policy to redress imbalances
These objectives require long-term effort and we have the firm commitment and championship from senior leaders across our organisations to continue with this work into the future.
Events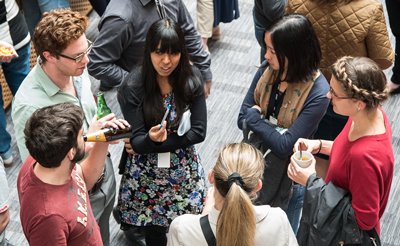 We organise a wide range of regular events and activities to engage with all staff and students on Campus. These include monthly seminars, workshops, debates and discussion panels focusing on pertinent topics. Recent events have featured a women in tech workshop and panel discussions on the topics of moving with families and entrepreneurship.
International Women's Day
We celebrate International Women's Day each year by highlighting and rewarding the achievements of our colleagues in creating positive working environments. Our Wellcome Genome Campus Best Practice Awards for Supporting Equality in Science recognise Campus members that have developed practices or policies that support women to thrive in their work.
Here are our winners for this year:
Overall winner: Carla Jones (Senior Staff Scientist, Open Targets)
Carla is a leading light of the Parents and Carers network. She first collaborated with colleagues to set up the network and has worked tirelessly to grow its membership and impact. It is now one of the longest standing employee networks on Campus. To support parents and carers during the long periods of home working and isolation caused by COVID-19, Carla started the Parent and Carers Slack channel. This online channel has enabled parents and carers to support each other, sharing ideas and information on home schooling, resources, and online events. To inspire and encourage others, Carla not only shares hints and tips, but has also been brave enough to openly share the challenges she has faced to juggle work and caring responsibilities herself.
Special commendations
Maya Ghoussaini (Open Targets) – was specially commended for her work helping to set up the Parent and Carers Network with Carla Jones and her ongoing support of its activities. As a founding member, she is a regular contributor to events, coffee meetings and planning..
Alice Matimba, Christine Boinett, Isabela Malta and Catherine Holmes (Connecting Science and Sanger Institute) – were jointly recognised for setting up the 'Your Digital Mentor' initiative. This inspiring series of podcasts provides the global research community, and those in low- and middle- income countries in particular, with information on (and experiences of) mentoring, career development and equity and inclusion. Their work is transforming the way that people can access thought-leaders (particularly highlighting women in this space), acquire knowledge, and break down country barriers.
Alice, Christine and Isabela are also founding members of the Campus-wide Race Equity Network. Launched during Black History Month in October 2020, in the middle of the COVID-19 pandemic, the network is opening up conversations and raising awareness about race equity. It provides Campus members with opportunities to have safe, candid conversations about race, to better understand each other's perspectives and experiences, and to help develop a more inclusive culture. The network's series of talks were attended by hundreds of staff, from across Campus and beyond.
Lee Outhwaite (Head Gardener, Sanger) –  was specially commended for the support, openness and insight he has given to transgender awareness. Lee has openly transitioned into the man he is today during his working life on the Genome Campus. He has spoken to numerous people on site, answering their questions and curiosities on the effects, reactions, technicalities and general interest into his transition. He has done this to raise awareness and be able to ensure support to others in the future. He has worked closely with the Equality, Diversity and Inclusion team to shape the Sanger Institute's Transgender Awareness Policy and Guidance, bringing his unique insights and experiences to benefit current and future transgender people on site. He gave an interview for Pride awareness week in June 2020 that was published on the Wellcome Sanger Institute blog and on a multitude of the site's other social media platforms. He has shared his journey and the roles other people have, can and could play in it, along with the support he has received from staff and management.
Networking
As well as developing the programme on campus, we nurture connections with external groups. By partnering with funders, policy makers, scientific societies and research institutions, we have valuable opportunities influence the wider scientific community about issues relating to equity in science.