Equality in Science Activities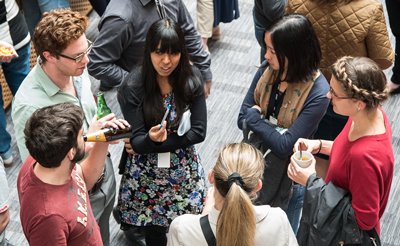 As part of the Equality in Science programme we organise a wide range of regular events and activities with the aim of engaging all staff and students on campus.
In addition to the talk series, we host activities such as:
workshops
career days
discussion panels
debates
theatrical plays.
The Equality in Science programme is a joint initiative of the Wellcome Sanger Institute, Connecting Science, the EMBL-European Bioinformatics Institute (EBI) and other entities on the Wellcome Genome Campus.
<h4Seminars, Workshops and Events
In addition to these annual events we organise a varied programme of monthly seminars, workshops and events focusing on pertinent topics. Recent events include:
Moving with families panel discussion – Five panellists shared their experiences of moving with families, including top tips for success, the pitfalls to avoid and the long term impacts on their families and career of moving internationally.
Flexible Working workshops – We have run a series of workshops highlighting the benefits for staff and managers who work flexibly. We have also put together videos to bring our policies to life.
Entrepreneurship panel discussion – Three leading women scientists discussed how they got into entrepreneurship, identified and exploited opportunities, and balanced building a business with their home life.
Women in Tech workshop – ThoughtWorks ran a workshop on attracting women into tech to revolutionise the IT industry and create positive social change.
Unconscious Bias workshops and training – We have run Campus-wide sessions on unconscious bias and how it can affect key decision-making processes. At Sanger, we have also put together bespoke training looking at unconscious bias and the recruitment and selection processes and what actions we can take to mitigate biases creeping into our decision-making.
Equality and Diversity training – We have developed online equality and diversity training for all staff to become aware of the issue and what they can do.
Women's Leadership Programme – At Sanger we have developed a bespoke women's leadership programme for high-potential future leaders. The Programme includes workshops, individual coaching sessions, career planning and importantly, the building of a local network.
Hidden Glory – A one-woman play giving an insight into the life of the great female scientist and Nobel Prize winner Dorothy Hodgkin.
Debates
As part of our series of Equality in Science events, we host campus-wide debates to encourage discussion about the key issues surrounding Women in Science. Recent topics include:
"This House believes that it is harder for women than men to be scientific leaders".
"This House believes that it is not possible to be a scientific leader and work part-time."
"This House believes that quotas are essential to address institutional gender inequality".
"This House believes that women should leave academia to progress."
The debates are very popular events and prompt lively discussions. The audience use electronic voting pads to cast their opinion on who was the more persuasive debater.
International Women's Day
Each year to celebrate International Women's Day, we award our Wellcome Genome Campus Best Practice Awards for Supporting Women in Science.
2021 winners
Overall winner: Carla Jones (Senior Staff Scientist, Open Targets)
The judges felt that Carla Jones has been a leading light of the Parents and Carers network since she worked with her colleagues to set up the network. It is the one of the longest standing employee networks on Campus and Carla deserves to win the Best Practice award for all her support and drive in leading it, at a time when it is more important than ever for us to support our Parents and Carers on Campus. Carla started the Parent and Carers Slack channel back in August 2020 and this has now grown to include 69 members of staff, providing support to each, as well as sharing ideas and information on homeschooling, events and resources. Carla has been open about the challenges of juggling work and caring responsibilities herself and has always worked hard to support other carers with hints and tips. She continues to be an inspiration to us all!
Special commendations
Maya Ghoussaini (Open Targets) – receives a special judges nomination for her work in supporting the parent and carers network and helping to set this up with Carla Jones. As a founding member, she has been a regular contributor to events, coffee meetings and planning.
Alice Matimba, Christine Boinett, Isabela Malta and Catherine Holmes (Connecting Science and Sanger Institute)- receive a joint commendation for being part of the team who set up the initiative 'Your Digital Mentor' podcasts, which are enabling access to conversations around mentoring, career development and equity and inclusion to a global audience, with a focus on Low and Middle Income Countries. They are transforming the way that people can access thought-leaders (particularly highlighting women in this space), acquire knowledge and break down country barriers.  Alice, Christine and Isabela are also recognised for being founding members of the Campus-wide Race Equity Network. This network is opening up conversations and raising awareness about race equity, providing the opportunity for people to learn more and have safe, candid conversations about race to help better understand each others' perspectives and experiences and move towards an inclusive culture. The network launched during Black History Month in October 2020. Their series of talks were attended by hundreds of staff, from across Campus and beyond. The challenge of launching a network during a pandemic makes this achievement even more impressive.
Lee Outhwaite (Head Gardener, Sanger) – receives a special commendation for the support, openness and insight he has given with regard to transgender awareness. Lee has openly transitioned into the man he is today during his working life on the Genome Campus. He has spoken to numerous people on site, answering their questions and curiosities on the effects, reactions, technicalities and general interest into his transition. He has done this to raise awareness and be able to ensure support to others in the future. He has worked closely with the EDI team on the Transgender Awareness Policy and Guidance, as not only does he bring a unique insight, he also feels he could help future transgender people on site through his experiences. He gave an interview for Pride awareness week in June 2020 that was published on the Wellcome Sanger Institute blog and on a multitude of the site's other social media platforms. He has shared his journey and the roles other people have, can and could play in it, along with the support he has received from staff and management.
2020 winners:
Lindsey Crosswell (Head of External Relations, EMBL-EBI)
Lindsey has been recognised for her outstanding contribution to developing the Equality in Science programme on Campus over several years. Lindsey's colleagues describe her as incredibly supportive, approachable and inspirational. As a result of her influence, a specialist Gender Project Officer was appointed at EMBL-EBI for the first time in 2016, a role that has since expanded to include all aspects of equality and diversity. Lindsey was also instrumental in encouraging a similar role to be appointed at EMBL Heidelberg in 2019. Lindsey supported EMBL as the founding Chair of the new EIROForum Diversity & Inclusiveness adhoc working group in 2018.
Ireena Dutta (Head of Strategy, Connecting Science)
Ireena has been recognised for her passion for equality and diversity in science, which is reflected in everything she does. Ireena's encouragement of women returning from or going on maternity leave is supported by her absolute resolve that having a family should in no way impact a woman's career. Ireena's colleagues called for more advocates like Ireena, not only in science but in all organisations. Ireena is an inspiration – she is an outstanding supporter of career development and excels at finding and nurturing talent.
Hannah Hurst (Project Manager, ELIXIR)
Hannah received multiple nominations from team members and colleagues, who recognised her for volunteering to take responsibility for equality and diversity across the ELIXIR Hub, going above and beyond her role as project manager. She worked on producing an Equal Opportunities Strategy document for use across ELIXIR's international nodes and successfully piloted the ELIXIR Code of Conduct at several events.
Special Commendations from the panel went to:
Sean Laidlaw (Bioinformatician, Sanger)
Sean has gone above and beyond his roles at Sanger in helping to lead and grow the LGBTQ Network on campus. He has been a visible role model, ensuring he is available at all seminars, networking and social events to support his peers.
Hannah Currant (PhD student, EMBL-EBI and Sampurna Mukherjee (PhD student, EMBL-EBI)
Sampurna and Hannah have been jointly nominated for their efforts in running a series of group mentoring events for the benefit of staff on campus. These sessions provide informal opportunities to build a support system and a community of peers, with a special focus on the roles and challenges faced by women and minorities in STEM.
Harriet Craven (Senior Software Developer, Sanger)
Harriet has been nominated for her outreach work in encouraging girls to get involved in STEM. Through both Code Club group, and more recently a project funded by one of the Public Engagement Enabling Fund projects, she looks for new ways to engage girls with computer science from a young age.
2019 winners:
Paul Flicek, Senior Scientist and Team Leader, EMBL-EBI
Paul was recognised for his ongoing and sustained activities across EMBL-EBI in the areas of gender balance, equality and diversity. He provides championship of inclusivity issues at senior management level and works tirelessly to support and promote female leaders.
Sara El-Gebali, Scientific Database Coordinator, EMBL-EBI
Sara won the award for her energy and hard work in supporting the establishment of the LGBT+ Campus Network. She has been instrumental in raising awareness and has been the driving force behind a wide range of initiatives, including LGBT+ in STEM Day and LGBT+ History Month.
Carl Anderson, Group Leader and Director of Graduate Studies, Sanger Institute
Carl received multiple nominations from his team for his work creating an inclusive, welcoming and supportive working environment for everyone within and beyond his team. He is recognised by many as a champion for gender equality and inclusivity.
Special commendations were given to:
Alison King (Executive Assistant to the COO, GRL) for her support to her team and others with flexible working and parent carer responsibilities.
Carla Jones (Post-Doctoral Fellow, Sanger Institute) and Maya Ghoussaini (Team Leader, Open Targets) for being the driving force behind the campus-wide Parent and Carers Network and their dedication and support to raising awareness, providing practical support and a platform for discussion and networking.
2018 winners:
Elspeth Bruford, Coordinator of HUGO Gene Nomenclature Committee, EMBL-EBI
Elspeth was nominated by multiple team members with powerful personal stories relating to how she has supported the women in her team over the years, and at all stages of their careers.
Genny Kiff, Interim CFO, Sanger Institute
Genny was nominated for being an inspirational role model, having a no-nonsense approach and being a strong supporter of the Equality, Diversity and Inclusion programme of work.
Treasa Creavin, Scientific Programme Manager, Connecting Science
Treasa was nominated for her instrumental role in developing and implementing the Advanced Courses and Scientific Conferences Gender Balance Policy. This policy ensures that there is an equal number of invited male and female speakers, resulting in an increase in the percentage of female speakers in the 2018 programme from 30% to 50%.
2017 winners:
Ele Zeggini from the Sanger Institute
Ele was nominated for being an exemplary role model and providing leadership and influence that has delivered tangible working practices at the Institute and driving a perceptible cultural shift in the attitudes towards women in the workplace, which has permeated throughout the organisation.
Helen Parkinson of EMBL-European Bioinformatics Institute (EMBL-EBI)
Helen was nominated for actively supporting measures known to benefit women, including flexible working hours and improved maternity leave and providing guidance on how to better balance work/home life, striving for excellence in both.
2016 winners:
Robert Petryszak of EMBL-EBI
Robert, a Team Leader at the EBI was nominated for embedding flexible working as a key feature into his team culture and empowering his staff to ensure an optimal work-life balance.
Sumana Sharma of the Sanger Institute
Sumana, a PhD student, was recognised for being a real inspiration to others by being a tireless voice for equality, and also demonstrating that you can be a woman in science champion from the outset.
2015 winners:
John Overington of EMBL-European Bioinformatics Institute (EMBL-EBI)
John received his award for supporting parents by encouraging a healthy work-life balance.
Laura Huckins of the Wellcome Sanger Institute
Laura received her award for inclusiveness and dedication to championing STEM careers.
Networking
As well as developing the programme on campus, we are nurturing connections with external groups. Partnering with funders, policy makers, scientific societies and research institutions is a valuable opportunity to influence the wider scientific community about issues relating to gender in science.
Contact
For further information contact Dr Saher Ahmed: saher.ahmed@sanger.ac.uk