View our Vacancies
Opportunities are available across all areas of the Sanger Institute's Scientific Operations team. We recruit locally, nationally and internationally and welcome applications and expressions of interest at every level. View our vacancies either through our own Sanger jobs portal, on Twitter, LinkedIn or Facebook.
Ways to find our Vacancies
Scientific Manager Roles
Our Scientific Managers come with a variety of backgrounds and experience, but all of their roles comprise significant managerial aspects – responsibility for projects, people, resources, budgets and often a combination of all four. Many are scientifically trained to PhD level; others will have a first degree in a biological or computing discipline and/or professional management qualifications. All roles require a successful track record in managing scientific/technical teams and projects and call for particular skills in communication, coaching and managing priorities.
The roles will generally be found within the large, complex pipelines and projects operated by the Institute, although larger Faculty teams may also engage Scientific Managers particularly where there are high throughput activities.
Research Assistant Roles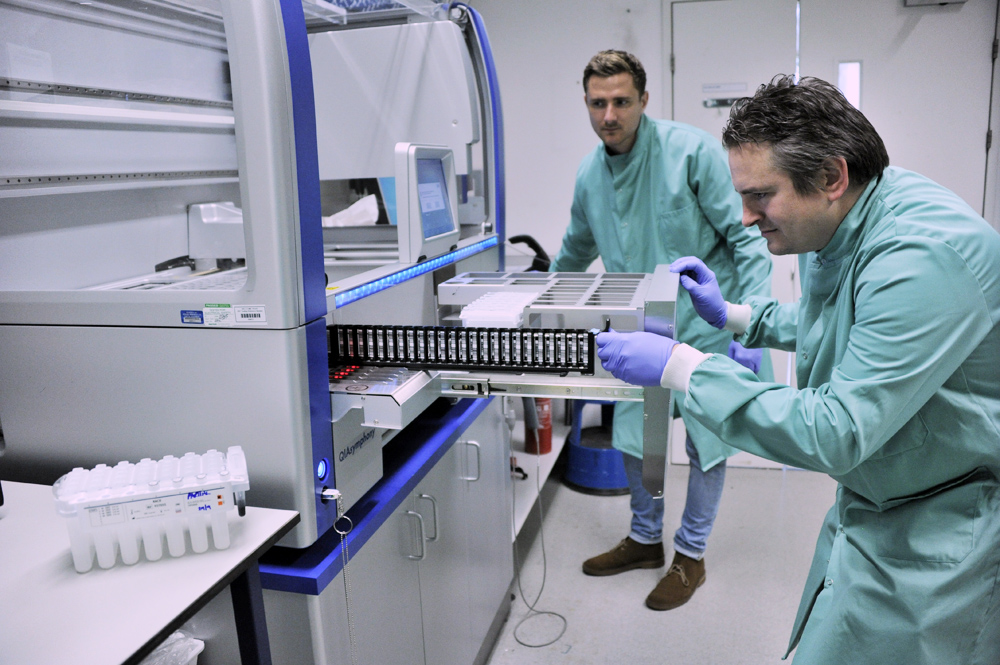 Our Research Assistants are generally degree qualified individuals who use their experience and knowledge to provide research/technical support to a project or several projects. They will carry out biological experiments and form the core of a laboratory or project(s). They may be operating either as a team member in carrying out scientific procedures or have responsibility for an element of a team's activities. At the more senior levels, they may have a higher degree and will oversee and provide guidance to less experienced/skilled team members. Some may hold formal line management responsibilities. In smaller teams, these roles will often be responsible for the smooth running of the laboratory including monitoring consumables and health and safety practices.
Due to the diversity of their role, Research Assistants – at all levels – may be found in Faculty teams or larger, pipeline activities. As individuals progress there can be the opportunity to move into a role with line management responsibilities – perhaps as a prelude to a future role as a Scientific or Research Manager – or to remain in a more specialised, technical role.
Staff Scientist Roles
Our Staff Scientists are PhD qualified individuals who use their experience and knowledge to form the core of a laboratory or project(s), usually as part of a Faculty team. Key responsibilities could include running significant elements of a team's activities, performing a recognised specialist and enduring role within a team or working as part of a research facility to meet the needs of other programmes. These roles may involve mentoring or managing less experienced team members or taking responsibility when the lab head is absent.
Operational Management Roles
The Institute has a sizeable Management Operations function to provide professional, administrative support and services to the scientific teams.
As well as key support teams such as Finance, Purchasing, Health and Safety, Human Resources, Communications and Stores, we also have departments dealing with Science Administration. These include regulatory affairs, grants and contracts, science policy and laboratory facilities.
Roles range from entry level administration requiring no formal training to advisory or policy roles requiring specialist or professional qualifications. Roles will typically provide advice and guidance in their area of expertise and will be involved in projects and initiatives to provide the best possible support for the Institute's scientific programmes.
Informatics Roles
The substantial computing capacity required to support our scientific operations means that we are always looking for high calibre individuals to work within our Informatics function.
Our Informaticians are responsible for developing and managing scientific programmes, databases and applications to support our scientific technology platforms and Lab Information Management Systems (LIMS). Roles will require skills and experience in a particular area, with some requiring specialist qualifications. Progression can be as a technical specialist in a particular area of expertise, or as a manager of a small team of IT professionals.