Scientific Operations: Strategy and Support
Overview
We work creatively, collaboratively and transparently to ensure we provide the right support, products and services, at the right scale, quality and value for the benefit of Sanger Institute's world-leading research.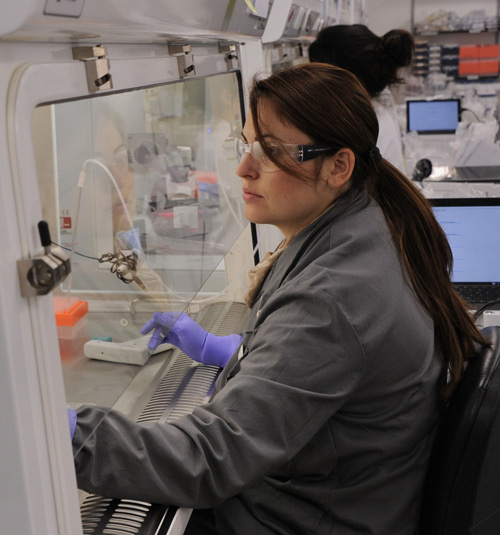 The delivery of Scientific Operations platforms is supported through the combined activities of the Support and Strategy team, which is led by Sarah O'Meara. There are four key activities:
Providing high-quality, professional administrative support
The support provided by our Administration team enables the Senior Management Team in their activities to deliver the Sanger Institute's science at scale. This also includes the provision of project coordination support for professional project management teams and secretariat support for our Governance Committees.
The activities of the Administration Network, which comprises administrators from across the entire Campus, are overseen by our Administration Network Coordinator and is an important support mechanism that enables the sharing of knowledge and best practice.
Delivering quality assurance and business process improvement
We support this vital work through developing and implementing a quality policy that outlines our approach to quality management. To ensure that we focus on the quality elements that are the most important to Sanger Science, we have taken a pragmatic approach when evolving our quality policy so that it aligns with the prevailing organisational culture, for example, in product and service design. Quality assurance is delivered through our quality managers and quality champions.
Managing the strategic relationships between Scientific Operations and faculty groups, internal/external partners and collaborators
This strategic work is supported by our Customer Relationship Managers and Key Account Managers with relevant sales and marketing experience. Scientific Operations take an evidence-based approach to determine the platforms and protocols required through working collaboratively with Research Programmes to capture their demands.
Providing open communication networks
Clear and open communication between, and within, teams are key to supporting the development of the learning behaviours that encourage departmental innovation. By ensuring our collective understanding and agreement regarding organisational and departmental purpose, we are able to deliver the right support, products and services at the right time, quality, scale and value to benefit the Sanger Institute's research. We support sharing of knowledge and expertise between departments by  promoting partnerships and collaborations through newsletters, blogs, presentations and town hall meetings.