Wellcome Sanger Institute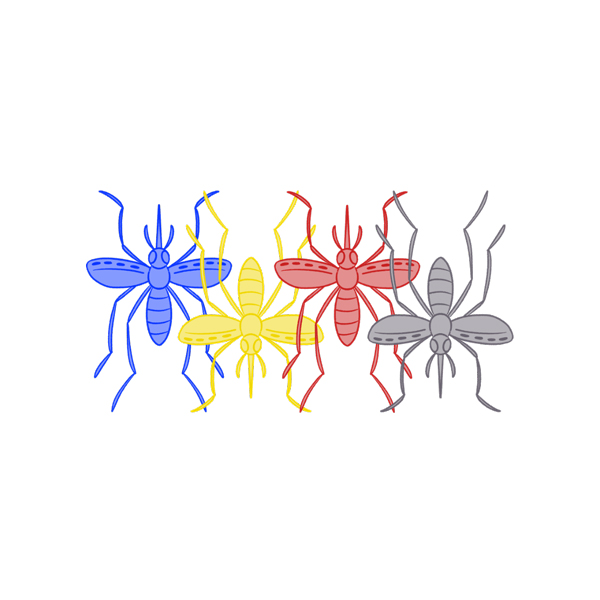 The ANOSPP (ANOpheles SPecies and Plasmodium) Project
The ANOSPP Project aims to improve understanding of the diversity of mosquito species that carry malaria by studying the DNA of 500,000 mosquitoes in 100 locations across Africa. The Project works in partnership with MalariaGEN to provide insights that will inform and improve public health planning.
Aims of the ANOSPP Project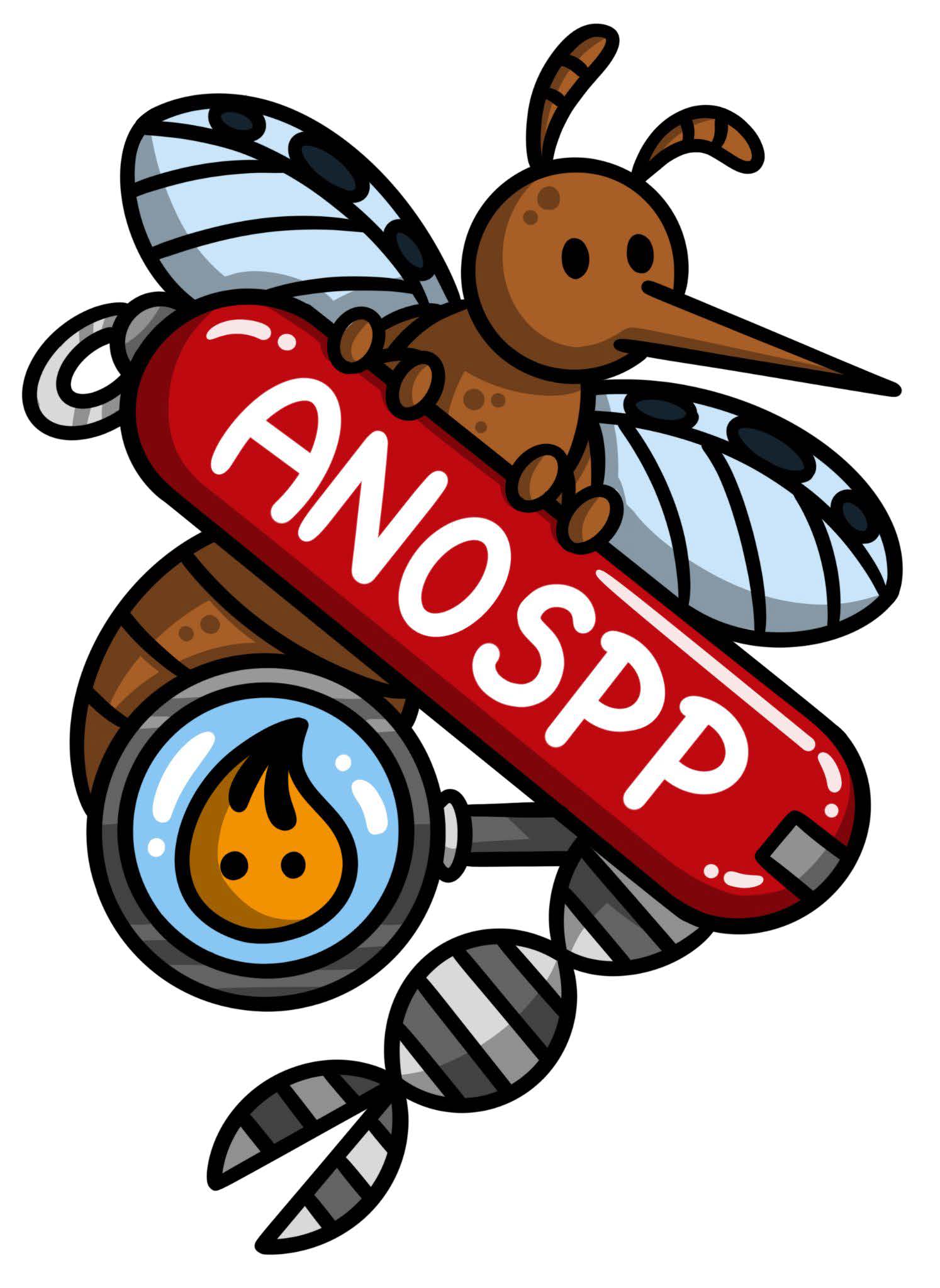 The primary aim of the ANOSPP project is to improve our understanding of Anopheles species diversity, population structure, and malaria transmission across Africa. We will achieve this in collaboration with research partners by undertaking longitudinal sampling and targeted sequencing on half a million Anopheles mosquitoes from 100 locations across Africa over the next five years. The sequencing data that results from each individual mosquito reveals its species, population structure, and whether Plasmodium parasites are present – key information for vector control endeavours.
While our Project's focus is on African species, an important secondary goal is to complete a "reference index" for the entire Anopheles genus – this complete index is fundamental to the utility of ANOSPP. This requires mosquitoes or DNA extracts from at least 10 expertly identified individuals for every Anopheles species on the planet. For any expertly identified sample contributing to the reference index, we will also sequence COI and/or ITS2. All data are returned to partners and made openly available.
A key feature of this project is that we prefer to carry out the sequencing on DNA that has been non-destructively extracted so that our research partners may return to the specimen for further morphological examination when unexpected results arise. We are able to run the panel on whole mosquitoes, head/thoraxes, or even single legs if required.
About the ANOSPP Panel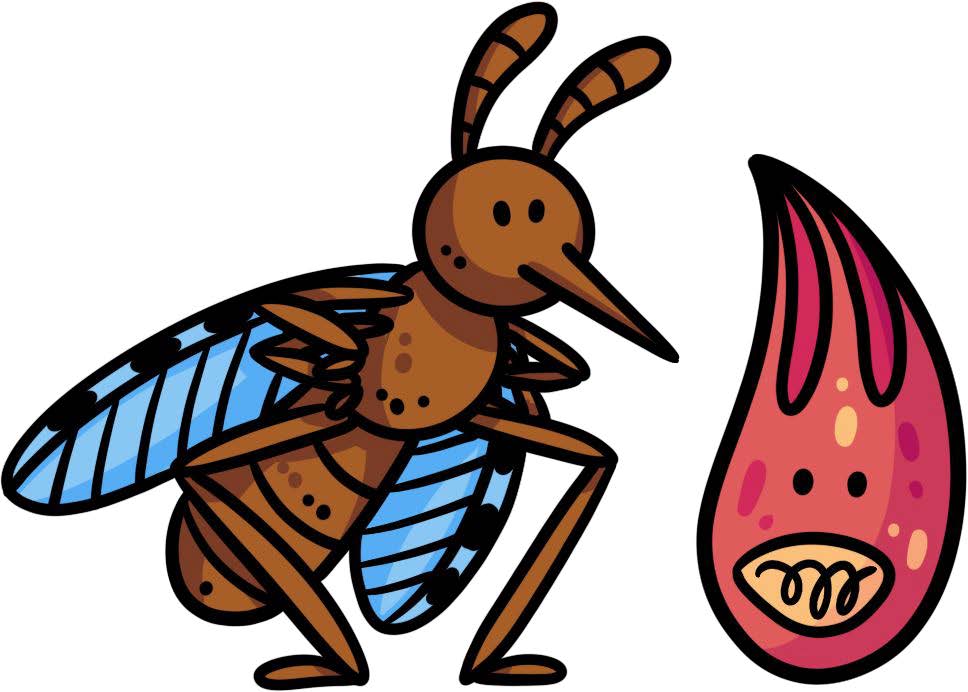 The ANOSPP (ANOpheles SPecies and Plasmodium) panel  is a multilocus amplicon sequencing panel that targets:
62 phylogenetically informative loci (each approx. 160bp long) in a generic Anopheles genome
2 conserved loci in a generic Plasmodium mitochondrion.
The panel uses a highly multiplexed two-step PCR that first amplifies any target Anopheles target sequences and then adds unique barcodes, making it possible to pool amplicons from hundreds of mosquitoes into a single Illumina MiSeq sequencing run (Makunin et al. 2022).
Sequences are de-multiplexed using these barcodes and analysed using k-mer approaches to assign a species identity for each individual (Boddé et al. 2022).
On top of that we are also able to run population genetic analyses with the data and identify Plasmodium presence and species.
The ANOSPP Workflow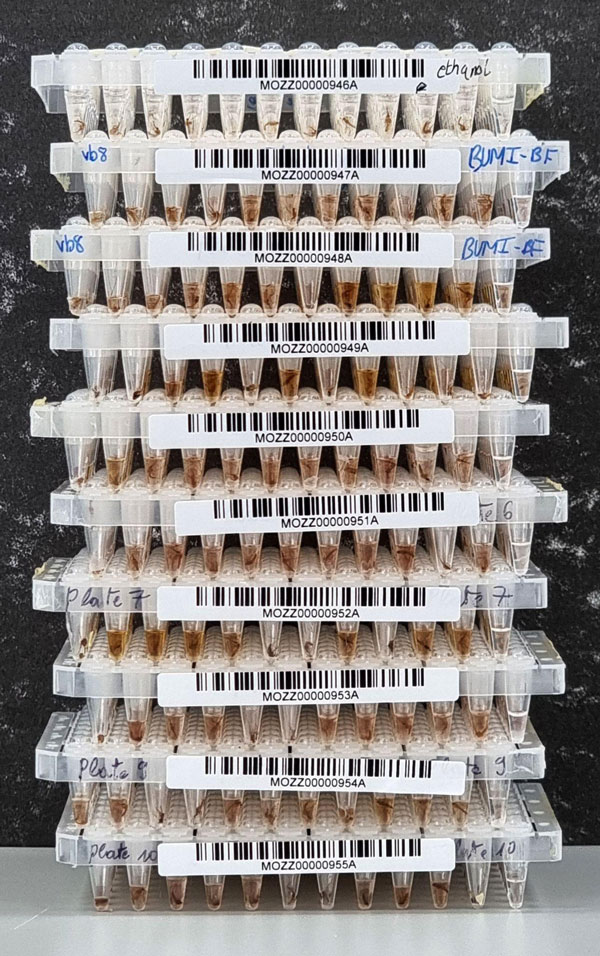 Using our cheap, high-throughput, non-destructive DNA extraction workflow, where mosquito morphology can be studied after sequencing-based identification, we examine a very small aliquot of this DNA with a simple and fast targeted sequencing panel that works on any species from the Anopheles genus. Our workflow massively reduces the effort, time, and cost of carrying out confident species identification.
Once DNA is sequenced with this panel, the resulting data reveal:
the species identity
geographic population structure within species
if Plasmodium parasites are present in the mosquito
the species of Plasmodium carried by positive mosquitoes
Therefore, the tool is like a Swiss army knife:
multifunctional
cheap
easy to use.
Benefits of using the ANOSPP panel
The ANOSPP panel has a number of important benefits for malaria researchers:
ANOSPP is more accurate and informative than any other species identification technique and can be used on any Anopheles sample (adult, larva, eDNA sample from breeding water, etc.).
A "Report Card" will be provided to you, revealing the species identity of each Anopheles individual and whether or not it carries Plasmodium parasites, and if so, of what species.
Our cheap, non-destructive DNA extraction workflow supports the preservation of specimens for morphological study after sequencing, and specimens can be returned to you for further study.
Data are generated from 800 individual mosquitoes in a single MiSeq run, and you will receive all resulting data from your samples, access to simple analysis notebooks and online training videos.
Interested in running ANOSPP on your samples?
Anyone can apply for a partner study, though we are particularly looking to collaborate with partners who:
Are planning or actively carrying out a study in Africa that includes mosquito samples collected across a range of locations or using a variety of approaches for longitudinal monitoring.
Have access to a wide range of specimens or DNA from confidently identified Anopheles species from anywhere in the world, including historic (e.g. pinned) specimens collected from the 1970s onwards.
Partner Study Timelines
To apply to run a Partner Study, the following process and timeline will be followed:
Register your Interest – Duration: less than 1 month
Fill in this survey to register your interest in participating in ANOSPP for your research project.
Onboarding – Duration: 3-12 months
Legal and ABS compliance, with support from Sanger plus onboarding training on sample and metadata collection.
Collect Samples – Duration: up to the partners
Complete your collections, fill in the ANOSPP manifest, and submit it for validation.
Send Samples to ANOSPP for sequencing and analysis – Duration: up to the partners
Validated sample sets including more than eight 96-well plates are ideal – ship to the Sanger Institute for extractions and sequencing.
Reports and Data delivered to partners by ANOSPP: Duration 3-6 months
Receive a 'species diversity report card' on your sample set as well as all sequencing data.
ANOSPP Data and Results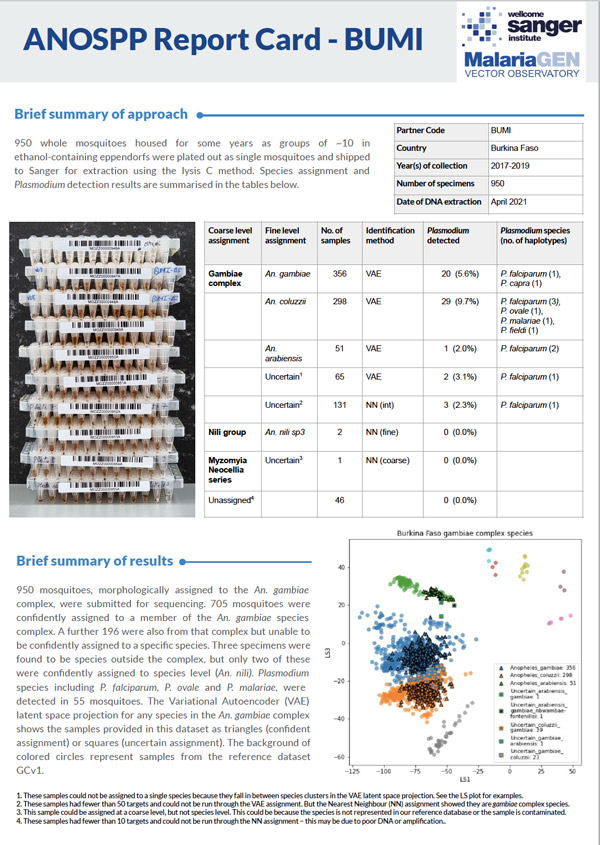 The sequencing data and all results are made available to our partners as soon as possible, and these are also released publicly within 12 months.
We provide a species ID for all mosquito samples with sufficient sequencing data and if this is not possible, indicate the species complex or group most similar to the sample.
We also provide quality-controlled haplotype data for each amplified locus, which can be used for further population genomic analyses.
Additionally, for every specimen we report whether Plasmodium was detected and if so, the species ID.
All the above results, combined with metadata captured in the partner manifest, are used to generate the ANOSPP Report Card (see right).
The data output that we share with our partners and eventually release publicly consists of a combined results table, a haplotype table, and the ANOSPP Report Card. See github.com/mariloubodde/NNoVAE for an example of the data output.
Contact the ANOSPP Project
For further information on the application process or on the ANOSPP panel, contact anospp@sanger.ac.uk
Wellcome Sanger Institute