Sanger Management Training Scheme
Why choose a Management Training Scheme?
Following the success of our 2020 Management Trainee Scheme, we are offering nine placements for our Management Trainee Scheme. The scheme will last two years and will consist of four individual six-month placements. During the two years, you will gain an invaluable combination of hands-on experience and unparalleled networking opportunities to accelerate your career development. By joining our training scheme, you will play a pivotal role in supporting our vast ambitions for world-leading genomics research.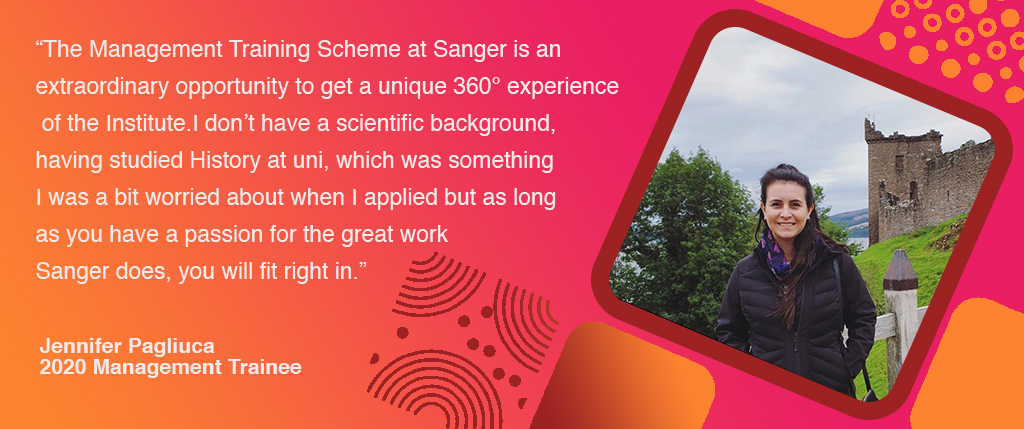 Who is the Management Trainee Scheme for?
Almost anyone!
We are looking for individuals that have a great aptitude, passion and great communicators. The scheme is open to graduates of any discipline or non-graduates with sufficient work experience. No science background is required.
We are keen to grow our own talent at Sanger Institute. By completing the management training scheme with us, you will be working on real projects right from the start, supported by some inspiring colleagues. Our ambition is to select people with great potential and a passion for what we do, provide them with training and finally offer a role they are interested in.
We are looking for the following qualities:
Collaboration
You will be able to build collaborative relationships, working well, and contributing to the teams you work with.
Communication
Good communicator with strong verbal and written skills, adjusting your communication depending on the situation.
Leadership
You'll be given the opportunity to lead on your own projects and will be required to make fast and accurate decisions.
Results-Driven
You'll have good problem-solving and analytical skills.
Innovation
You'll be open-minded with innovative and creative thinking to explore new opportunities.
Integrity
You'll maintain a high level of confidentiality and discretion at all times.
You will have access to a wide variety of campus-run courses throughout the year including networking and professional development events throughout the year. You will have ample opportunity to attend many of them.
About the Scheme
The scheme will last two years and will consist of four individual six-month placements. You will all start on different placements and rotate throughout the two years. There are nine possible areas that you will get experience with.
In your application, you will be asked to indicate two preferred areas you would like to work in.
Further information on each area and the projects you'll be working on, can be found in the interactive PDF, available to download here.
Applications are open for the Management Training Scheme 
How to apply?
Your application should be made online via https://jobs.sanger.ac.uk.
Applications should be accompanied by a CV and cover letter, providing examples of how you meet our six behavioural competencies (Communication, Collaboration, Leadership, Innovation, Results Driven and Integrity) outlined in our job description.
As part of your application, you will be asked to indicate two of the four areas you would like to do a rotation in, from the nine possible areas.
Closing date Applications closed on 13th June 2021. Follow us on our social channels to hear about the next one!
Assessment and interviews will take place on the week commencing 5th July 2021
Download the job description.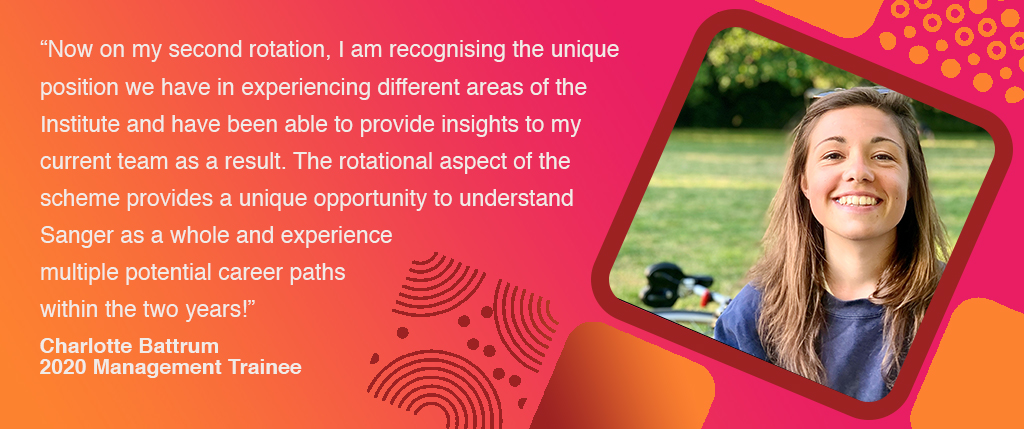 Life at Sanger Institute is truly unique. We encourage a work- life balance, with the opportunity to work flexibly. You will be joining 1,200+ employees from 70+ nationalities across 130 acres, just outside of Cambridge.
Create a lasting legacy. Join us.